School Achievements
Nurturing Schools Award
At Warren Hills, we are very proud of our nurturing ethos. We encourage children to investigate their own and other people's feelings and support them in finding strategies to deal with them to become responsible citizens. Through this we are pleased to announce that we have been awarded the Nurting Schools Award in October 2019.
Eco Bronze Award
The Eco Commitee are led by Mr Daren and Mrs Curtis and are made up of a group of polite, eco conscious and hard-working children. As a committee, we have discussed the action points that the school needs to take in order for us to be more eco aware and eco- friendly. An example of the work we have carried out has been organising litter picks for the school; ordering and distributing recycling bins for each class; informing the whole school about Earth Day and encouraging children to recycle at home by sending them home with recyclable battery packs. As recognition of our hard work, we have been awarded the prestigious Eco School's Bronze Award.
School Games Silver Award
Our children take part in many sporting activities within PE lessons, during after school clubs and in competitions with other local schools and we have just been awarded the SChool Games Silver Award for 2019.
Music Quality Mark
Music is an important part of our curriculum. As well as sessions taught by our own staff, for the past three years, a member of the Leicestershire Music Team have visited us to teach the children how to play the djembe drum. This year we have also introduced our year 4 children to the ukulele. Our music input has earnt us the Music Quality Mark for 2019/20.
House Trophy Champions
We would like to congratulate Willow on being the House Champions for the Summer Term 2019. Collectively they earnt the most Dojos.

Routes to Resillience
We are delighted to announce that we have been acredited with being a Routes to Resilience school. Our school actively talk about 30 words that help us to develop our character and develop resillience.
Forest Champions
We are very excited to have two members of our teaching staff who have now gained the Forest School Teacher acreditation. In the summer Tterm we were asked by the National Forest to plant some of their trees in our school grounds and have been awared a Forest Champion plaque.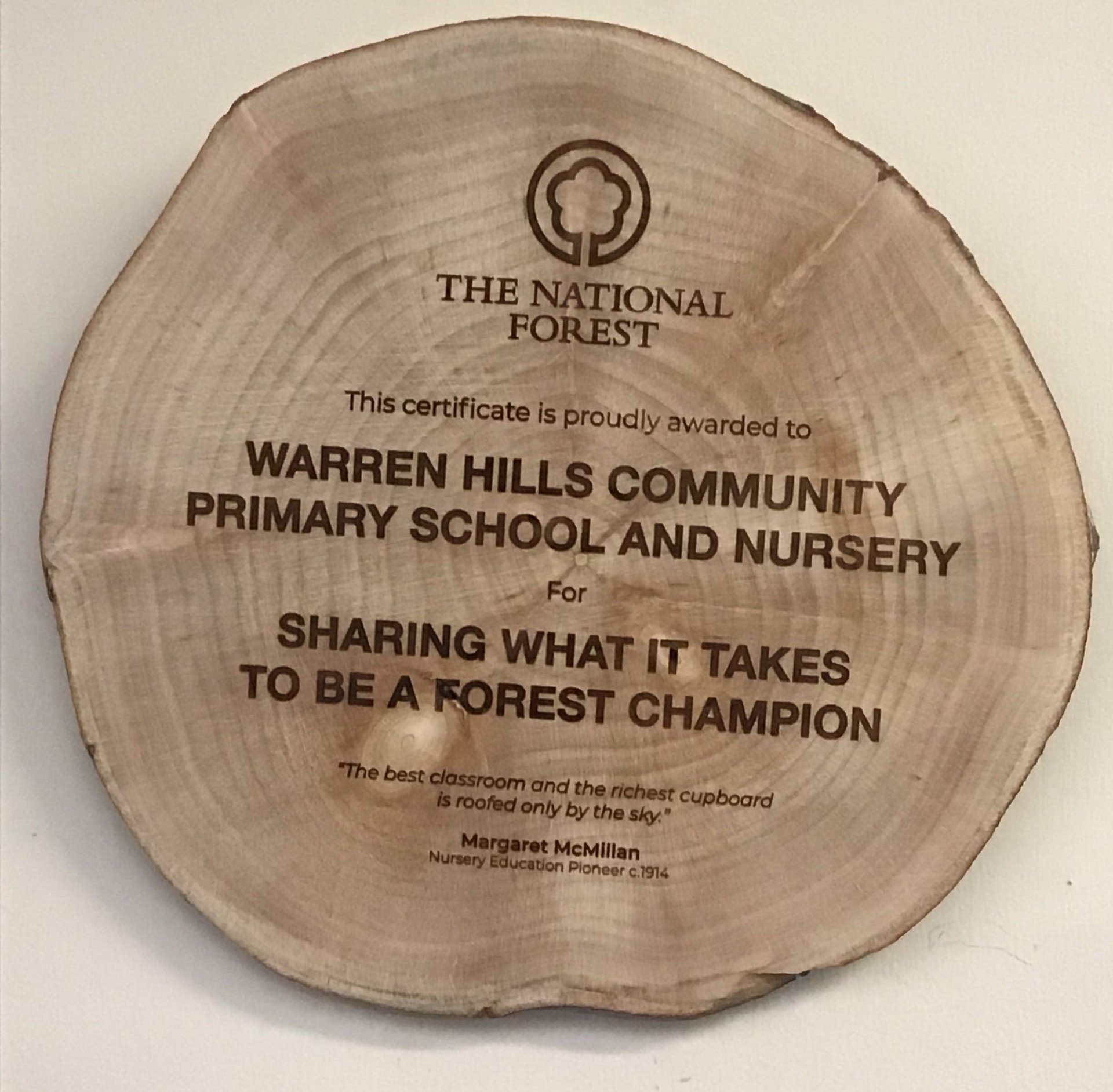 Happy Lunchtimes
All of our lunchtime staff, recieved training on how to make a happier lunchtime and as a school, we were awarded with a Happy Lunchtime certifictae. The lunchtime supervisors were keen to develop the new ideas that they had learnt. The Zone and skipping are very popular areas, that are always busy and happy at lunchtime.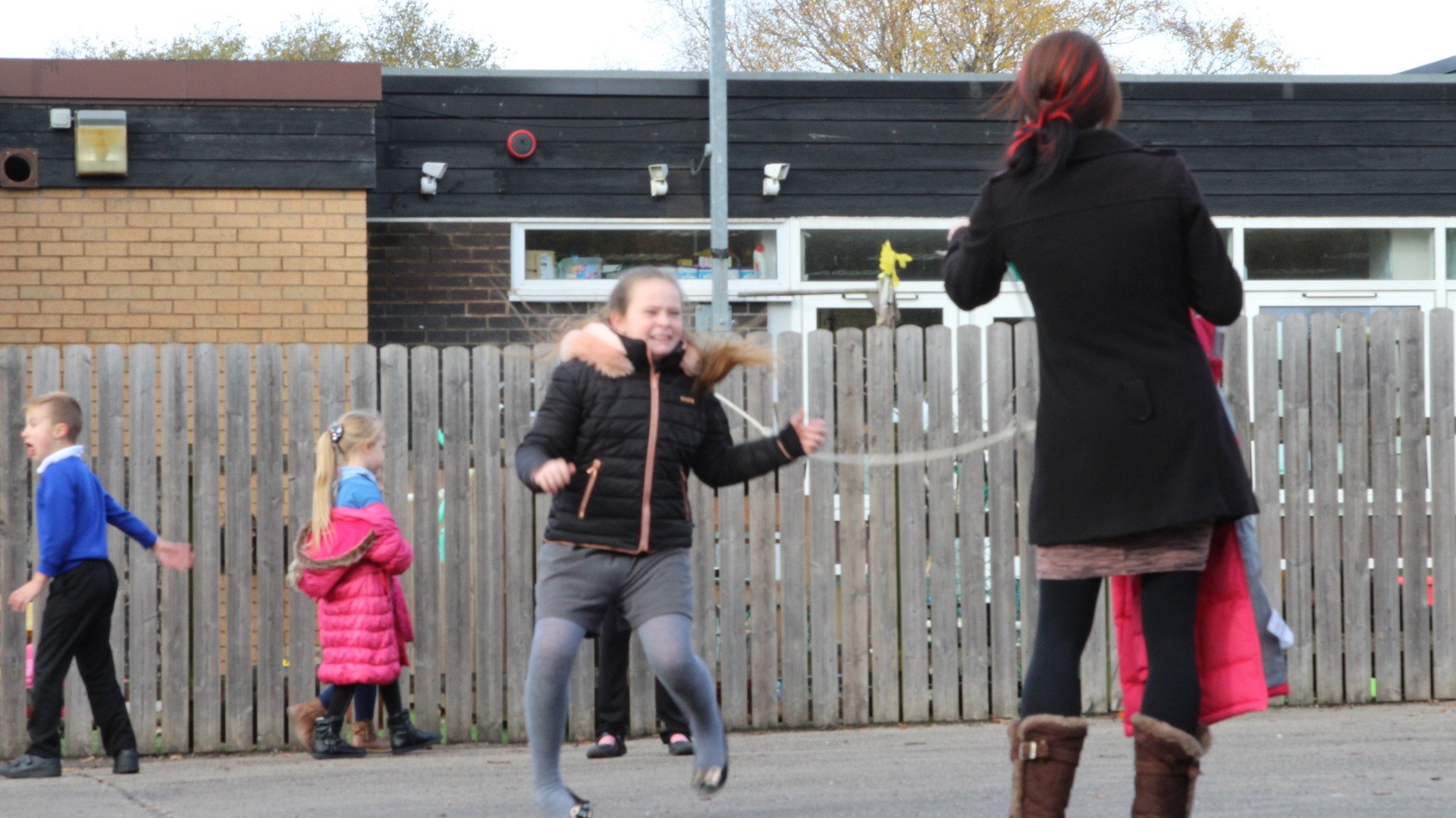 Beyond Bullying Award
At Warren Hills we want all children to be happy and feel safe, therefore we take any incidents of bullying very seriously. In 2017, we worked with Leicestershire County Council to develop our policy and enhance our practice further. We are pleased to announce that we were awarded the Beyond Bullying Award.
Headteacher of the Year winner!
We are delighted to say Mr Lloyd has won the prestigious Leicester Mercury "Headteacher of the Year" award....congratulations!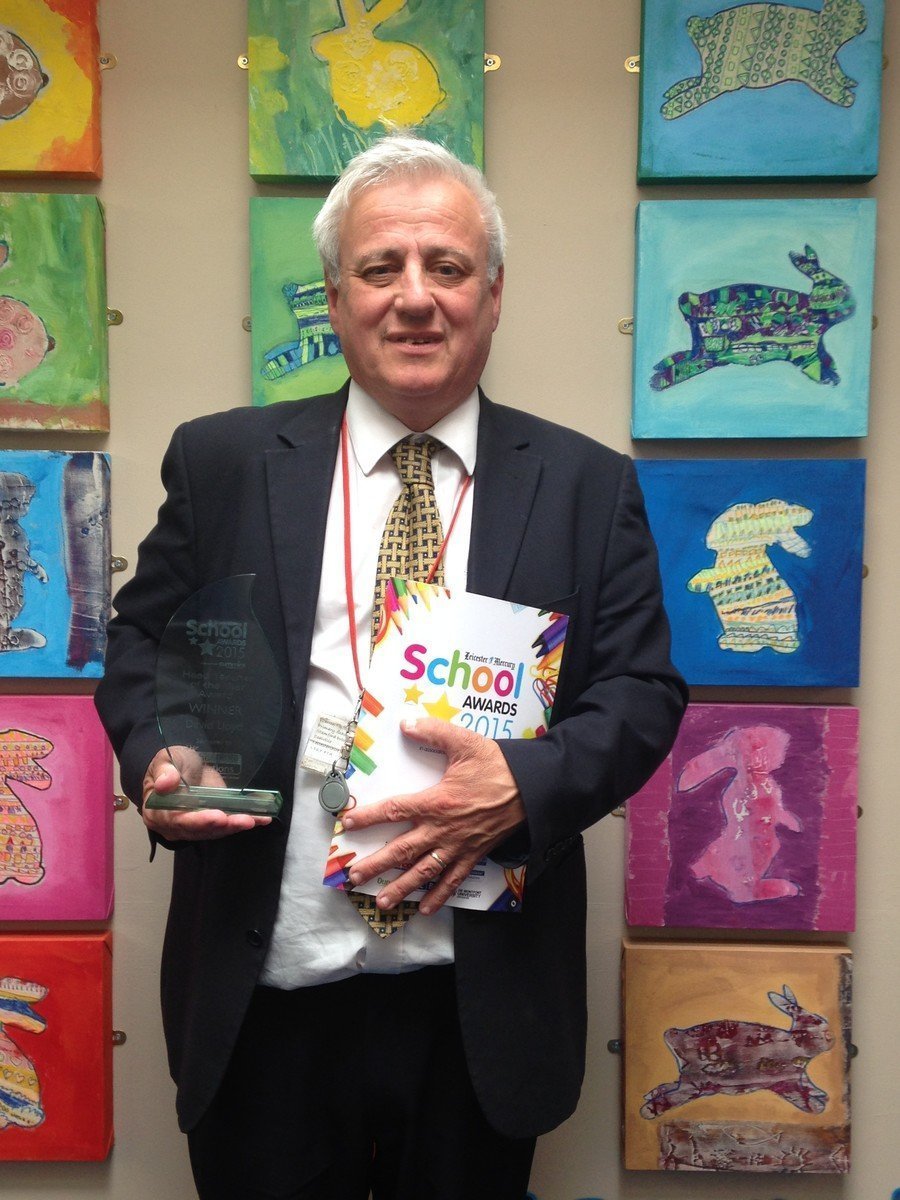 New sports pitch
We are set for a major boost having been successful in gaining a grant of £30000 to develop new outdoor sports facilities. The funding is part of Sport England's £18m National Lottery funded Primary School Facilities Fund which is helping more schools to provide outdoor multi-activity play areas across the country.
The investment is designed to support those schools which are in greatest need of facilities improvements and will benefit both pupils at school and the local community who will have access outside school hours.
Here at Warren Hills the funding will provide a games space with activity surfacing and floor markings, end enclosures, hoop and back panel, mini goals and graphics panels to be installed over the summer holidays 2015.
Nick Bitel, Sport England Chair, said:"Having the right space to play sport and be physically active as a child is vitally important. We are delighted to be investing this funding in Warren Hills to improve the spaces that will give children the space to start enjoying PE and Sport."
Sebastian Coe, CH KBE, the Prime Minister's Olympic and Paralympic Legacy Ambassador, added: " A positive first experience of PE and sport at primary school is crucial to encouraging young people to be active throughout their lives, but for those schools with little outside space this can be challenging to deliver. This funding will provide better outdoor multi-activity play areas at Warren Hills that can be used both within the curriculum and outside school hours by local communities. I am convinced this will boost the opportunities for young people to be physically active."
Leicestershire Cuts Films competition
A group of Year 6 children took part in an anti-smoking workshop that was aimed at raising the awareness of lung health.
During the week the children worked on various 'comedy' sketches that had an underlying meaning.
The workshop was run by Rob from the Big Difference Theatre Company and Nuala from the NHS. At the end of the week the sketches were performed in front of the school, parents and a professional film crew!
Their film "stress" won second place and an outstanding contribution award in the Leicestershire Cut Films Anti-Tobacco Short Film Competition and the school received a certificate to commemorate this.
Click here too see our certificate (also shown below)
Encouraging Cycling
We were successful in bidding for a new cycle shelter recently. Click to read the story in Leicestershire Greener Schools Newsletter
Text Santa
Some of our Year 6 pupils were invited to take part in a charity bag pack at Morrisons for ITV's Text Santa Fundraiser. We had a lovely message from Julie Kenchington, manager of the local British Heart Foundation, she said;
"Congratulations and thanks for your outstanding packing, hard work and beautiful behaviour. You are a credit to your school, yourselves and your parents"
Please see below for pictures of the event and the children hearing Julies message of congratulations for themselves