School Achievements
Route to Resilience
We are delighted to have become an accredited "Route to Resilience" school. This is an evidence based and practical approach to developing the character, resiliance and emotional well being of our children and families.
Headteacher of the Year winner 2015!
We are delighted to say Mr Lloyd has won the prestigious Leicester Mercury "Headteacher of the Year" award....congratulations!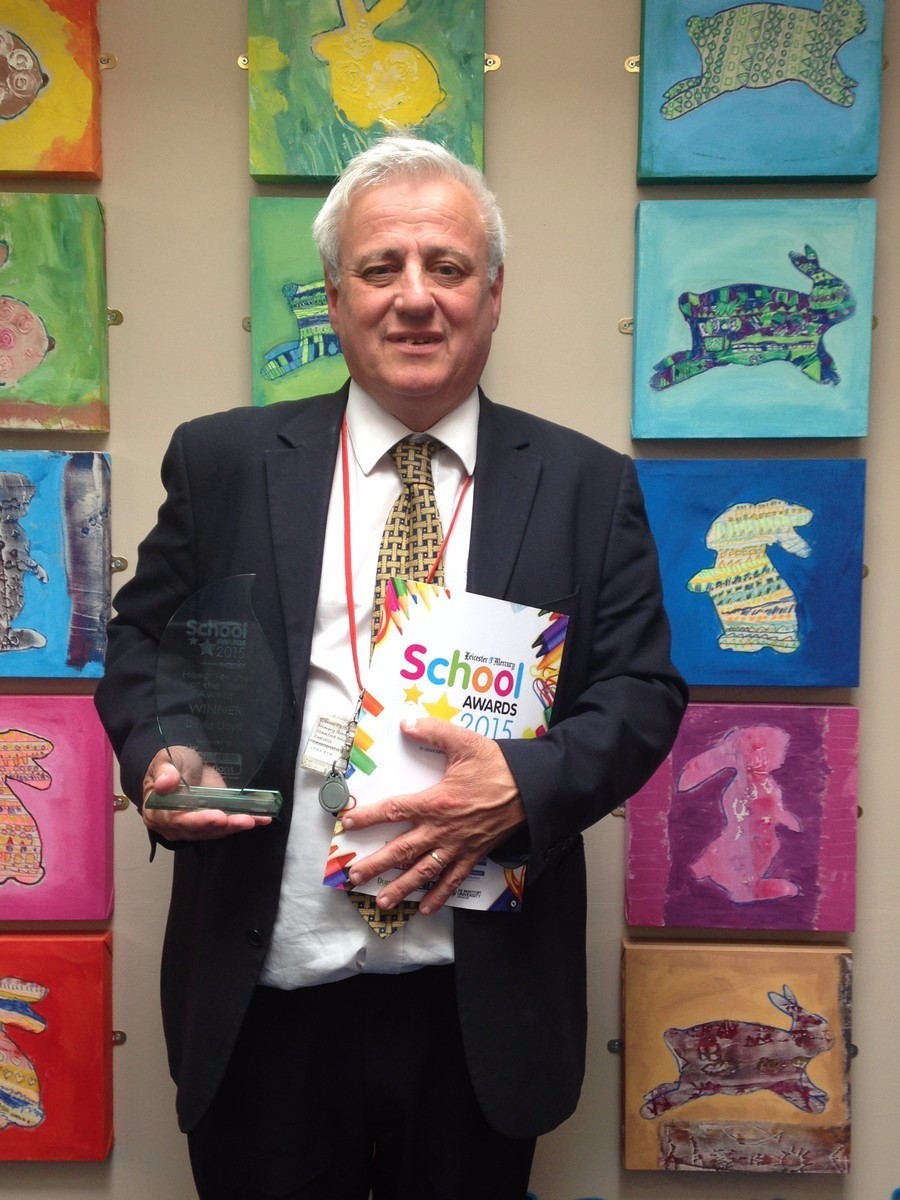 New sports pitch
We are set for a major boost having been successful in gaining a grant of £30000 to develop new outdoor sports facilities. The funding is part of Sport England's £18m National Lottery funded Primary School Facilities Fund which is helping more schools to provide outdoor multi-activity play areas across the country.
The investment is designed to support those schools which are in greatest need of facilities improvements and will benefit both pupils at school and the local community who will have access outside school hours.
Here at Warren Hills the funding will provide a games space with activity surfacing and floor markings, end enclosures, hoop and back panel, mini goals and graphics panels to be installed over the summer holidays 2015.
Nick Bitel, Sport England Chair, said:"Having the right space to play sport and be physically active as a child is vitally important. We are delighted to be investing this funding in Warren Hills to improve the spaces that will give children the space to start enjoying PE and Sport."
Sebastian Coe, CH KBE, the Prime Minister's Olympic and Paralympic Legacy Ambassador, added: " A positive first experience of PE and sport at primary school is crucial to encouraging young people to be active throughout their lives, but for those schools with little outside space this can be challenging to deliver. This funding will provide better outdoor multi-activity play areas at Warren Hills that can be used both within the curriculum and outside school hours by local communities. I am convinced this will boost the opportunities for young people to be physically active."
Leicestershire Cuts Films competition
A group of Year 6 children took part in an anti-smoking workshop that was aimed at raising the awareness of lung health.
During the week the children worked on various 'comedy' sketches that had an underlying meaning.
The workshop was run by Rob from the Big Difference Theatre Company and Nuala from the NHS. At the end of the week the sketches were performed in front of the school, parents and a professional film crew!
Their film "stress" won second place and an outstanding contribution award in the Leicestershire Cut Films Anti-Tobacco Short Film Competition and the school received a certificate to commemorate this.
Click here too see our certificate (also shown below)
Encouraging Cycling
We were successful in bidding for a new cycle shelter recently. Click to read the story in Leicestershire Greener Schools Newsletter
Text Santa
Some of our Year 6 pupils were invited to take part in a charity bag pack at Morrisons for ITV's Text Santa Fundraiser. We had a lovely message from Julie Kenchington, manager of the local British Heart Foundation, she said;
"Congratulations and thanks for your outstanding packing, hard work and beautiful behaviour. You are a credit to your school, yourselves and your parents"
Please see below for pictures of the event and the children hearing Julies message of congratulations for themselves
OFSTED
Following our Good OFSTED inspection earlier this year that we were so proud of, The Leicester Mercury visited school to get the news behind the report....Here's their story
Individual Achievements
Comic relief fundraising
We had some great entries in our "design a cupcake for Pudsey" competition for Children in Need.
First prize
was won by Cosha in Investigators,
Second prize
went to Connor in Wizards while
third prize
was won by Lyla in Legends....well done everyone.
Coalville Cycle Challenge
Molly-May Walker and Sam Sweete took part in the Coalville Cycle Challenge Final on Saturday 17th May.
They did extremely well, finishing joint second place and should be very proud of themselves.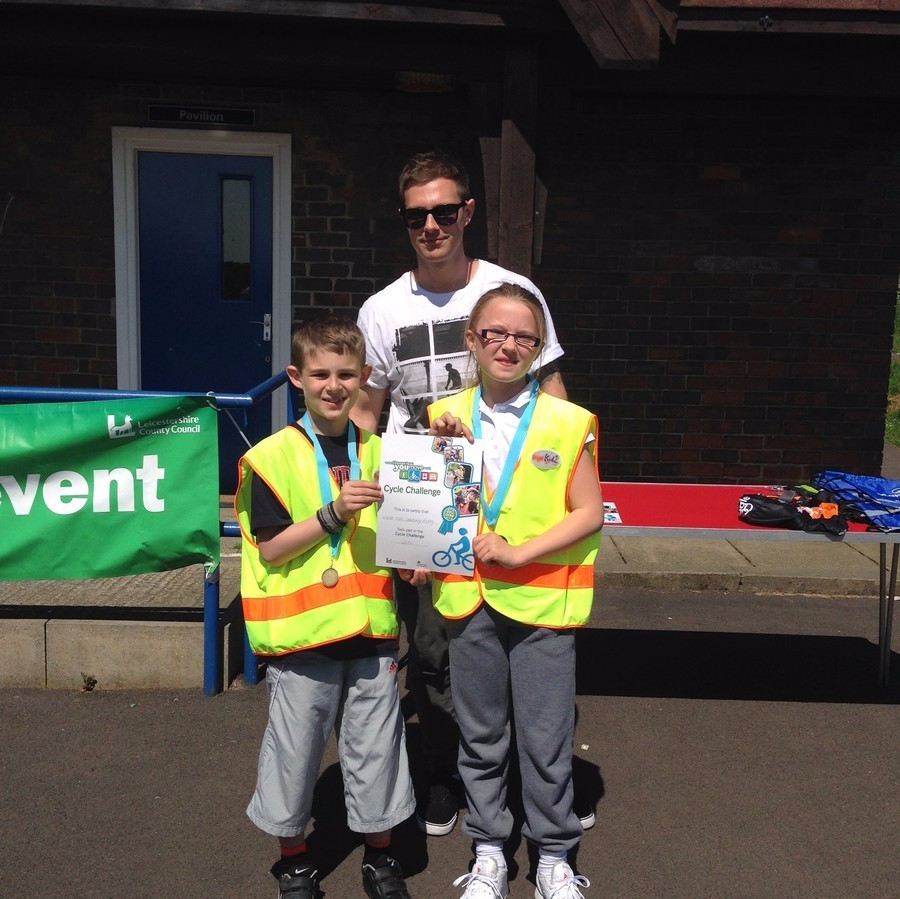 Jamie's sponsored event
We are very proud of one of our Year 3 pupils, Jamie Harris who arranged his own sponsored event, in which he raised money for a charity called "Matthews Friends" for this years Purple Day (26th March).
"Matthews Friends" are the charity that support the diet Jamie's sister is on to manage her epilepsy, so it is very important to him. Jamie told the whole school about it in assembly and it's great that he wants to support such a worthwhile cause. Well done Jamie for showing such a caring approach.
Jamie ran 2 laps around The Outwoods near Loughborough (approx 4 miles) with International Javelin thrower Lee Doran.
If you would like to know a little bit more about the charity and why Jamie did this this then please visit the families just giving page as it explains it all in a lot more detail.
http://www.justgiving.com/owner-email/pleasesponsor/AmyLHarris86