Breakfast club
Our Breakfast Club currently runs from 7.45 each morning and costs just £1.00. Places are limited so please book & pay in advance through the office. The club is very popular so if you require a regular place for your child it is important that you let the office know your requirements for the start of each term.
Magic Breakfast
In 2014, Magic Breakfast won a bid for DfE funding to support 183 schools in starting up a free breakfast club to trial the impact of children getting a breakfast before school. The research has recently been published and reveals they have been a resounding success - showing that breakfast in schools does have a demonstrable impact on attainment. In fact the research showed that a universal free breakfast provision at school delivered the equivalent to 2 months academic progress for pupils. Not only that, but it also highlighted the improvements in the classroom in the behaviour of the children attending and suggesting that there were improved outcomes for all pupils.
We are delighted to have been part of research that proved children do better at schools offering a healthy breakfast and, even after the project has finished plan to keep offering our successful Magic Breakfast, free for everyone each day
Our Magic Breakfast is now supported by Amazon and we welcomed members of their team to school recently and look forward to working with them in the future.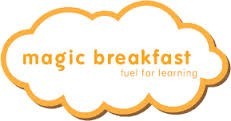 We were delighted to have secured funding from "Magic Breakfast" and Amazon to provide a free breakfast for every child in school, every day. Almost half our children take advantage of this already and we have seen improvements to punctuality, attendance, behaviour and social interaction.
This runs from 8.20-8.40, before registration, and includes healthy breakfast choices including bagels, cereals, fruit juices and porridge. We also plan to hold special breakfasts, for example at the end of term, and we hope to invite parents to some of these.
Research shows a healthy breakfast brings a whole host of benefits, including improved concentration and behaviour leading to better learning.
We would love your child to try our "Magic Breakfast" experience, there is no need to book....just turn up!