We are the Rainbows
Welcome to our page!
Please have a look and you will see the exciting things we do indoors and out.
We are the Foundation Stage class.
Our teacher is Mrs Macdonald. Our teaching assistants are Mrs Curtis, Ms Woolley and Mrs Smith-Farr. We have welcomed Miss Sheldon into our class. She is a Schools Direct Teaching Student and will be with us all year.
We also work with Mr Mason for PE and some of us work with Mrs Richards to learn English as our second language.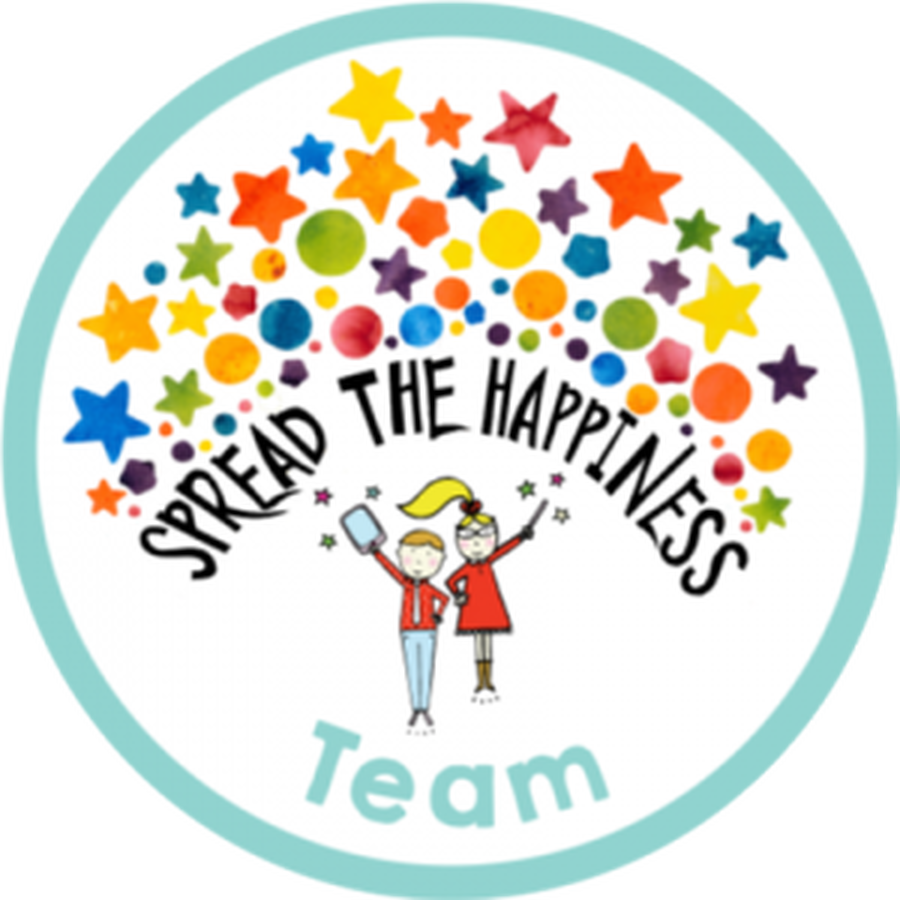 We are proud to have been awarded a Spread the Happiness Team award last year. We are always looking for new ways to be happy and have fun!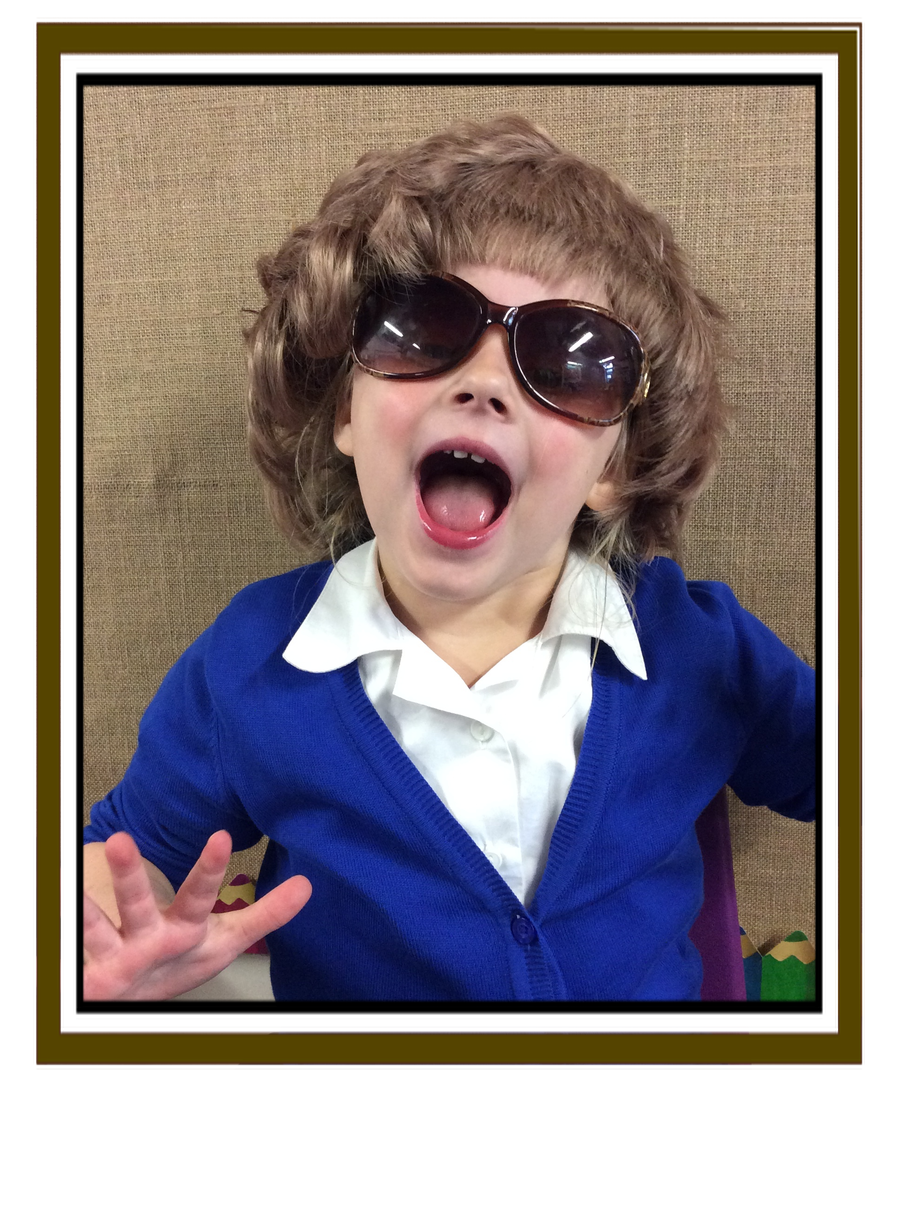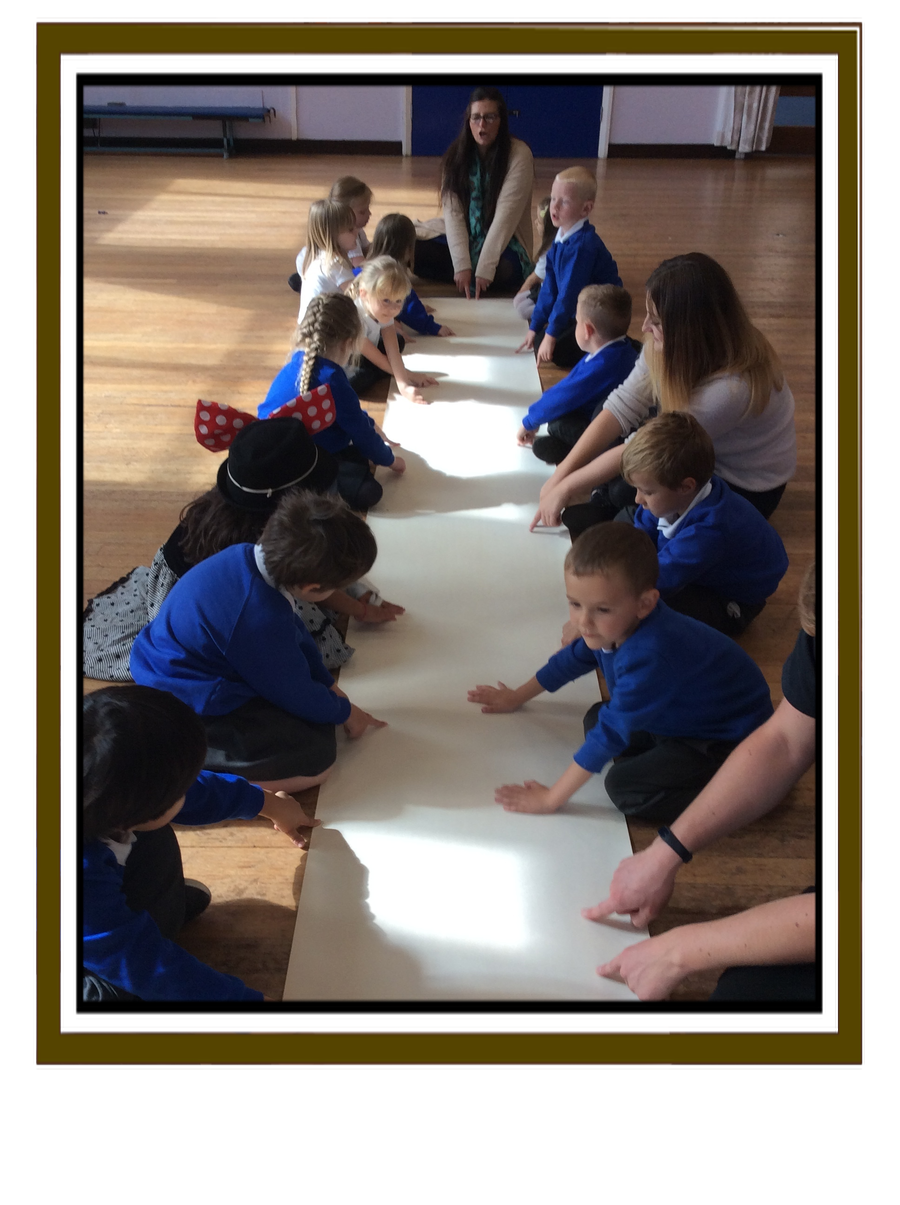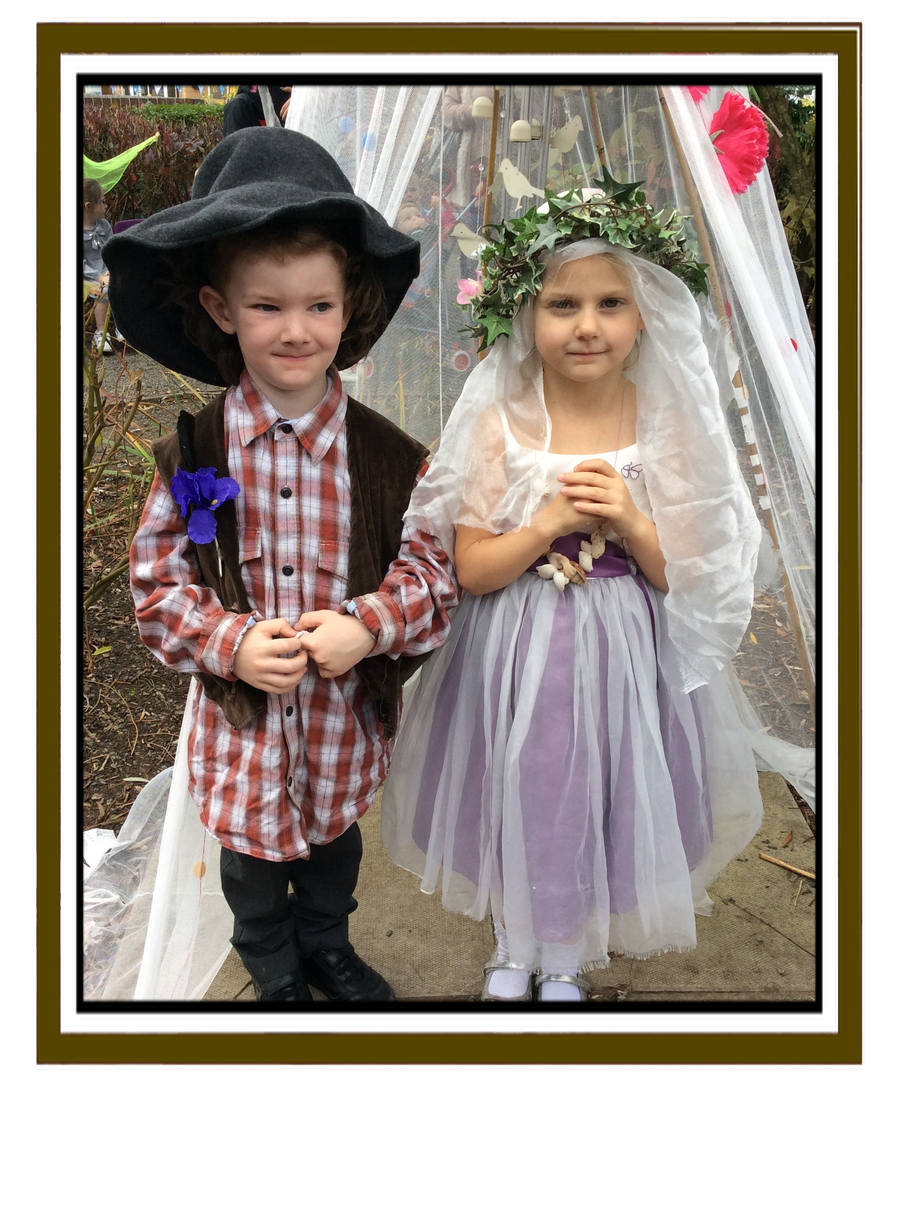 We do Go Noodle dances and exercises every day; below is the link so your child can continue this at home.
Remenber, your child is entitled to a free breakfast in the morning and a free school lunch until they are in Year 3. We operate a choice system for dinners - you will have received a menu in your welcome pack.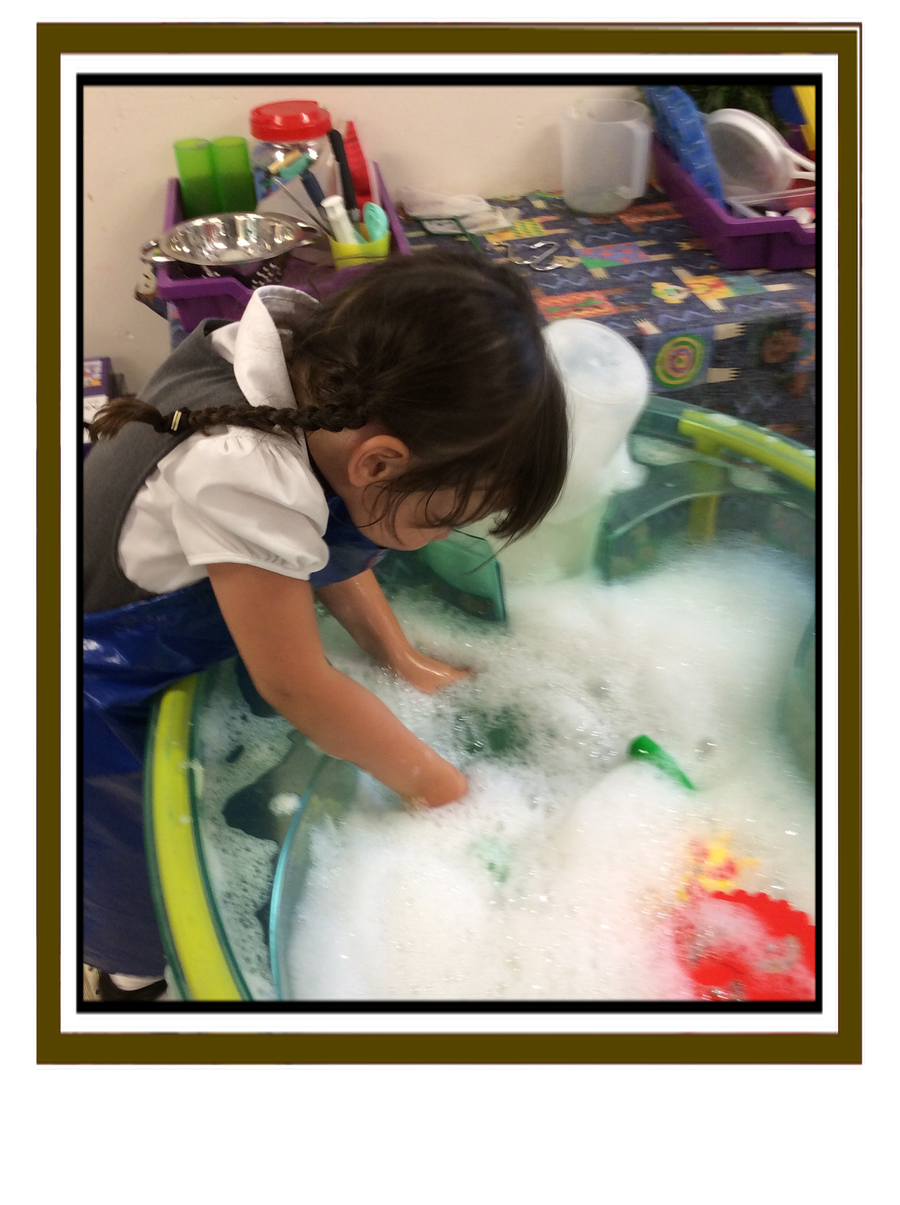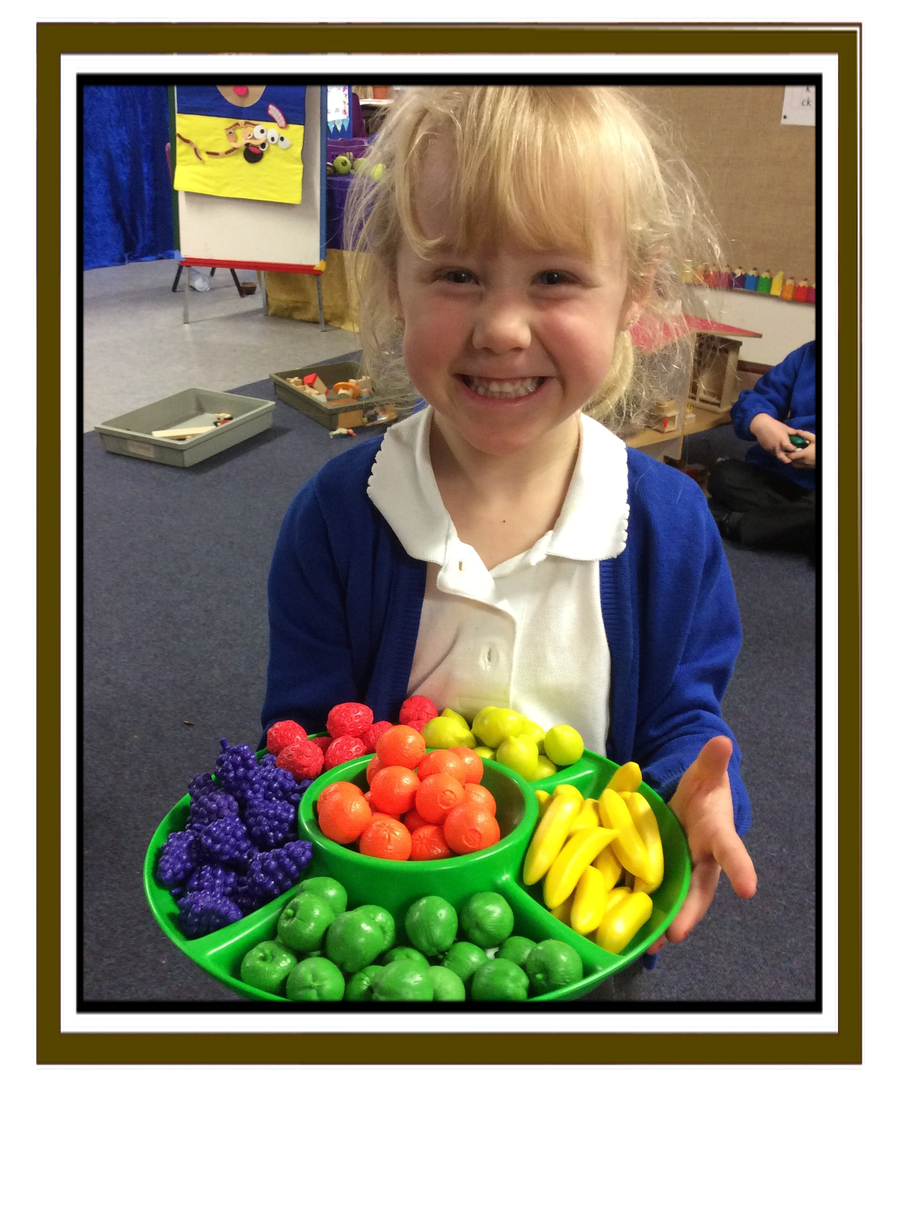 Our PE activities take place on a Tuesday and a Thursday. Please make sure any earrings are removed on those days.
Thank you!
Any questions? Please see a member of the team.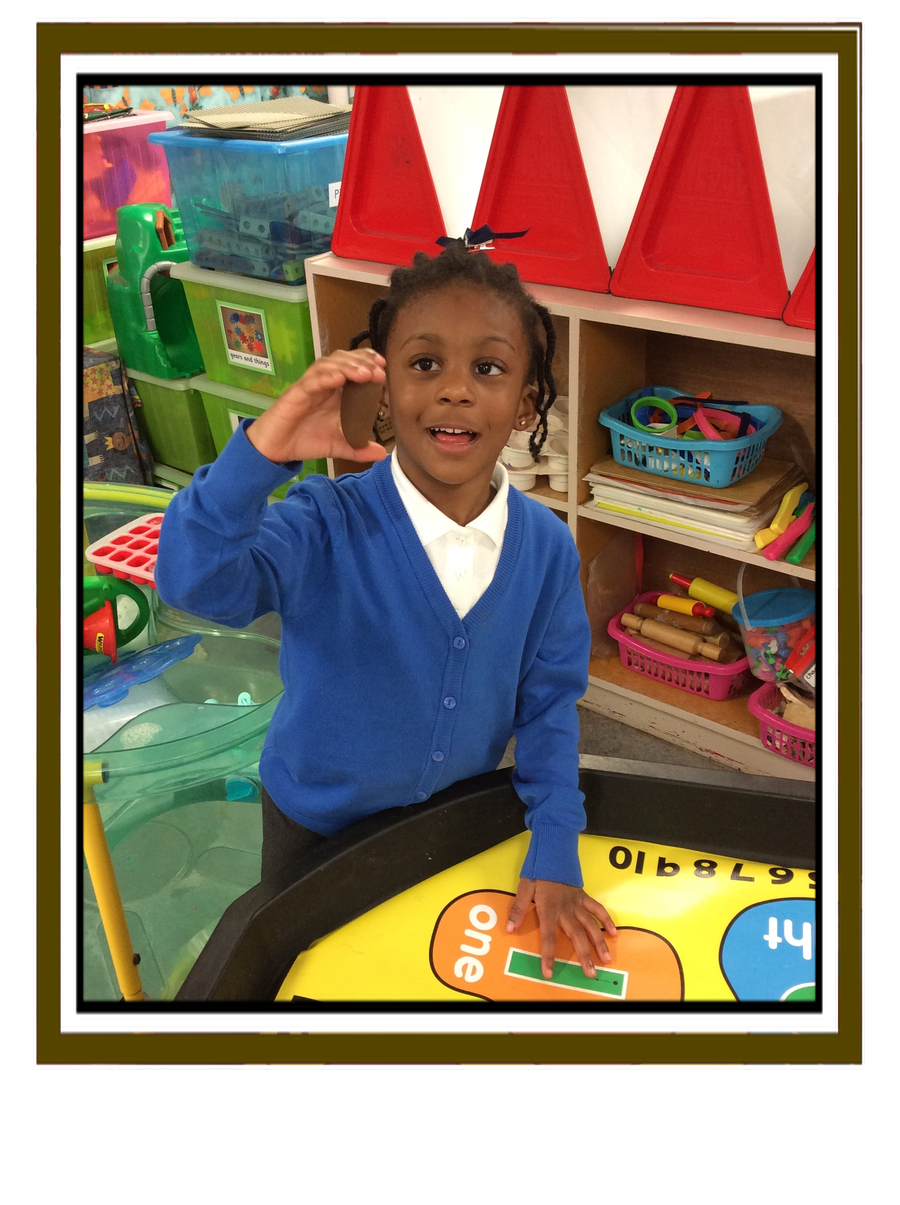 We love to watch Cbeebies, particularly Topsy and Tim. They started school just like us!
PLEASE remember if your child has sickness or diarrhoea, they must be kept away from school for 48 hours after the last time they were sick or had to use the toilet. We have had a number of children off with this bug already this year. It is so important we ALL stick to these rules (recommended by Public Health England) to protect children and staff.
This applies even if your child seems fine on the second day.
Thank you!
We go outdoors in all weathers all year round.
Please make sure your child is dressed in warm clothing if it is cold. If you wish to send older clothes for your child to wear in the garden, then these need to be in a bag on their peg. We do have full wet weather suits for the mud kitchen.
Please also send some named wellies for your child to wear when they are in the garden.
Thank you.
Thank you for visiting our page. This year we have welcomed 30 lively children into the class from a number of Nursery settings. At the moment we are concentrating on settling the class into school and finding out all about the children so we can follow our child-led curriculum. We have started Phonics and Maths sessions each day and take part in Dough Disco and Go Noodle sessions each morning. Our aim is to spread the happiness in all we do and have lots of fun whilst learning. Below are some things we will be working on this term.
We had a great time performing in our school play Bethlehem's Buzzin'. Thank you to all who came to watch. We raised £96 from the collection...wow!
We invited parents into our classroom to help us make Christmas decorations and props for our play. We had a lovely time!
We have been reading the book The Scarecrow's Wedding by Julia Donaldson. We spent a whole week in our class and garden getting ready to hold a real wedding. We made wedding playdough, cakes, table decorations, invitations and played with special pink wedding water. We decorated the garden and held our wedding in the sunshine in front or our parents and the nursery children. We had a great time!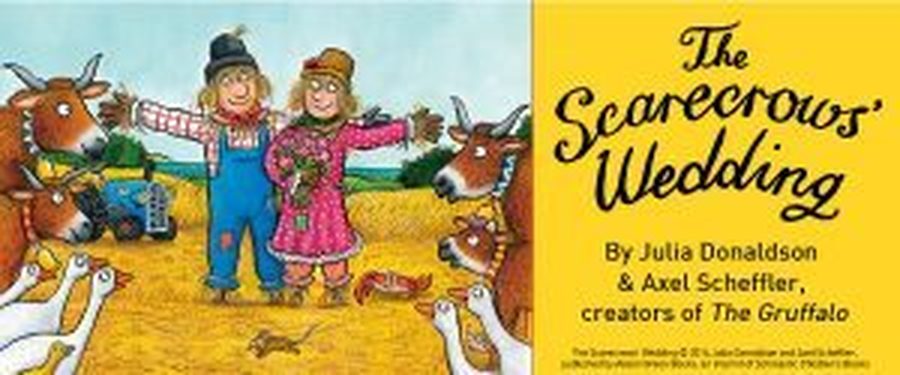 We have lots of fun in our garden and playground!
We have been working really hard on our phonics and letter formation. We have also been learning how to write numbers in different ways, including paint, play dough and chalk outside.
We have been thinking about Harvest and where our food comes from. Amongst other things, we have chopped vegetables, made funny vegetable people and been on an Autumn Harvest hunt around the school grounds. We found lots of apples, pears, carrots, beans, potatoes and herbs. We have also made Autumn Soup, the recipe is further down this page. It was yummy!
Here are some of the exciting things we plan to do in the next few weeks...
Every child now has a reading book to share at home. Please ensure this is returned every week so Mrs Woolley can change them and prepare the next one to go home.
Thank you for the support you give your children at home with reading and other activities. The children love to tell us all about the work they do at home and are very proud of it.
Following the success of our first sale, we held a second table top sale linked to our fairies topic. We made cakes, more play dough and created pictures on the iPad with a frame. We also made posters to advertise our sale and put them up around school. Rain did not stop us as we held the sale indoors. We counted the money with Mrs Macdonald and were delighted to have made a total profit of...
£62.00!!!
We held an assembly to tell the whole school and parents about our enterprise project and are now deciding how to spend our money. We will let you know what we buy. A huge Rainbows thank you to everyone who bought something. There is a display of our writing and other work in the hall, so please come and have a look!
WOW! Look at our new Bug House...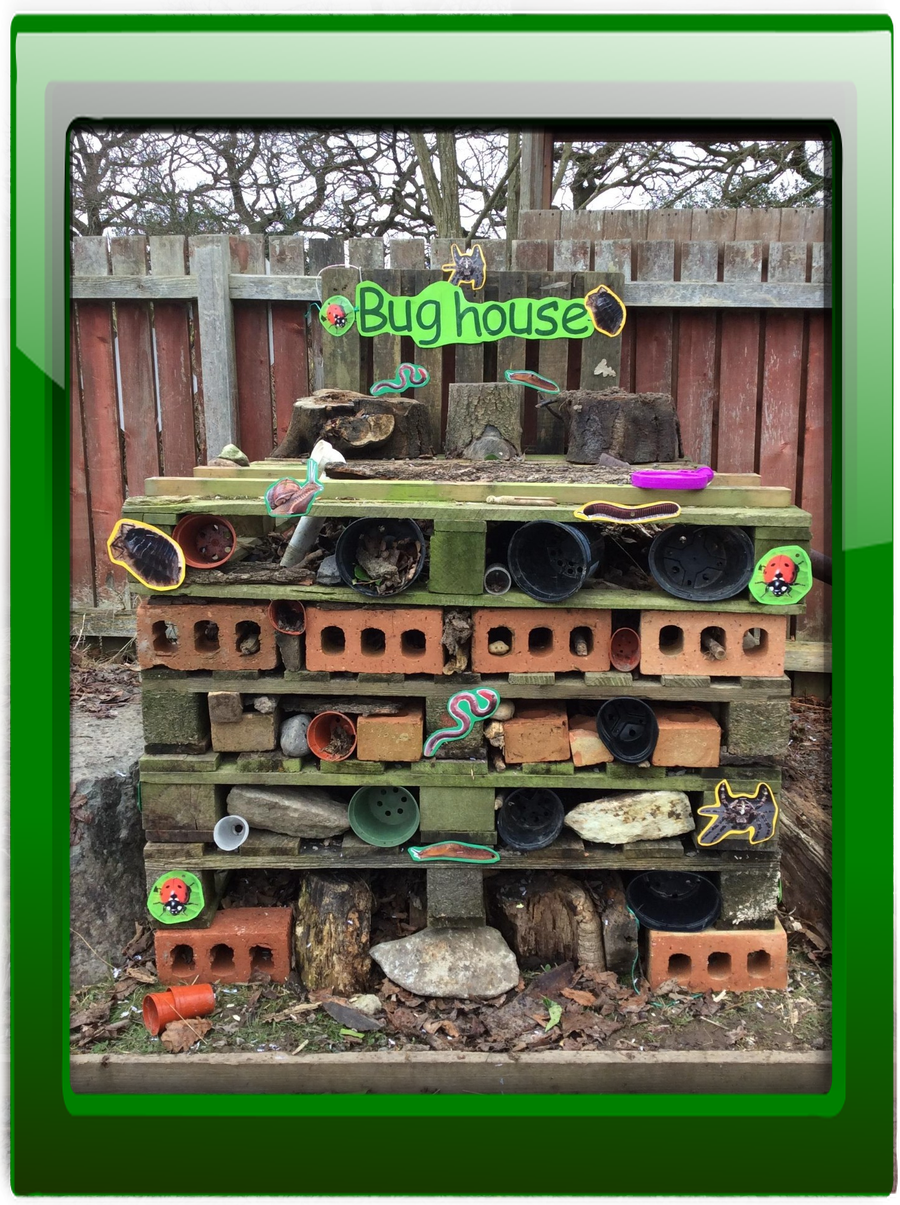 We have welcomed a new member to the Rainbows Team. Her name is Kate and she works in a forest school nursery. She will be volunteering with us. We had great fun with her building a bug house in the garden and are going to create other exciting areas too. Watch this space...
If you have any items like old pots and pans, wooden and metal utensils, plastic tubes and pipes or plastic and wicker baskets you no longer need lying around at home please bring them in to us; we will make good use of them outside.
This week we made fairy perfume by crushing flower petals and adding water and essential oil. We then bottled and labelled it to sell on our fairy table top stall. We also made purple playdough, painted stones we found in the garden and made bookmarks. We sold most of our stock and made a profit of £19.80. We will be deciding what we can buy with our money after our second stall next week!
Thank you to everyone who bought something!
On our daily KM walk, we discovered Castle Rock field has hills! They are brilliant for rolling down...'Mrs Macdonald, please can we roll down the hill today?'(Charlie)
We have been busy in the mornings completing 15 minutes on Go Noodle. We have 'maxed out' one avatar and gained an award and are now on our next one. We love it and some children are reporting they are continuing to use the website at home.
'I have done this at home' (Scarlett) Great stuff!
This all adds into our keeping healthy and spreading the happiness work. Our PE days are Thursday and Friday for the rest of the year. We walk a kilometre a day and do yoga and Dough Disco in the mornings. This is in addition to being outside every day. We ensure we drink plenty of water throughout the day and have a drinks station in the classroom, looked after by a drinks monitor. We also have a calming circle once a day using our colour-changing cube. This helps us to chill out and relax. We really feel being healthy and relaxed helps us to work better! (The staff do too!)
'Are we going on our walk today?' (Tanya)
We have completed Fit February and are now in Mindful March...
The children and staff all looked amazing for World Book Day! Thank you for all the chocolate donations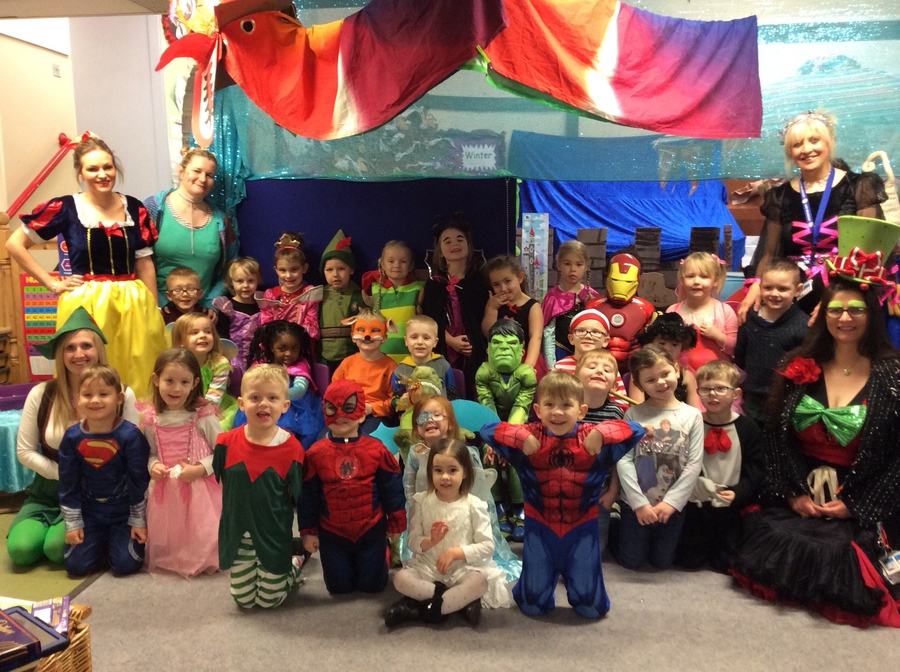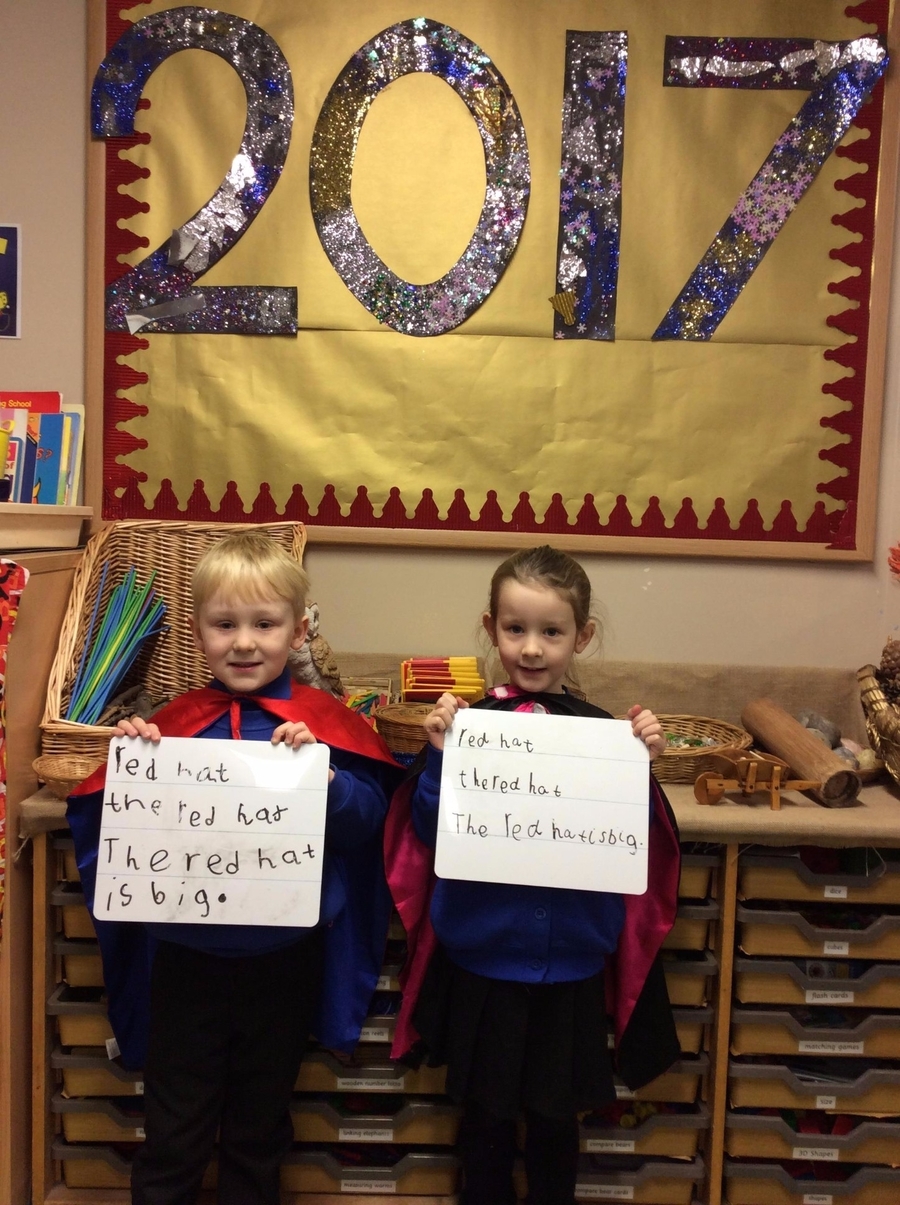 Every week we choose 2 Super Sentence Writers of the Week. They have to write their super sentences every day. On Friday they can wear a super hero cloak as a reward. Well done to this happy pair!!
'I am going to try really hard to be Writer of the Week' (Archie)
Every Thursday we read with our new friends The Explorers class. It is great fun!
'I love reading' (Matthew)
We are absolutely loving our new topic Elves, Goblins and Fairies. A real fairy came to see us and delivered a tiny letter. We had instructions to tidy the garden and make it fairy friendly so we built fairy houses and wrote welcome messages on logs.
'Shh Mrs Burns, you can't wake her she's sleeping' (Lily)
'Mum, come and see the fairy houses!' (Maggie)
We have been learning about being healthy. We know we should eat our '5 a day' and are trying really hard to do this. We also walk a kilometre a day on Castle Rock field. Our quickest time to do this was 11 minutes and 6 seconds!! We have learnt about healthy teeth and took a toothbrush and toothpaste home to use. It's great fun being healthy!!
'Look Mrs Macdonald, I have an apple in my lunchbox!' (Charlie)
We celebrated Chinese New Year in style. We chopped vegetables and made a stir fry to eat. It was yummy! We also dressed up in Chinese outfits and listened to Chinese music. We did a peacock dance in the hall with a lady called Kate. Finally we had a go at writing Chinese letters using paint and red paper. It was great fun!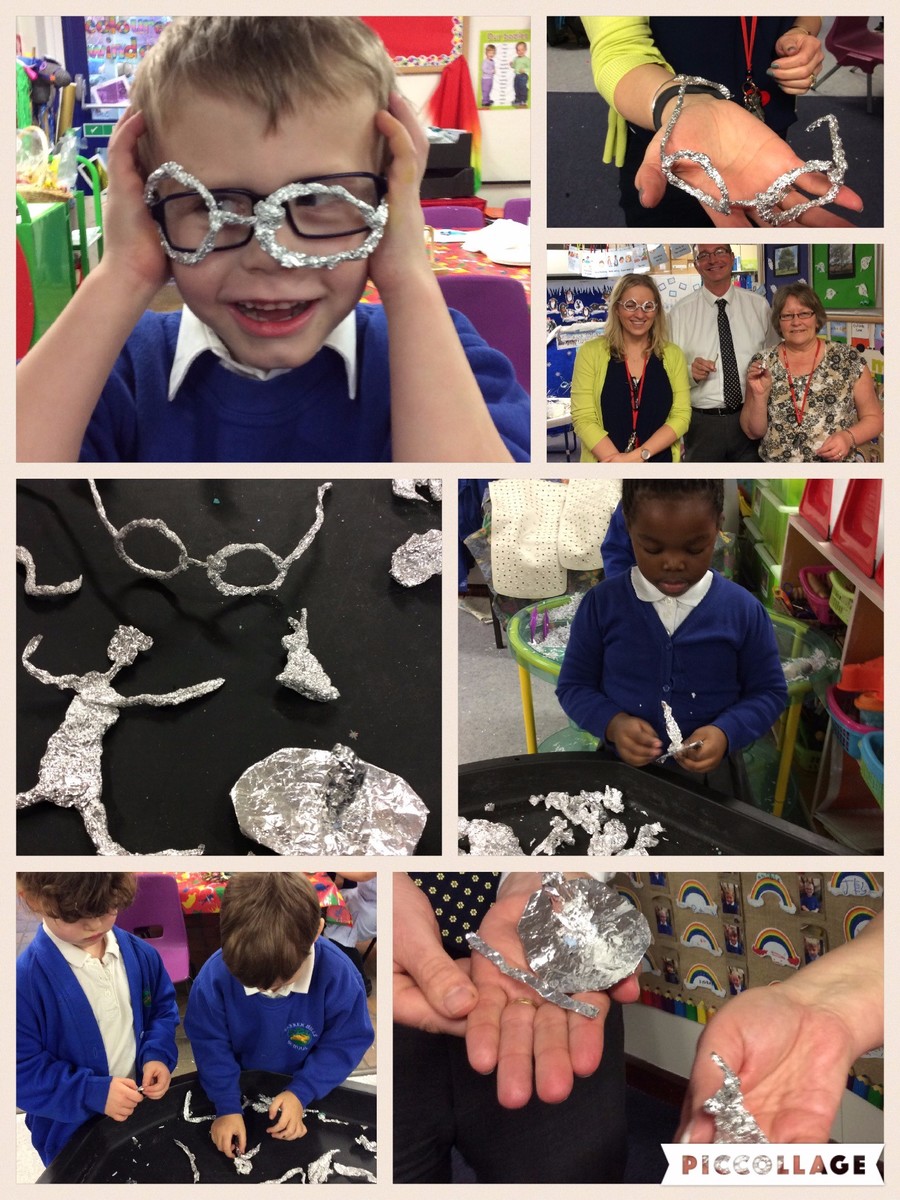 We have been having great fun doing our Cold Topic. We did lots of exciting activities including frozen writing and making things from tin foil. We also had a brilliant role play area that was a Polar Exploration unit.
We have been doing lots of exciting things such as working in pairs, using our whiteboard and counting outside. Skye built the biggest tower in the world!! (With a little help from Mrs Macdonald!)
'Shall I push it over?' (Skye)
The Rainbows class and staff took part in a 27 day challenge to win an award for being one of the happiest classes of adults and children in the country. Here are some of the things we did when we won the award..this is continuing all year with new challenges.
Parents joined us for our Scarecrow's Wedding in the garden. We based it on the book of the same name by Julia Donaldson. We had a great time dressing up, dancing and eating!
'I got married to Betty.' (Noah)
Last week, we welcomed parents into our classroom for the first of our new Parent Partnership days. The theme was mark-making and healthy eating. We had a great time and ended the morning eating the Rainbows Autumn Soup we had made the day before. Everyone had a lovely time!
'Yummy soup!' (Kacie-Louise)
Mrs Macdonald brought in a mystery plant from her garden. It was really tall!! We had a look at the vegetable growing on it and Jessica guessed it was a sweetcorn plant. We had lots of fun pulling the sweetcorn cob apart and looking at the kernals with magnifiying glasses.
'It's taller than you! (Martin)
We have been learning all about Owls from our book 'Owl Babies' and helped Mrs Curtis build an owl house in our classroom. We gathered all the natural materials we needed outside. Come and have a look...
'Owls make a hooting noise at night' (Skye)
The Rainbows children continue to have a really busy Autumn Term. We have been learning new sounds and practising writing these and our numbers in lots of different ways.
We have welcomed 26 fabulous new children into the Rainbows class.
A huge welcome to our new children and their families this term. The children have arrived very excited into 'big' school and are settling in really well. We have been very busy in the first 2 days doing lots of different activities. The children are making lots of new friends too. They have listened to stories and played outside. They get on brilliantly with each other. We are making rainbows with them using different media; have a look at our fantastic work displayed in the corridor outside our classroom.
Below are a few photos of the first few days...
Thank you for welcoming us into your homes last week. We hope you found the visits as useful as we did!
Autumn Term 2016 - Here's what we plan to cover!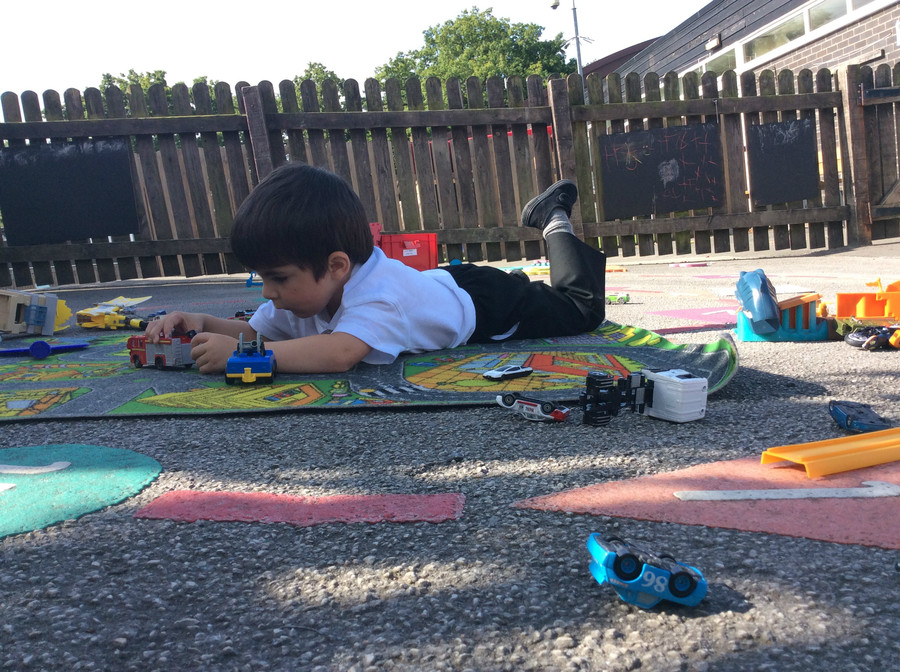 We have been learning all about the Wild West, Cowboys, cowgirls and American Indians. We have a cowboy wagon and a wigwam in our garden. Our role play is a saloon complete with a cooking area. We have really enjoyed dressing up as Cowboys and cowgirls. We have a gold mine in our class room and have been weighing gold and precious gems we find. We have also found sparkly gems in the water tray. We have made 'Wanted' posters and displayed them all around school. Mrs Macdonald couldn't tell some of us apart!! We had a visit from an outlaw, 'Big Bad Bill' who was a character from a book we read, and he stole our beloved class teddy Boris. It was all caught on video! We were all outraged and wrote letters to him asking him to do the right thing and change his ways. We also made Wanted posters to try and catch him. The ransom for Boris's return was 3 chocolate wagon wheels. Luckily the police caught Bill as he was returning to take the wagon wheels and they took him away in their car. Bill wrote to us and told us he was very very sorry.
We made chocolate cowboy hats with Miss Armstrong (Kian got covered in chocolate!) and learnt all about cows, including what they eat, where they live and where our milk comes from.
'Big Bad Bill is very naughty.' (Michaela)
'This topic is awesome!' (Daxtin)
'A cow has four stomachs? Who needs FOUR stomachs?' (Harry)
We would like to share 2 videos. The first is Big Bad Bill stealing our much-loved Boris the teddy.The second captures the moment he was arrested by the police (caught red-handed!) PC Julie told us we had given her such brilliant descriptions of Big Bad Bill it was easy for her to catch him.
Phew...Warren Hills can rest easy now naughty Bill has been put into jail!
Mrs Macdonald has introduced 2 new ideas for us to work on this term. Every morning we write our Super Sentences. If we try really hard every day and write our letters correctly we have the chance to wear Superhero cloaks all day on a Friday. This is very exciting! Look out for the 2 'Super Sentence Writers of the Week' on the classroom door.
We also have a new way of recording all the activities we complete in class. If we complete an activity, we can collect a coloured lolly stick and put it in an envelope on the display next to our name. All five lolly sticks make a rainbow. If we make a rainbow over the course of the day, we can choose to have a sticker, or a DoJo point. This is working really well!
'Yes!!! I got a purple stick!' (Jamie)
'I have done some writing, maths, a cactus in the play dough and had my snack. I only need one more stick for my rainbow' (Harmony)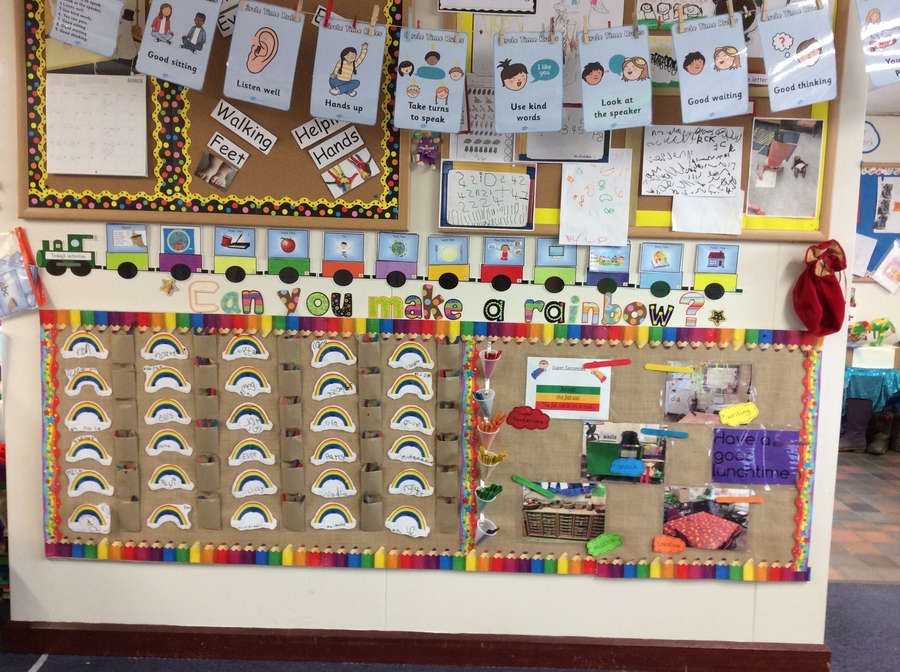 We were very excited that the very first chick that hatched in the school incubator was the Rainbows chick. The chicks came to visit our classroom and we loved to hold them.
'I think we should name our chick Claws' (Daxtin)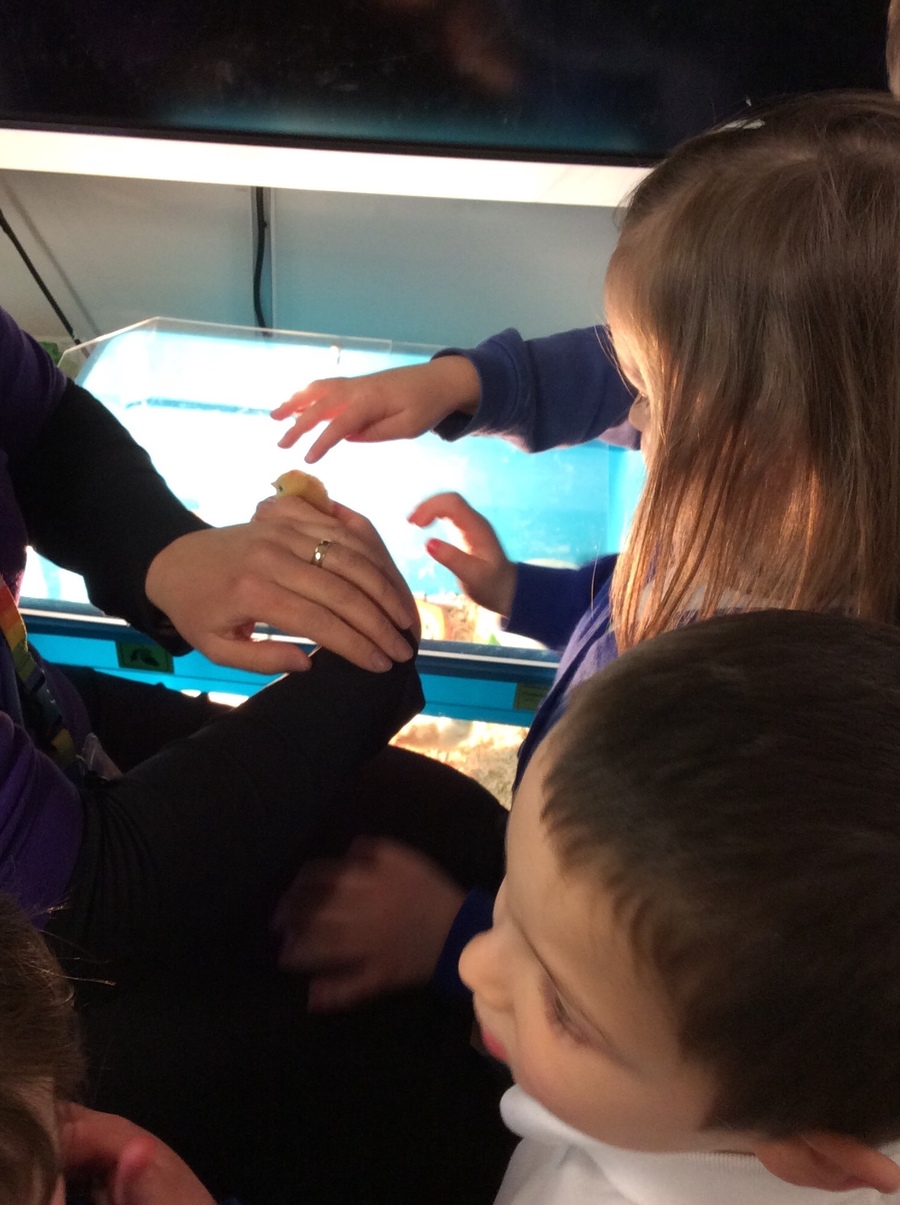 Our Tapestry Learning Journeys are working really well. Look out for a letter about how you can get involved in updating your child's journey from your phone or tablet.