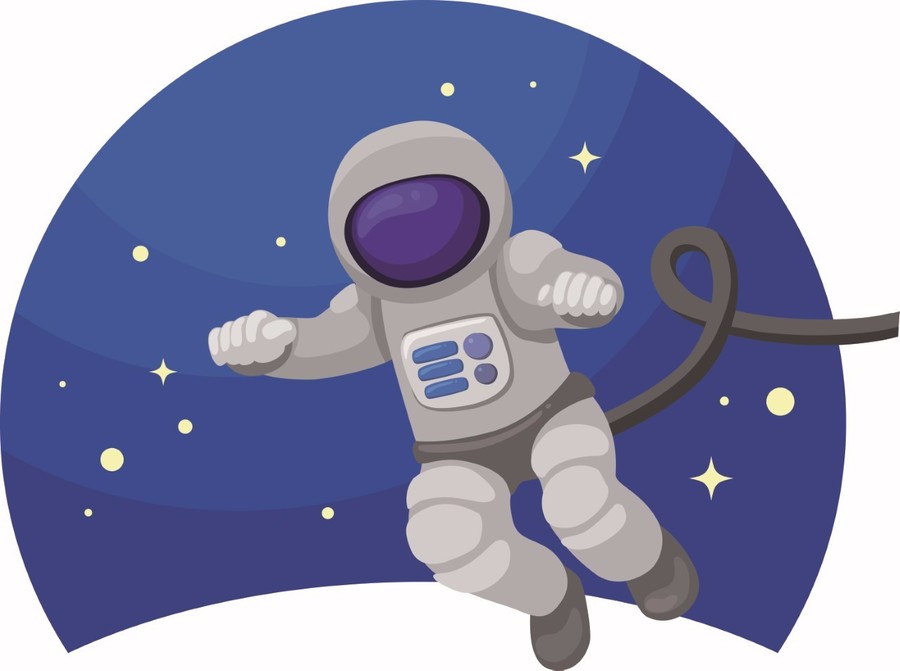 Another new school year is upon us. We are very excited to get back to school and see our new, extended classroom. Mrs Reynolds is still the class teacher in Pioneers but this year we have Mrs Cooke as our classroom support. We have got some exciting things planned for this year, so keep checking back here to see what we've been up to. But for now, take a look at our plan for the first half term.
For Roald Dahl Day on Wednesday 13th September, we wrote some poems based on characters from his books and we also made Roly-Poly birds from the Enormous Crocodile book. Above you can see us making our birds and below is some of the rhyming poetry that we wrote.
Pioneers PE days are Wednesday and Friday. Please remember appropriate kit for both, including plimsols for indoor PE.
Well it is a new year and a new start for Pioneers. Our classroom has been repainted and re-organised over the summer holidays. We think it looks really spacious, bright and colourful. We love it. Not only do we have new children in the classroom, but we also have new teachers. Mrs Reynolds is our class teacher, Mr Taylor is a student teacher, who is going to be with us for much of the year, and Mrs Timson is our teaching assistant. We hope to work hard, but have lots of fun this year. Keep checking our webpage to keep track of what we are doing.
Summer 2 - Our Natural World
For our last half term of 2016/2017, we are learning about our natural world. We can't wait to learn about how and why volcanoes erupt. We will be making our own models. We will also learn about how animals adapt to the environment that they live in.
Summer 1 - Grandpa Chatterji
Our book focus this half term is 'Grandpa Chatterji' by Jamila Gavin. It is about two children who have a Grandpa who lives in Calcutta in India and a Grandpa who lives in Leicester. They are very different characters, but they are also very good friends.
Badminton Sessions
Pioneers had the opportunity to try a badminton session today. They all really enjoyed it. There will be an afternoon school club starting next week.
Our focus this term is electricity. We will be looking at where electricity comes from and making circuits in Science. We will then use the knowledge we have gained to build structures that have features which light up.
Year 4 Life Skills Collaborative Workshop
We had a wonderful day today learning life skills at Castle Rock High School. We learnt lots of ways to stay safe, how to provide basic first aid and also made lots of new friends from the other schools.
This term we will be studying the Shakespeare play Macbeth and also the links with Scotland. We will be joining together with the Discoverers class to put on the play. We will let you know the date as soon as it is finalised.
Here is our topic web for the second half of the autumn term. We will be studying Ancient Egypt for five weeks. After this we have a very magical topic for the run up to Christmas.
Forest Schools
Every Friday a lady called Sam comes to work with a group of children from the Pioneers class. They are learning lots about the outdoors whilst having loads of fun. This was a nice autumn day, but sometimes the weather is not so good to them, but they still go outdoors for their learning come rain or shine!
Maths
In Pioneers we really love our maths lessons. We enjoy investigating why things work. We also like solving problems. Here some of us are looking at how division works using place value counters, getting us ready for formal written methods.
Mummification
As we have been learning about Ancient Egypt, we discovered that the Pharaohs were mummified when they died. We mummified two of the children in our class to learn about the process and the steps that they went through. It was great fun and the mummies were super!
Science Investigations
We have been enjoying our science Investigations. Here we were trying to find out which pop was the the fizziest by measuring the amount of carbon dioxide in each one. It was great fun and a bit sticky at times!
Here is our topic web for the first half of the Autumn Term
Amazing Art
As we are studying Mr Stink by David Walliams, we have looked at the illustrations which have been drawn by Quentin Blake. We have tried to use some of his techniques to create characters for our own stories. We used a paper template with moveable arms and legs to help us get a good shape for the body. Then we added detail and used watercolours. Take a look at some of our work in progress.
Our Class Values
In Pioneers, we thought about the British values and how they applied to our class. We then wrote our own class values to make our class a happy and fair place to learn. Once we had decided on our values we all signed them.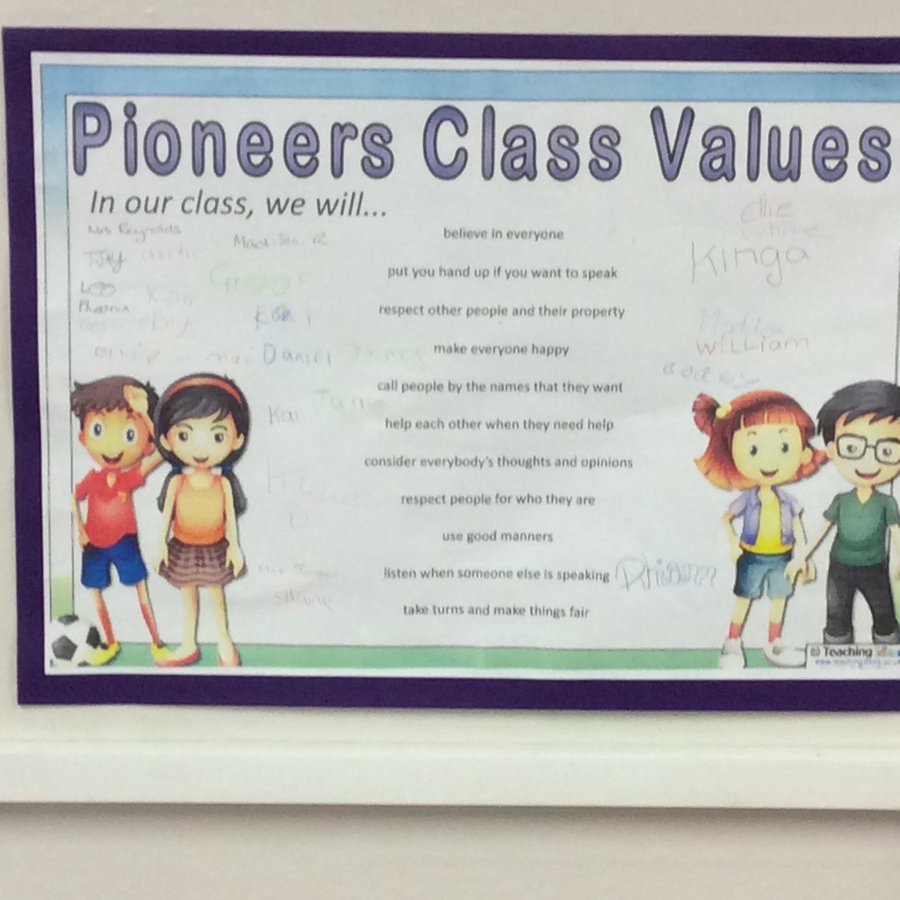 World of Walliams
We have made a great start to the new year. The children are working really hard and enjoying studying David Walliams. At the moment we are looking at Mr Stink and Billionnaire Boy. We think the stories are very funny!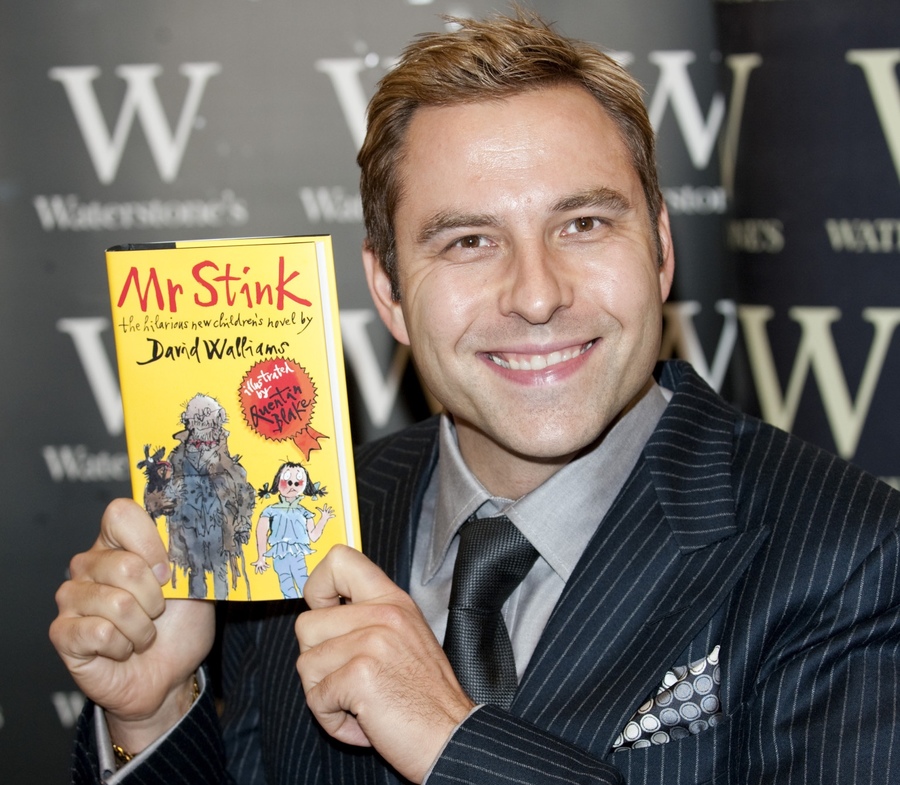 Roald Dahl Day
We have had a great day celebrating Roald Dahls 100th Birthday today. We dressed up as different characters, we had a workshop on George's Marvellous Medicine and we made dream jars from the BFG. We all had a great day. Take a look at our photographs.
Djembe Drumming
Mr Emerton visits us once a week to teach us how to play a Djembe drum. So far we have learnt two different notes. One is called bass and the other is called slap. We really enjoy this and look forward to his weekly visits.
THE PIONEERS Year 4 Class
Welcome to the newest class in Warren Hills School!
Pioneers is the new Year 4 class taught by Mr Burrows with Mrs Cook. The classroom has been decorated and furnished with plants and colour to bring the outside inside.
Our class ethos for this year is simple: WORK HARD AND BE KIND !
If we can all do these two simple things, we should be able to: BE HAPPY !
Please browse our webpage (written by the children and Mr Burrows) to see all of the fabulous things we have been up to this year; learning together in friendship.
Reading Heroes
Every time you take out a new class library book your photo will be posted here. The more photos of you, the bigger READING HERO you are! Take a look to see what your friends are reading - perhaps you would like to read the same book when they return it to the library. Beast Quest books seem to be most popular with the boys, Hanna Montana with the girls and everyone is in to the Scream Street series.
"I want to meet my Target Tracker target for reading lots of different types of books." "I have brought some of my old books in from home to add to the library - I hope you like reading them."
Times Table Practice
Lots of our children have been accessing the Internet from home to practise and improve their multiplication and division skills. Click on the picture above to access a useful site that we use frequently in class.
"Shared this game with my little sister and she enjoyed it as well." "It got times tables on if you need practise with them." "You can try, try and try again with your times tables." "I like Hit the Button because you can learn about division as well as your times tables."
Easter Chicks
With Easter just round the corner and Spring in the air we thought it was an appropriate time to bring some new life into the school. We hatched five chicks from eggs and, in Science, we observed the chicks growing and their feathers developing. We learned about caring for animals by cleaning the chicks out and providing them nutritious food and fresh water.
"They're cute." "We made the chicks comfy by making a cup with our hands." "I think the chicks were cute, fluffy and a little bit naughty." "They're chirpy chickens."
Happy Bunnies
Recently, we have been investigating our feelings, both positive and negative. In Art and DT we painted wooden bunnies with happy blue skies and angry thunderclouds to represent the mixture of feelings we all have inside ourselves.
"The happy bunny is very blue but the sad bunny is very grey." "The grey bunny represents sadness and darkness but the blue bunny represents happiness and joy." "If the sky can be blue so can you." "When I take my bunnies home, I will put them in a see through bag with millions of sticky notes so I can write happy and sad things on them." "When the sad bunny takes over inside of me, I will write it down to remove the bad feelings."
The Art of Cloud Busting
It felt like Spring had finally arrived when we spent the afternoon in the outdoor classroom making pencil drawings of clouds. We improved our techniques using sketching, shading and smudging along with careful observation and concentration. We even did some 'cloud busting' after reading about it in our class story book - staring at the clouds until they dispersed and eventually disappeared!
"I really like the way you shaded your clouds." "It's clever how you drew some little clouds in front of other ones." "If you lick your finger first, you can smudge the lines really easily." " I can see a dragon in that cloud, and a horse, and a..."
Geography and Volcanoes
We had great fun and learned a lot about geography, geology and chemistry as we built and erupted sodium bicarbonate volcanoes in our classroom.
"It's been the best geography lesson ever!" "Let's put more baking soda in and see what happens." "The more acid you put in, the bigger the fizz."
Literacy and Spelling Apps
We undertook a spelling quiz this week to find out our "Spelling Age". The results showed that we need to practise our spelling skills. As well as practising the spellings in our Homebooks as often as possible there are lots of free apps you can download to improve your word knowledge and spelling. Here are some favourites recommended by pupils who already use them: 94 Seconds, Word Up and Four Pics One Word.
"My mum's got WordUp on her phone and we play it all the time." "Four Pics One Word is really tricky - it stretches your brain!"
Science - The Dangerous Science of Mining
We were invited to take part in a multimedia show at Castle Rock High School all about the dangers of mining. The show included history, science, geology, flames, explosions and setting fire to teachers!
"I wish we could have set fire to you, Mr Burrows!" "I remembered that coal was made out of fossil plants." " We had already learned that burning fuel makes carbon dioxide so I could give the right answer."
Humanities - Roman Catapults
Whilst learning about the Romans in History, our topic spilled over into Literacy, where we followed instructions, and DT where we designed, built and improved catapults using our knowledge of forces from Science. At the end of a great afternoon of helping each other to make our 'weapons' we had a competition to see which design modification would fire a pom-pom the furthest.
"I think that longer levers will work best." "I used extra rubber bands to make the force bigger." "A bigger pom-pom has more 'woosh' (momentum)."
Humanities Trip Up Bardon Hill
The Pioneers have conquered Bardon Hill! We braved the cold and windy weather with the Discovers class to climb up to the top of Bardon Hill, overlooking the school, viewing different habitats, human geography, geology, the quarrying industry and Roman and Bronze Age sites on the way. We used a metal detector to search for archaeological finds and a camera drone to photograph our trip.
"I can see my house from here!" "That's where I want to get a job when I grow up." "I've never walked so far in all my life." "I bet the Roman Gods lived up here - it's like Mount Olympus." "We're like survival experts, eating lunch in the forest."
Hobbies and Interests
We are always interested in what you have been up to at home. If you have made something you are proud of, bring it into school and share it with your friends. If it is something you have done, practise a speech and tell us all about it. It's great to see your interests and skills and to hear you talk about them. Don't hide your light under a bushel!
"It took me a long time to build them and I'm very proud of them." "Wow! They are really detailed - you did a great job!"
Science and Electricity
We experimented with the electrical equipment to make a circuit and then used our circuits to test which materials conduct and which act as insulators. We had a very fun and practical lesson and even learned how to put out a small electrical fire!
"I still remember how to build a circuit from when you taught us in Year 1, Mr Burrows, but I worked out how to find which materials conduct all by myself."
Literacy - Extended Writing
We have applied our great writing skills in all areas of the curriculum with extended writing in Numeracy (how to do short division), DT (building a catapult), Science (where electricity comes from) and Humanities (all about the Ancient Greeks). We have learned to mark our own work in red pen and make corrections in blue pen.
"It's the best piece of writing I have ever done." I had a copy made to put in my Proud Folder." I remembered to use paragraphs for different subjects."
Practical Numeracy
We used and applied our Numeracy skills to help the School Office count their money. We sorted and grouped coins, counted carefully and checked our answers.
"There are too many coins to count but I know a way to do it: 'What's going to work? - TEAMWORK!'"
RE
The Pioneers visited St David's church this week. After looking around the church, we sang and prayed and took part in a mock wedding and baptism. When we returned to school, we made a poster of the visit to be displayed in the church.
"I liked giving a sermon from the pulpit." "I can't believe we got married - don't tell my mum!" "Now I know why they put water on the baby's head."
Science and DT
Look away now if you are squeamish! In our science lesson this week we dissected a rainbow trout and investigated its internal organs and skeleton. After the dissection we baked the body of the fish, stuffed with lemons and herbs, and ate it with brown bread. Well done, Pioneers, for having a taste of this new food.
"I've never eaten pink fish before but I really like it." "I thought it was going to be gross but there isn't much blood in a fish and it was really interesting." "Can we cut open its head and find its brain?!!"
Art and DT
To make placards for the Remembrance Day assembly, we used mono-block printing with red ink on green card to make a stunning poppy design.
"I gave my poppy lots of petals because lots of people died in the war."
Art and DT
We used our art and DT skills to design a pumpkin face for Halloween. The winning 'Creeper Face' was carved onto our class pumpkin. Please take care if you are Trick-and-Treating this weekend.
"Go with your parents or friends and only knock on people that you know."
PE
The Pioneers had the opportunity to try out a new sport: karate! If anyone would like to join this new after-school club just call in to the School Office for a form.
"That was a wicked lesson. I'm going to join the club."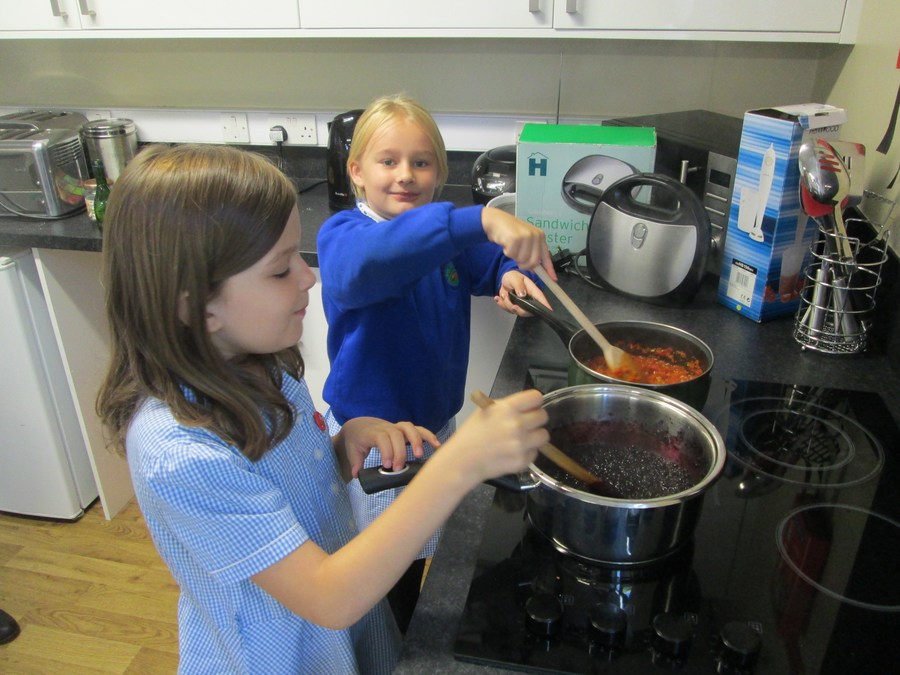 Design and Technology
The Pioneers have been busy foraging for wild foods around the school field and have been cooking up rose hip syrup, elderberry cordial and blackberry and apple jam.
"I really enjoyed cooking today - even the washing up and cleaning. I'm going to ask Mum if we can do some at home too."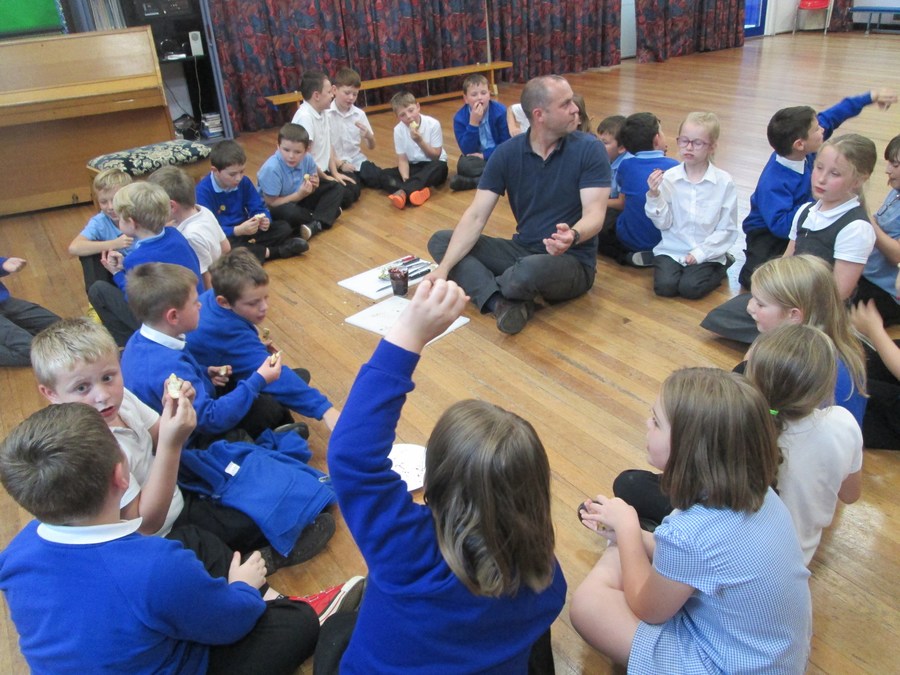 We enjoyed eating our blackberry and apple jam with butter and homemade bread, freshly baked by the children.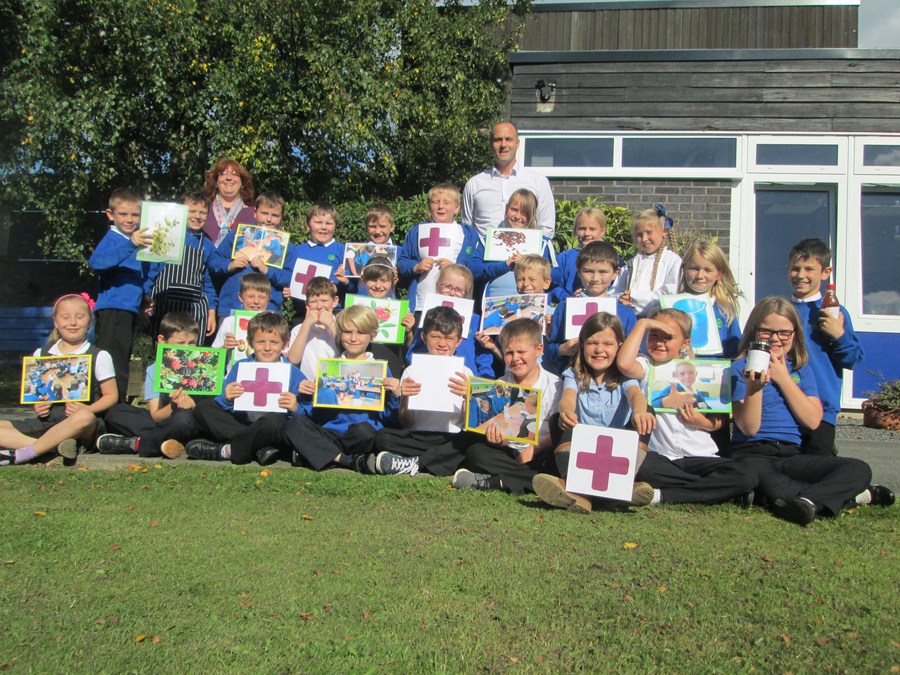 We told the school and parents all about foraging in the Harvest Festival assembly through drama, presentations and poetry. We displayed our bottled produce, complete with colourful and persuasive advertising labels.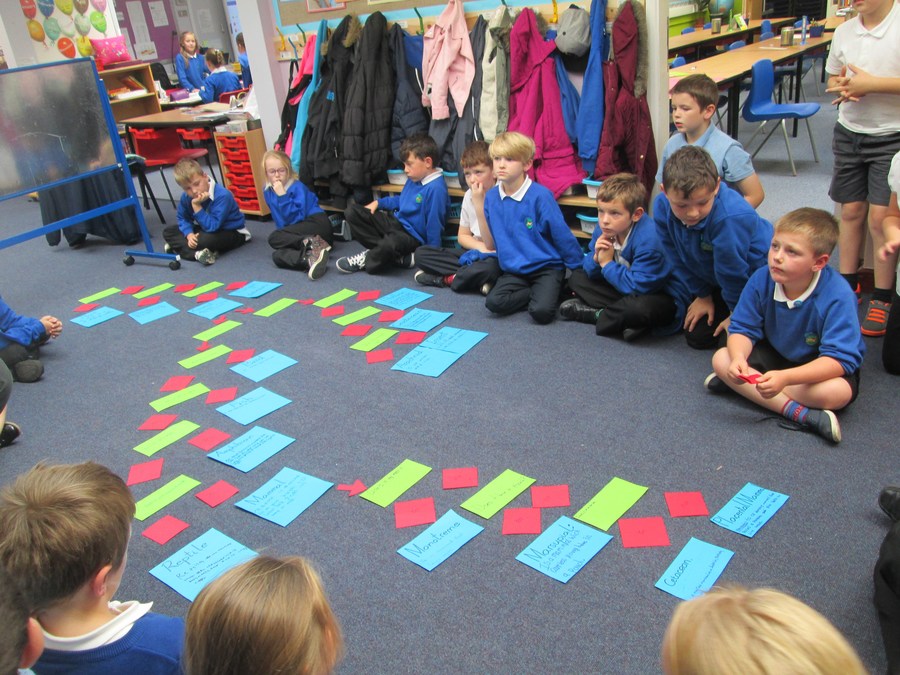 Science
In science we have been working as a class to construct and populate a huge classification key to help us determine which Family an animal belongs to.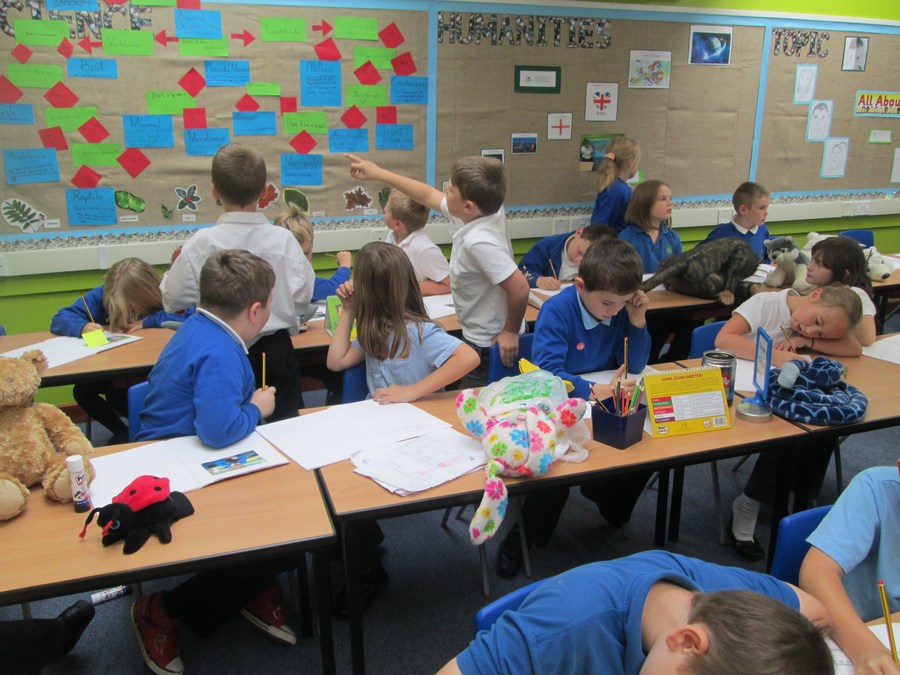 We used the key in class to classify living organisms into the four Kingdoms: animals, protozoa, plants and fungi.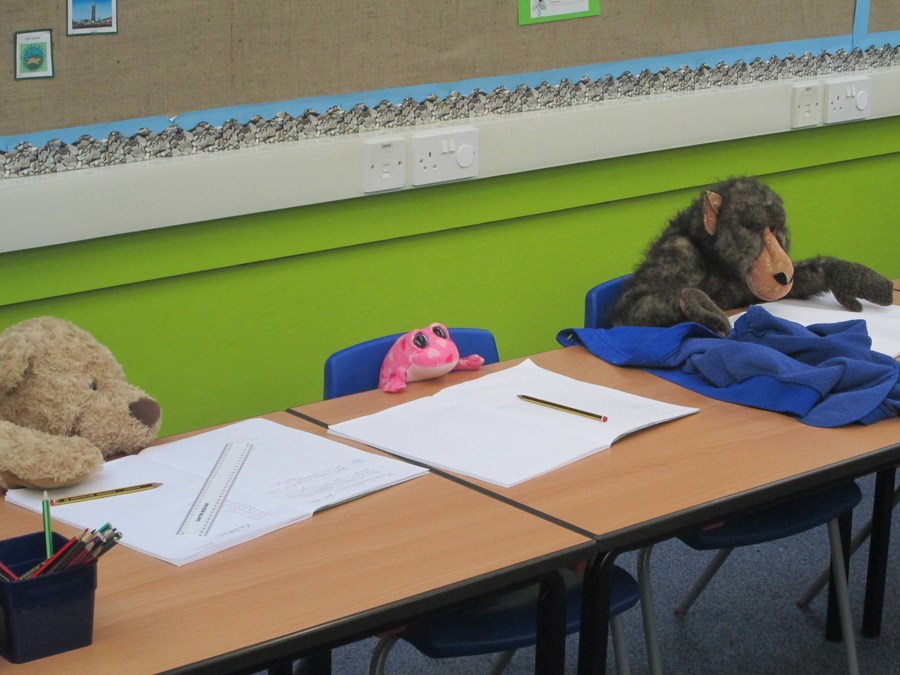 We invited some bedtime friends into class and used our classification key to find out what type of animals they were. Here you can see Brandon, Kai and Freya hard at work!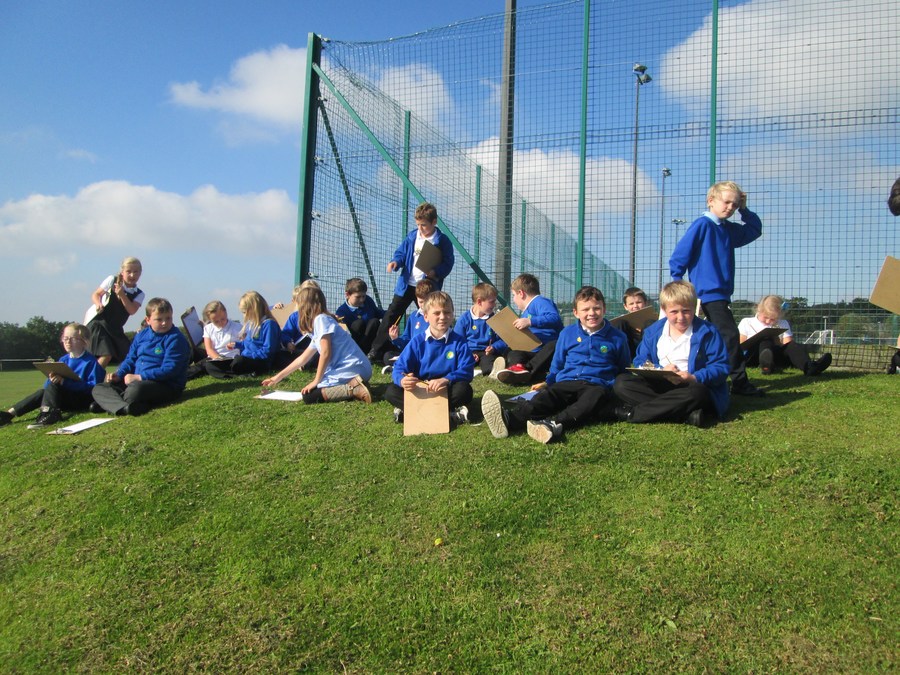 Humanities
In Geography lessons we have been looking at the world around us. We sought out an elevated point on the school field to look at the Leicestershire countryside and, after photographing, sketching and recording the view,...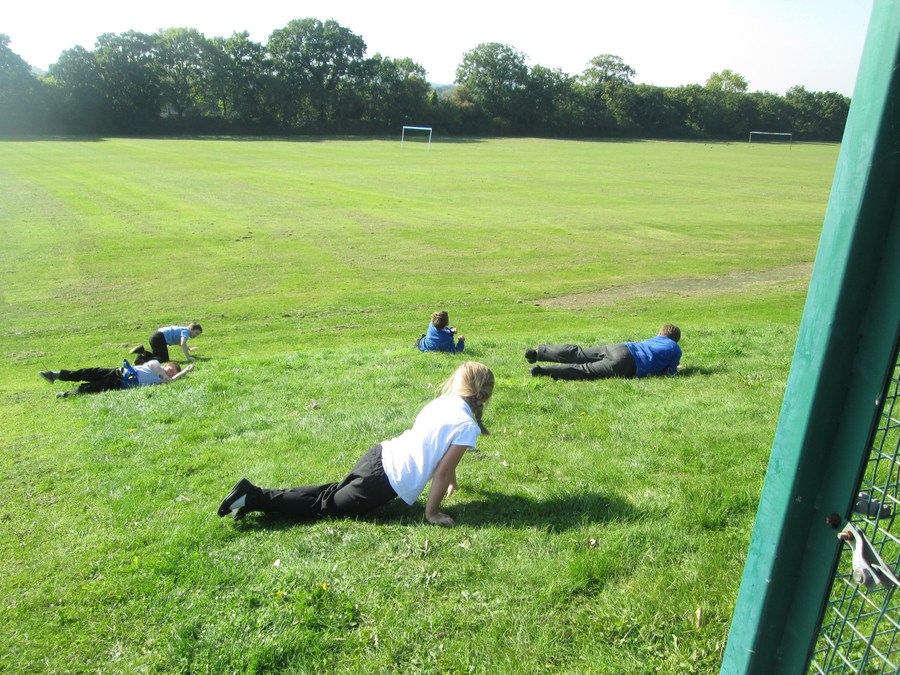 ...we rolled all the way back to class!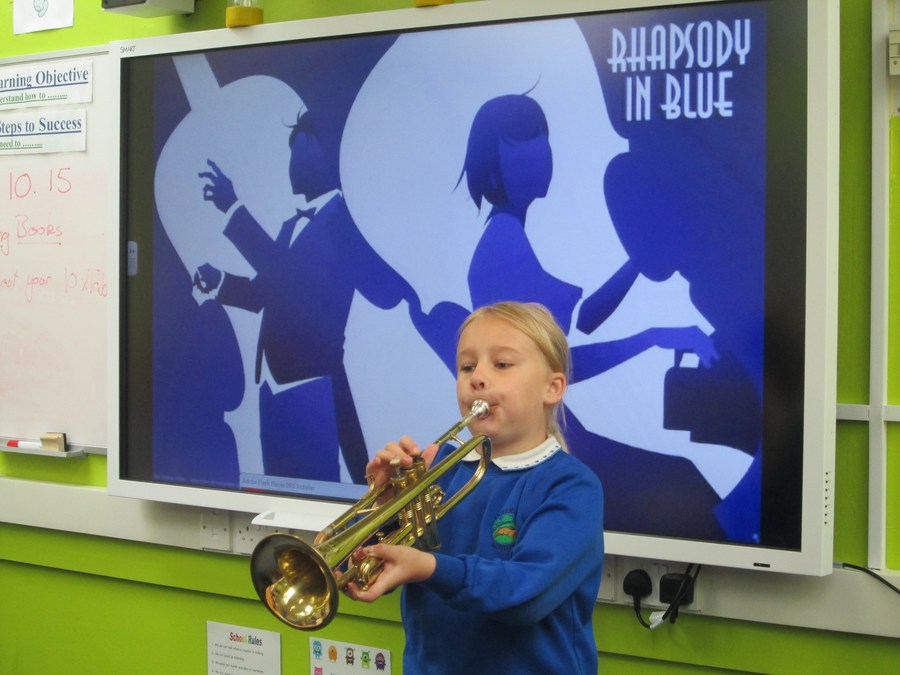 Music
Every day we have been listening to music from some of the great composers (Bach, Mozart, Grieg, Elgar, Gershwin and Copeland so far) as we calm down after lunch break and prepare ourselves for the afternoon's work.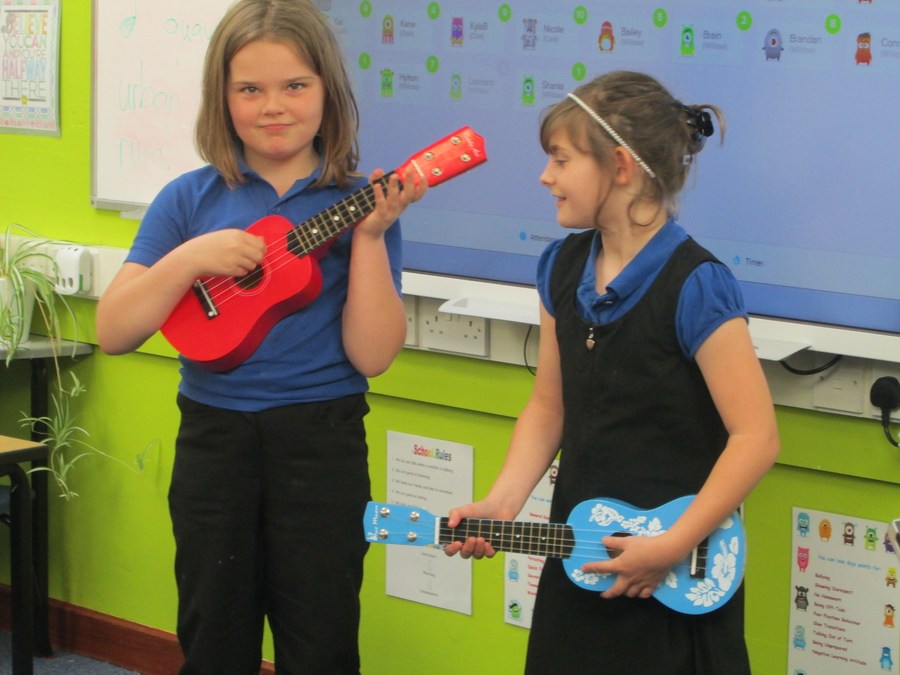 Inspired by the music, we have been treated to some instrumental solos and duets from the class.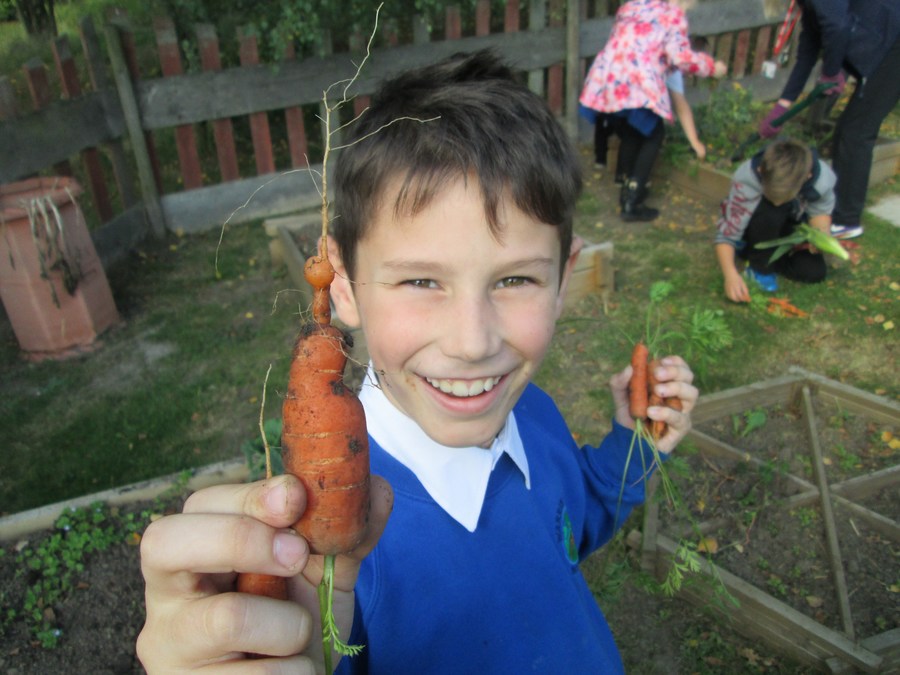 Harvest Festival Meal
After harvesting the vegetables from the school garden...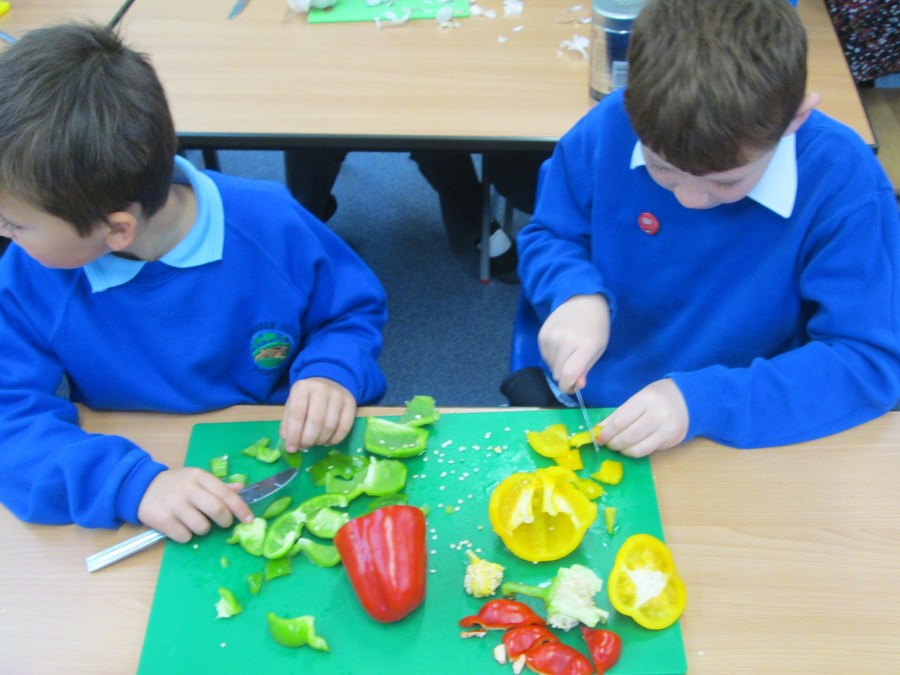 ...we used our Literacy skills to follow a recipe; our Numeracy skills to weigh and measure ingredients; and our DT skills to prepare the food...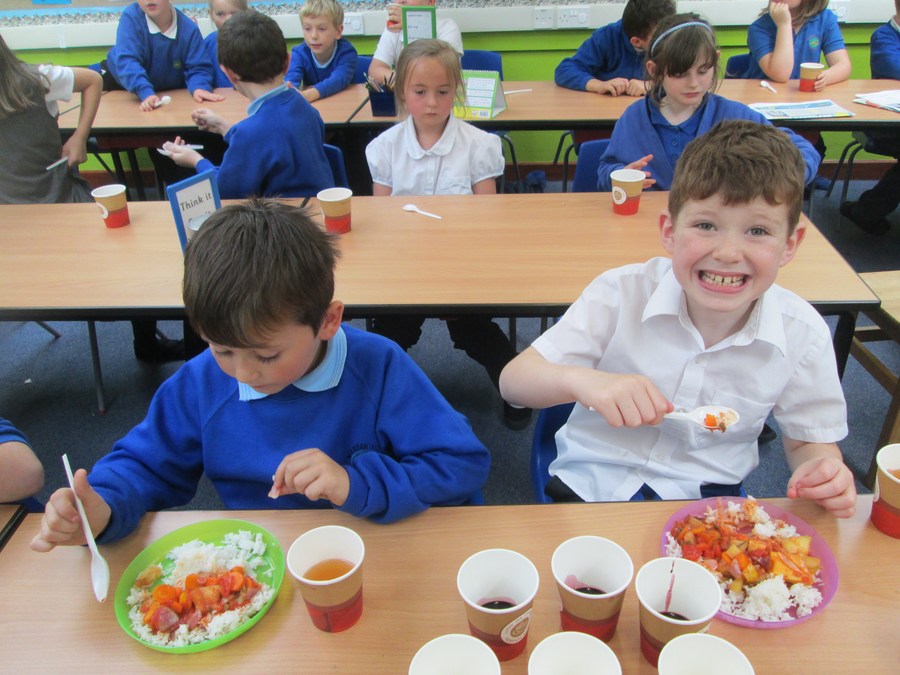 ...before enjoying a meal of ratatouille for 30 with elderberry cordial and rose-hip syrup for refreshment.
For our next culinary challenge, The Great Warren Hills Bake Off starts this week:
Each table group (Banksy, Malala, Sharman and Berners-Lee) is competing to bake the best loaf of bread to be judged on Thursday afternoon. The results will be published below with photos taken and captions written by the children themselves.
First up are Berners-Lee: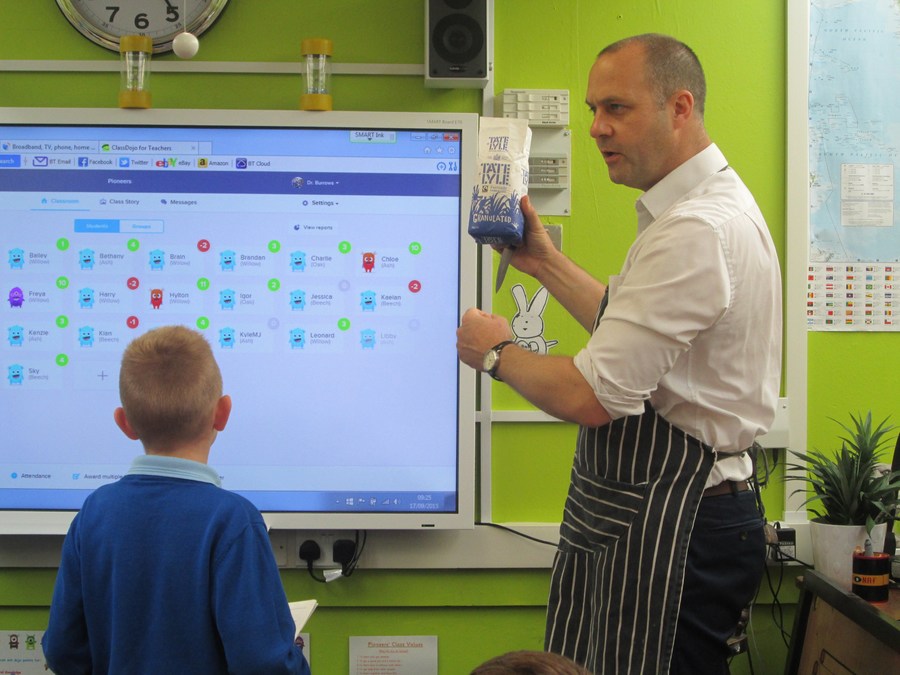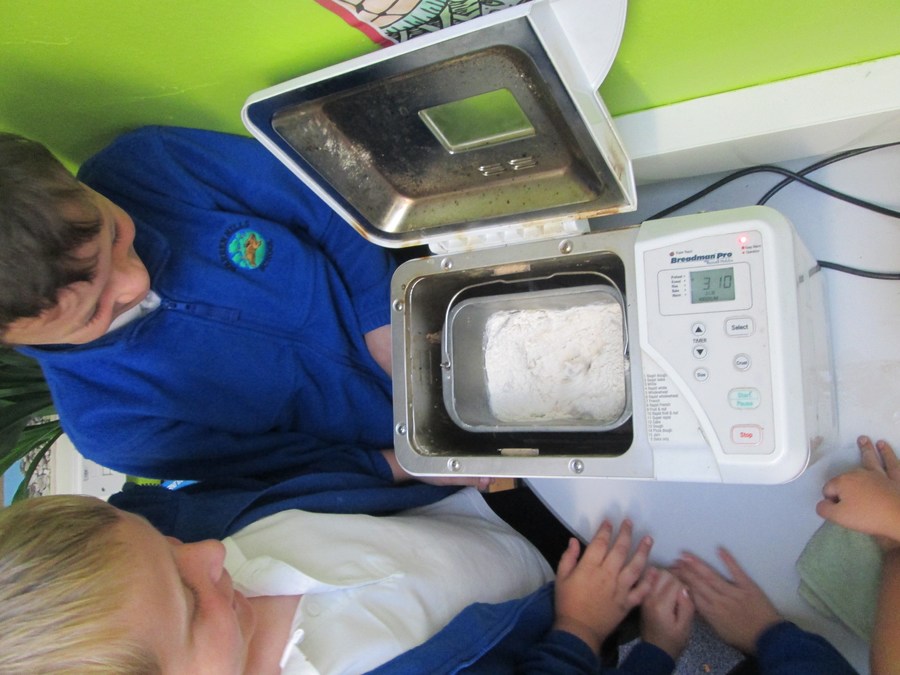 Here is the final selection of loaves for the 'Great Warren Hills Bake Off'.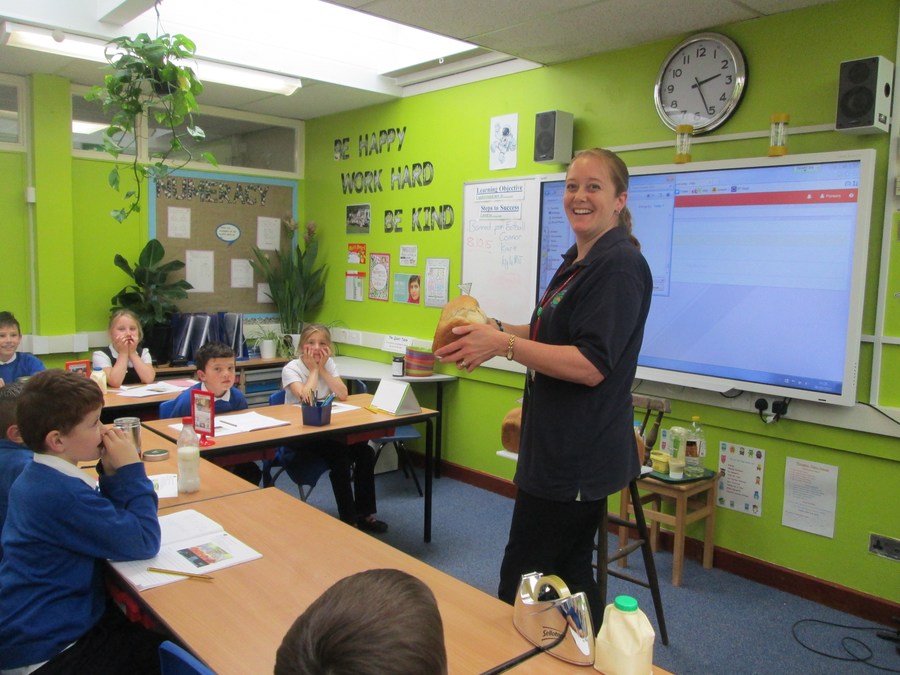 The competition is judged by an expert...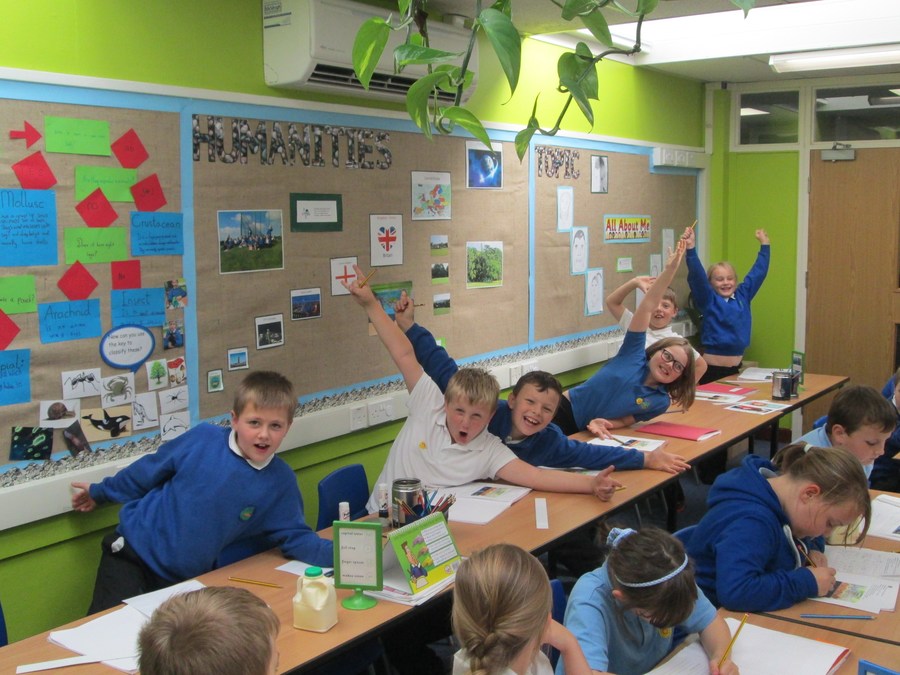 ...and the winners are: Berners-Lee Table. Well done everyone!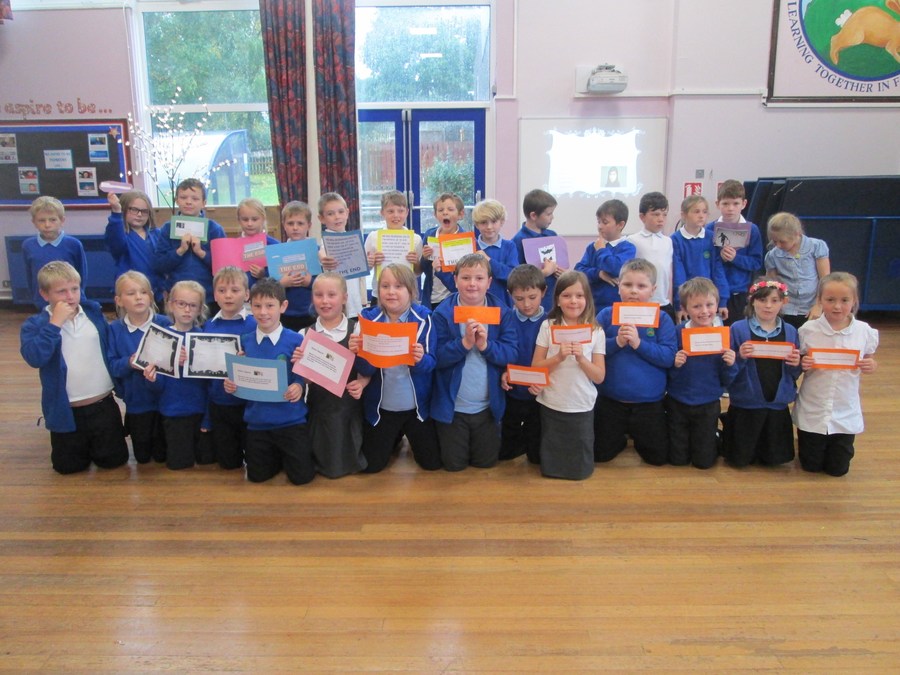 Pioneers Assembly About Aspirations
This is our class assembly about people who have had pioneering careers. The people that we have been learning about are Tim Berners-Lee, Malala Yousafazi, Helen Sharman and Banksy.
"I want to be like Malala because she stood up for girls and for everyone to go to school - she was very brave."
"I think that Tim Berners-Lee was the most generous because he gave us the Internet for free."
"Banksy is the kindest because he protests with his art about stuff that is not fair."
"Helen Sharman is the bravest and most clever because she trained to be an astronaut."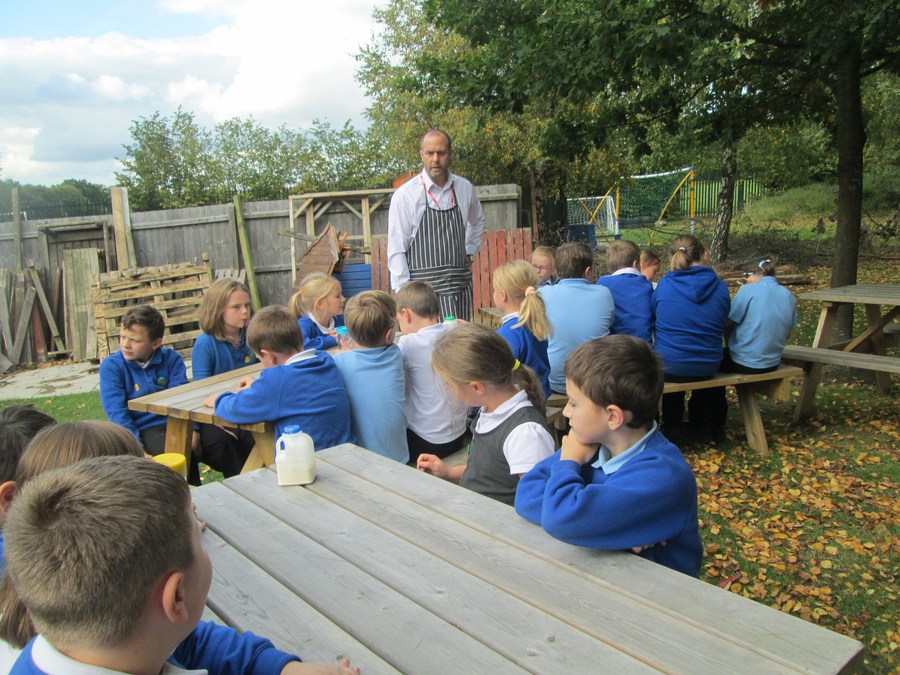 Science, Design and Technology
In Science, we investigated liquids, solids and unusual mixtures like emulsions and colloidal suspensions. We mixed Science with D&T and took bottles of milk (a colloidal suspension of fat in water) to the outdoor classroom and...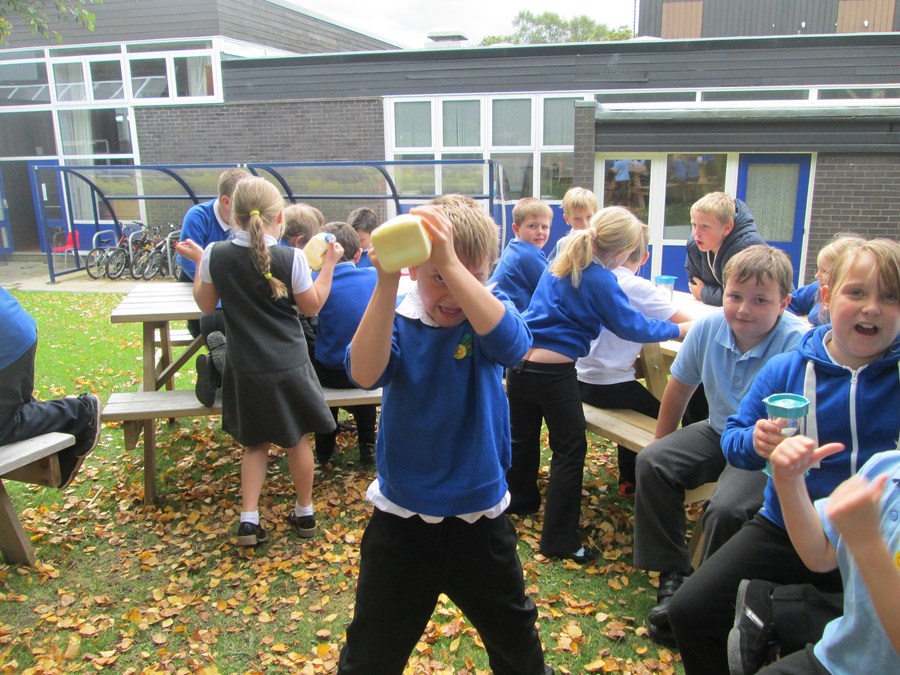 ...shook it for 20 minutes, until...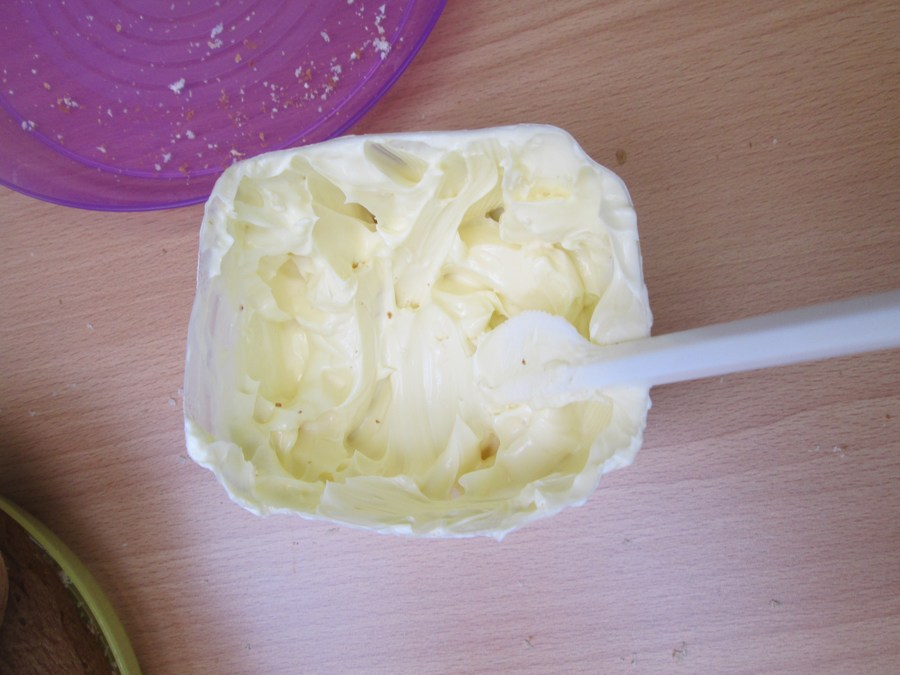 ...we had pushed the globules of fat together and expelled the water from the mixture to make butter...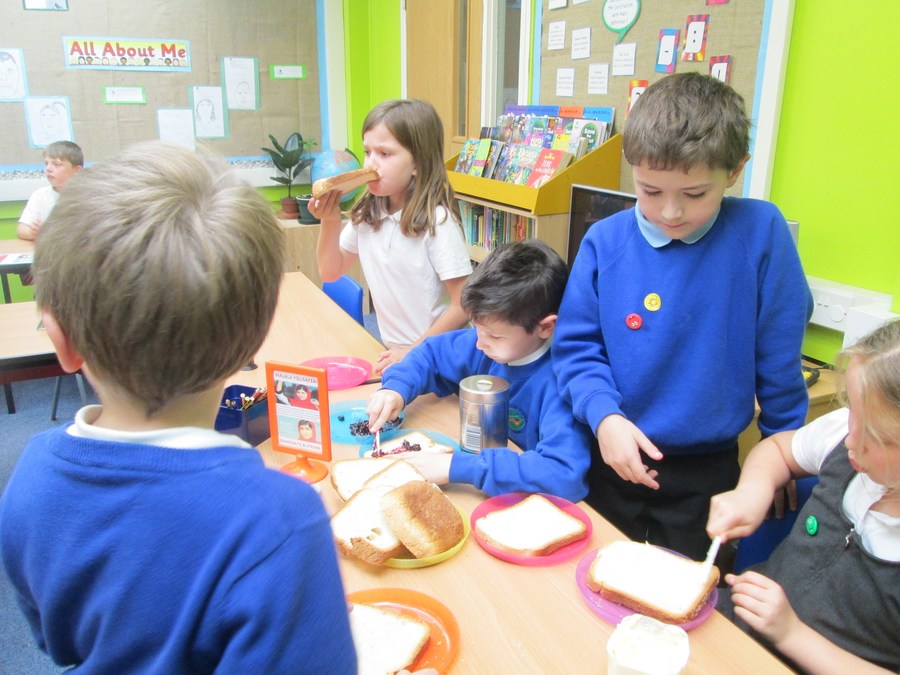 ... which we enjoyed with the results of our 'Bake Off'!
"It was worth all the hard work but I'm glad we don't have to do that every day!" "I have seen other liquids separate like that but I didn't know that if you kept shaking it would turn into a solid." "That's why cream float on top of milk." "That's what happens if your milk is old."
R.E. and PSED
We have been learning about Judaism by investigating religious artefacts. We used primary and secondary sources to make notes about them before...
...presenting our research to the rest of the class.
Homework and ICT
Well done to everyone who worked hard on their homework this term. We have been using ICT equipment like the whiteboard, visualiser, CD ROMs and powerpoints to present our work on 'All About Me' to our friends.