2018-2019
Welcome back to the new academic year. We hope you had a great summer and ready for all the exciting things planned for the coming year. The first exciting thing to happen is that we are changing the class name to.....
Heroes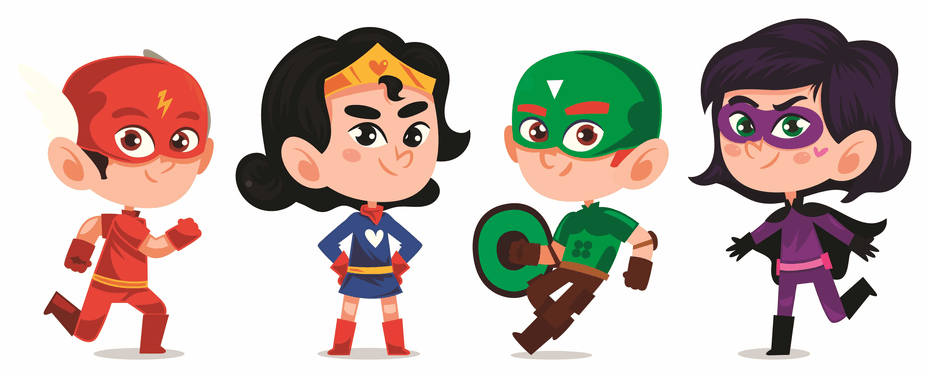 Our first task will be to come up with some real heroes for our group names.
Class information
Teachers: Mrs Felstead (Monday - Wednesday) Miss Horrill (Wednesday - Friday)
Teaching assistant - Mrs Smith
Swimming will be every Tuesday when we will leave at 8.55!
PE will be on Wednesday mornings with our sports coach Mr Stevens. Please make sure your child has PE kit for indoor and outdoor lessons. TRAINERS are essential.
Multi skills festival at the Hermitage Leisure Centre.
We worked with children from other local primary schools, practising and devoloping our sports skills.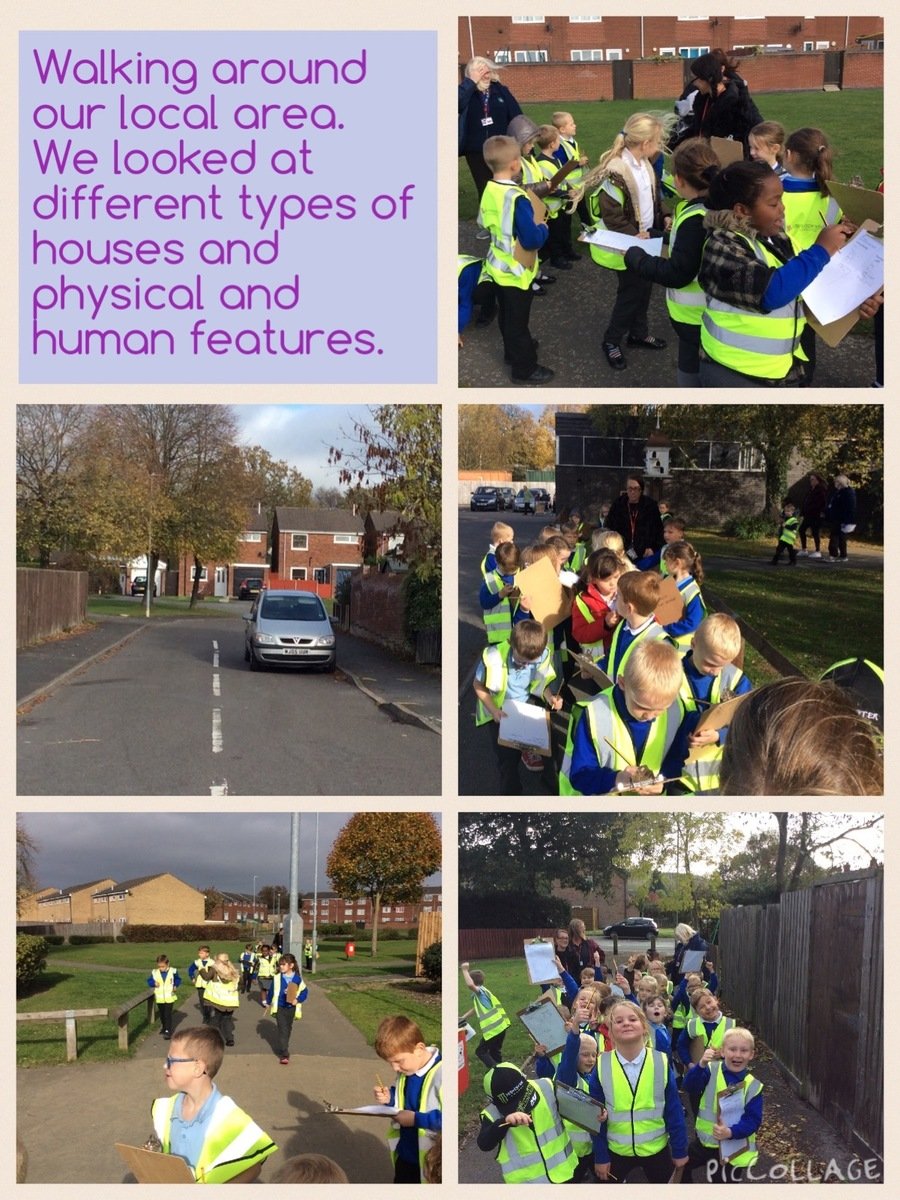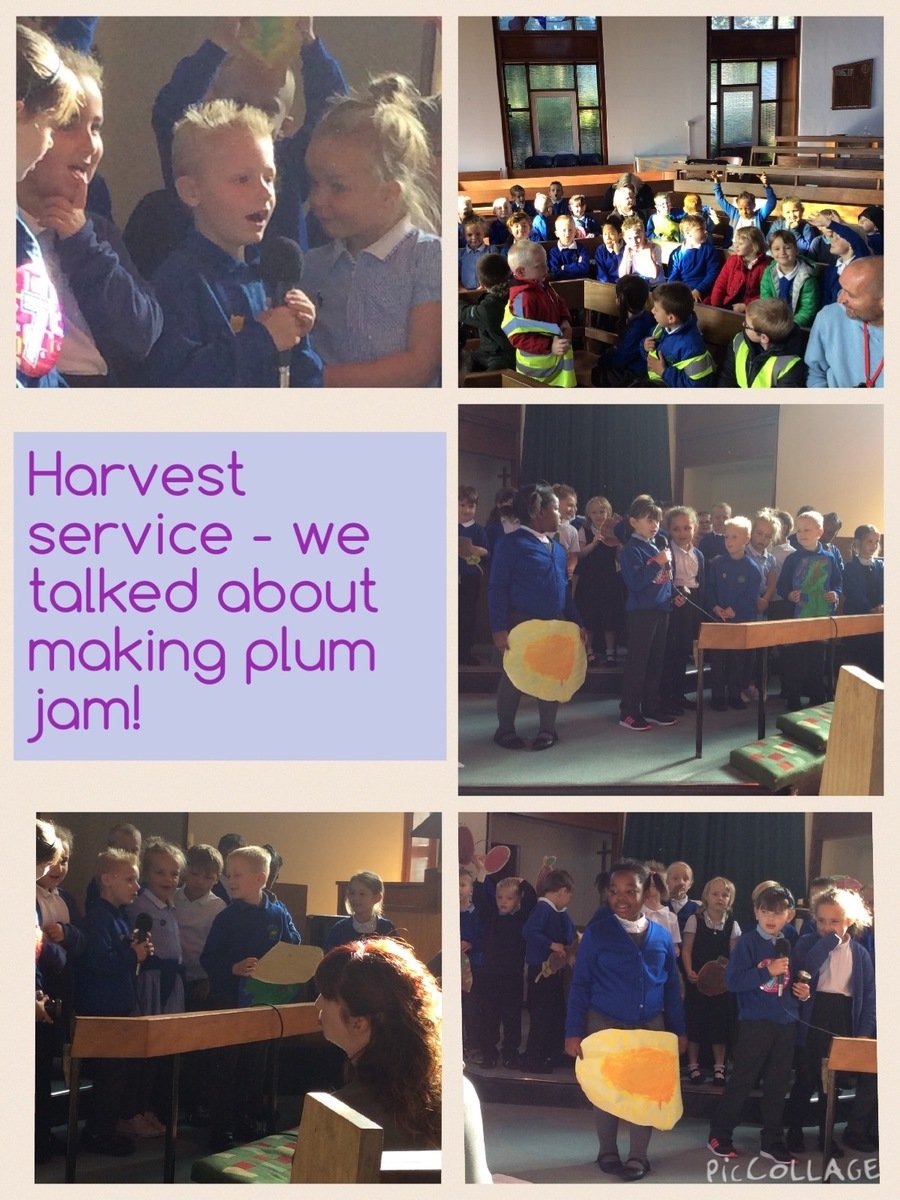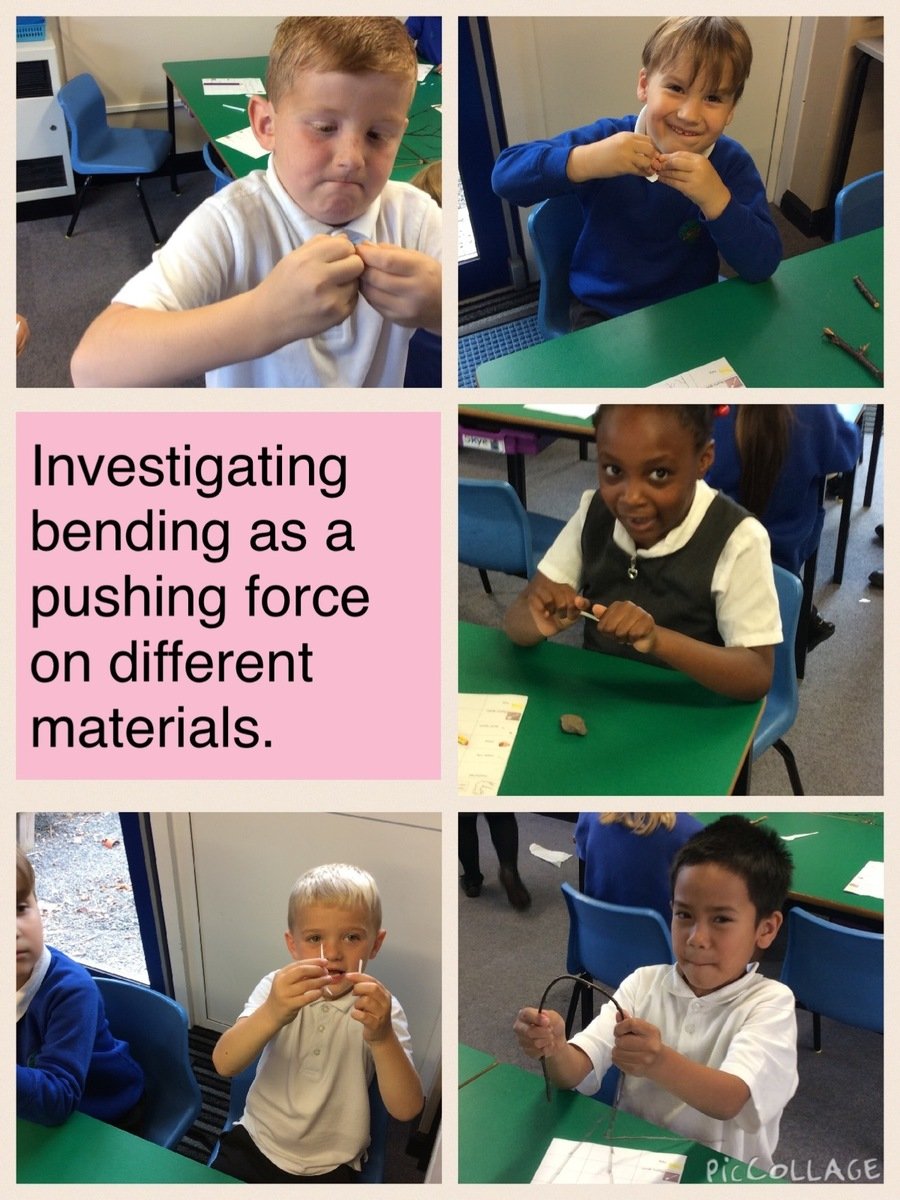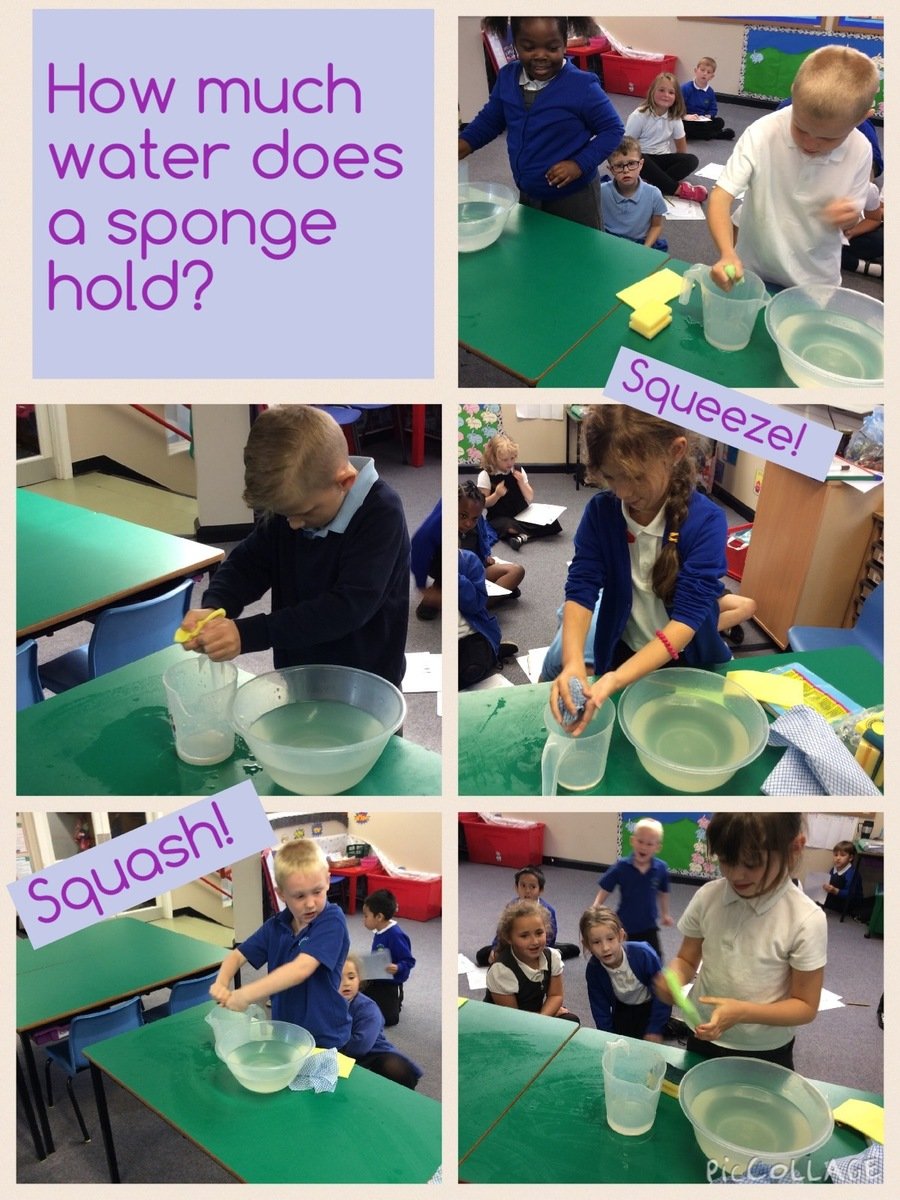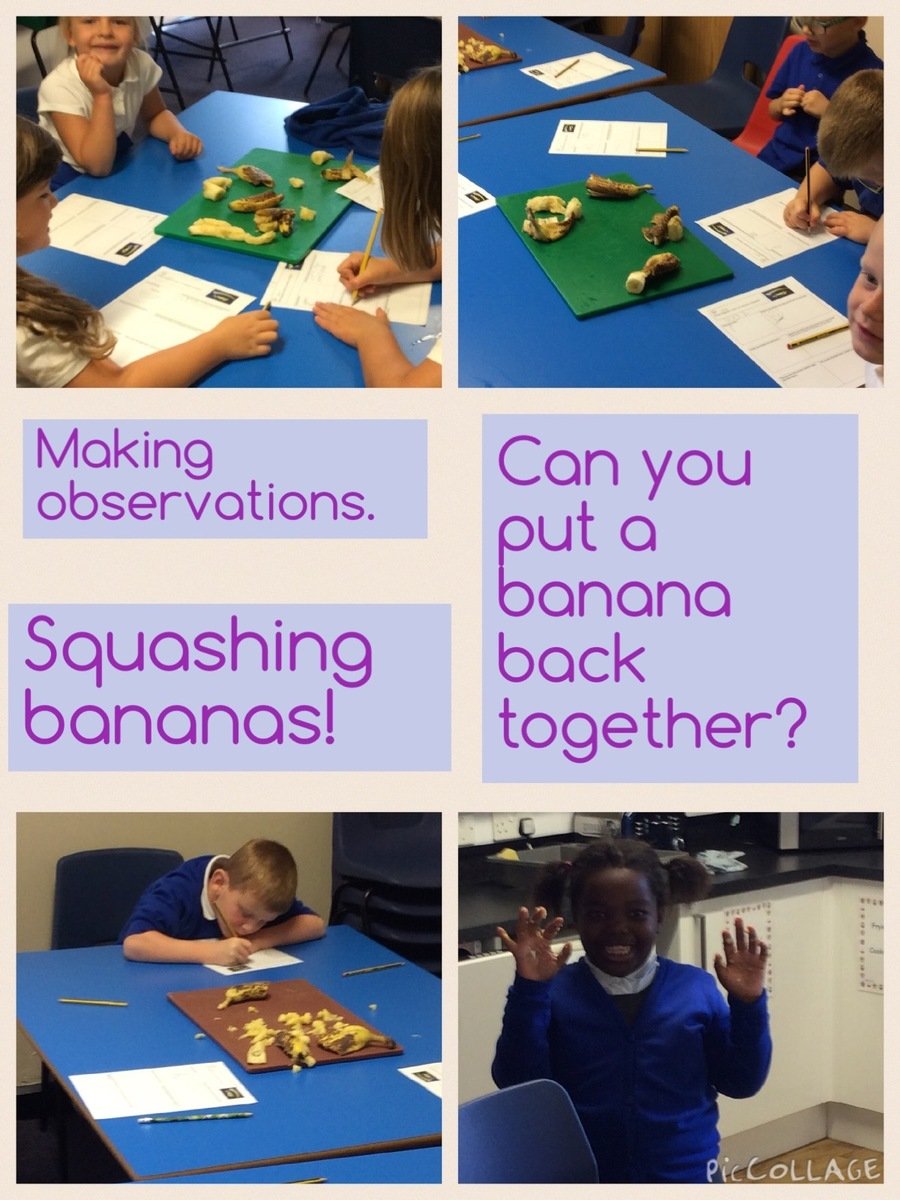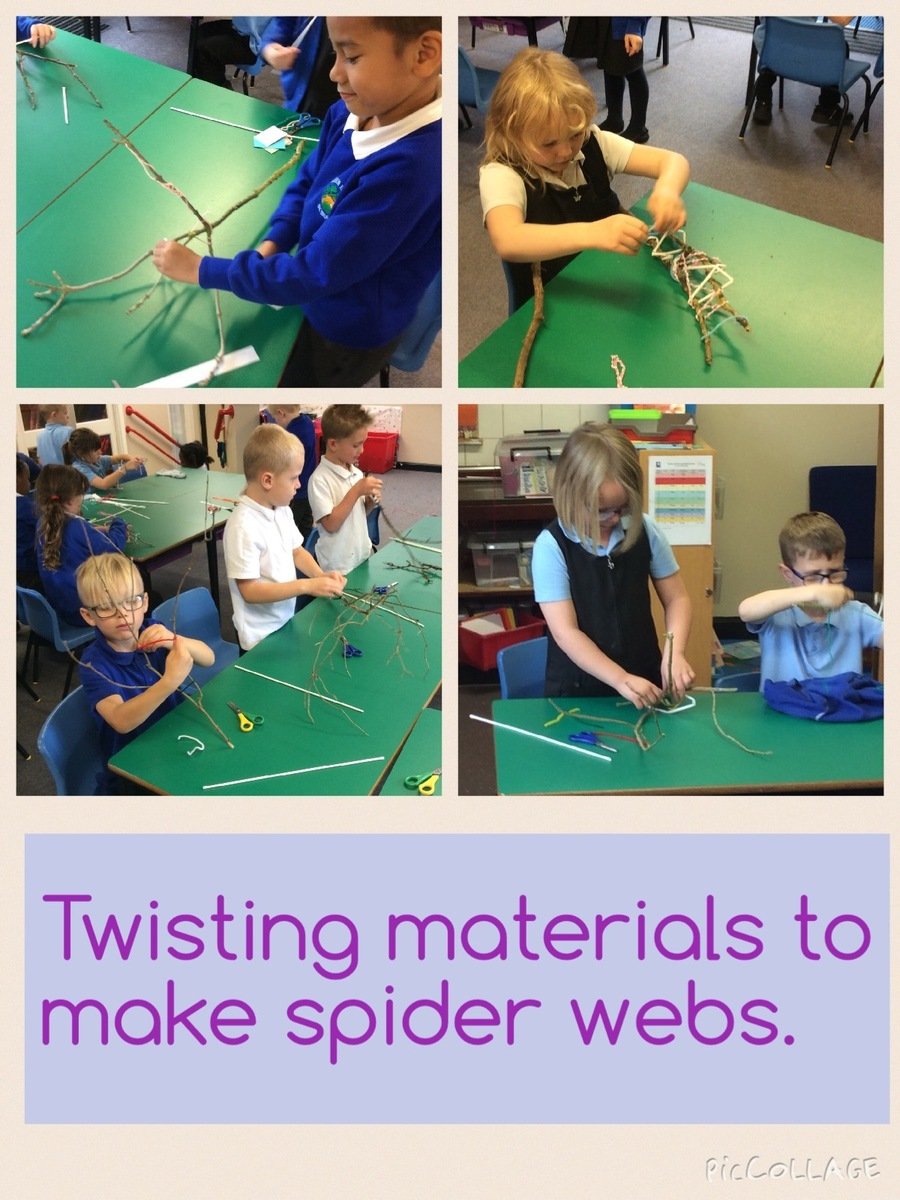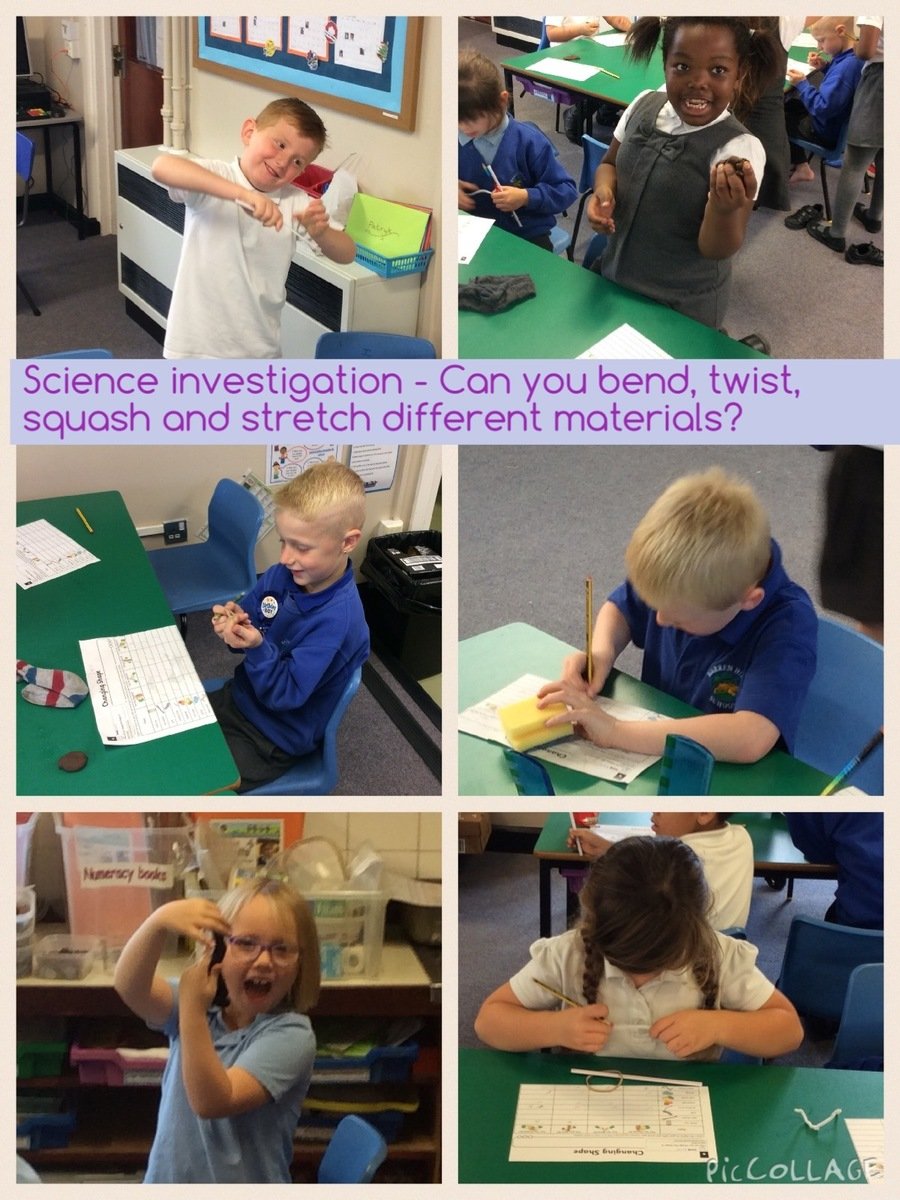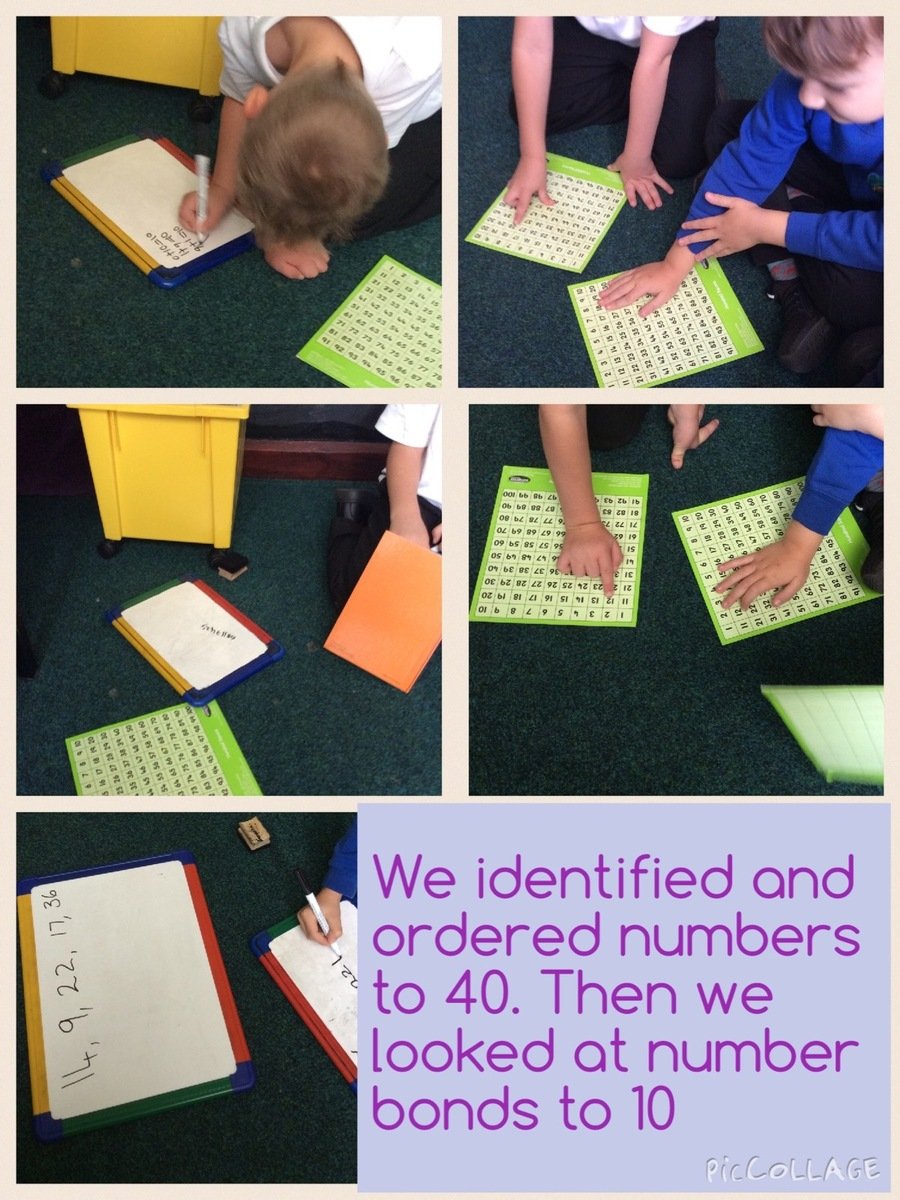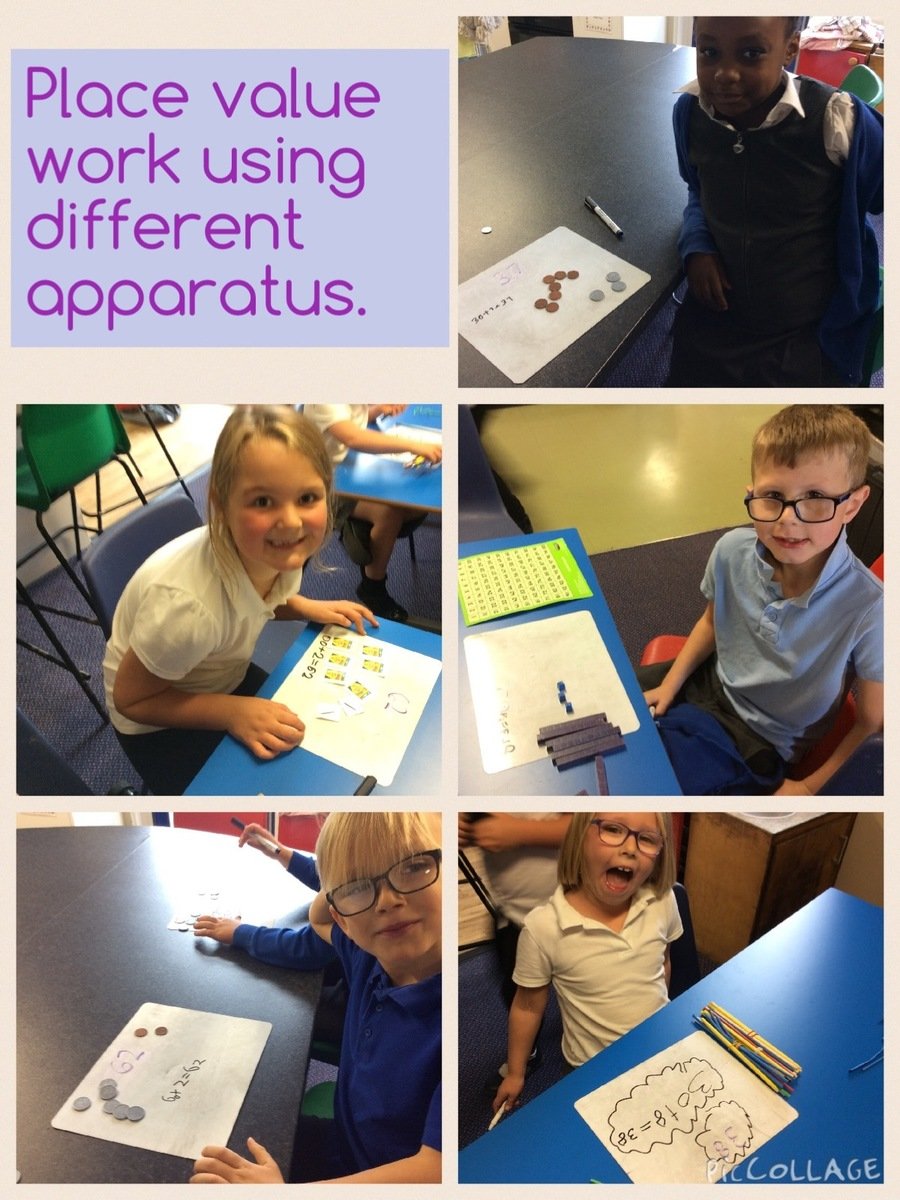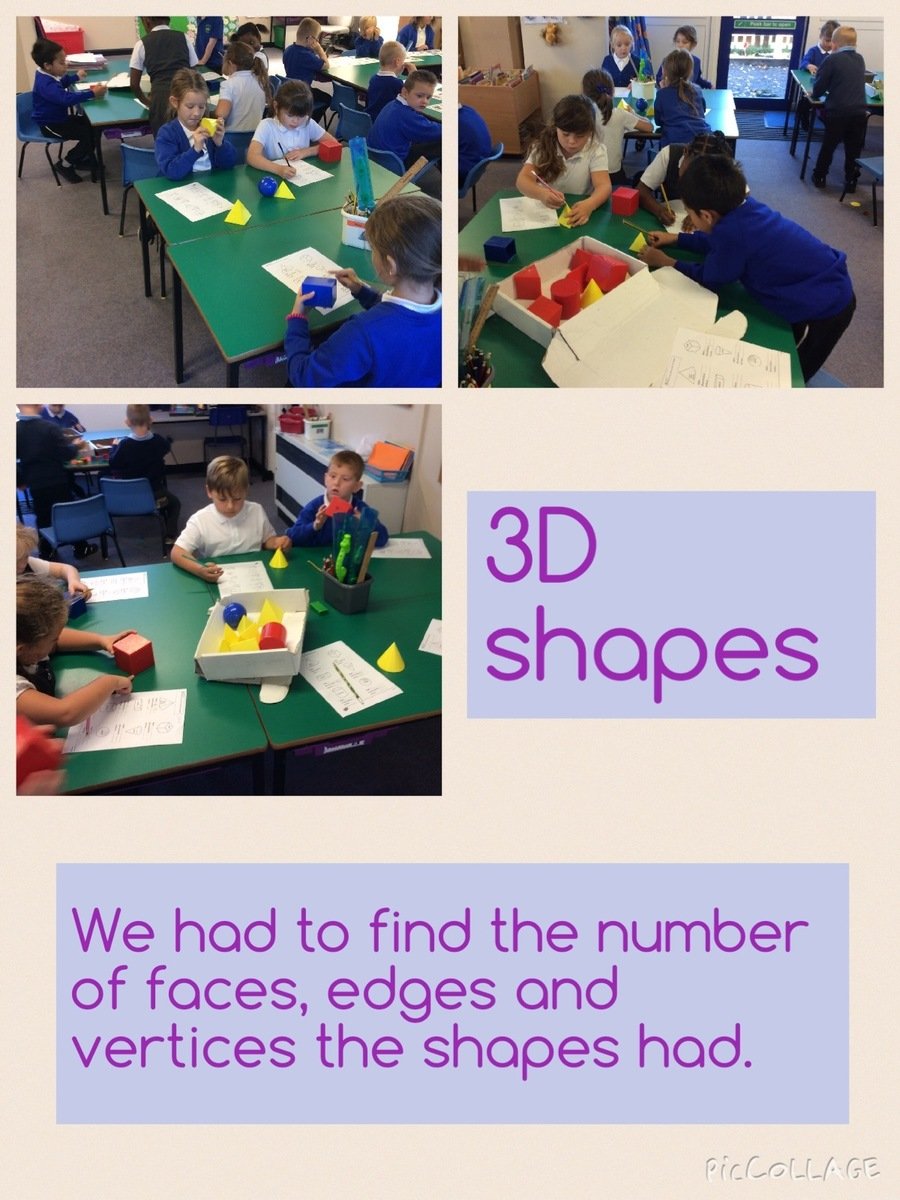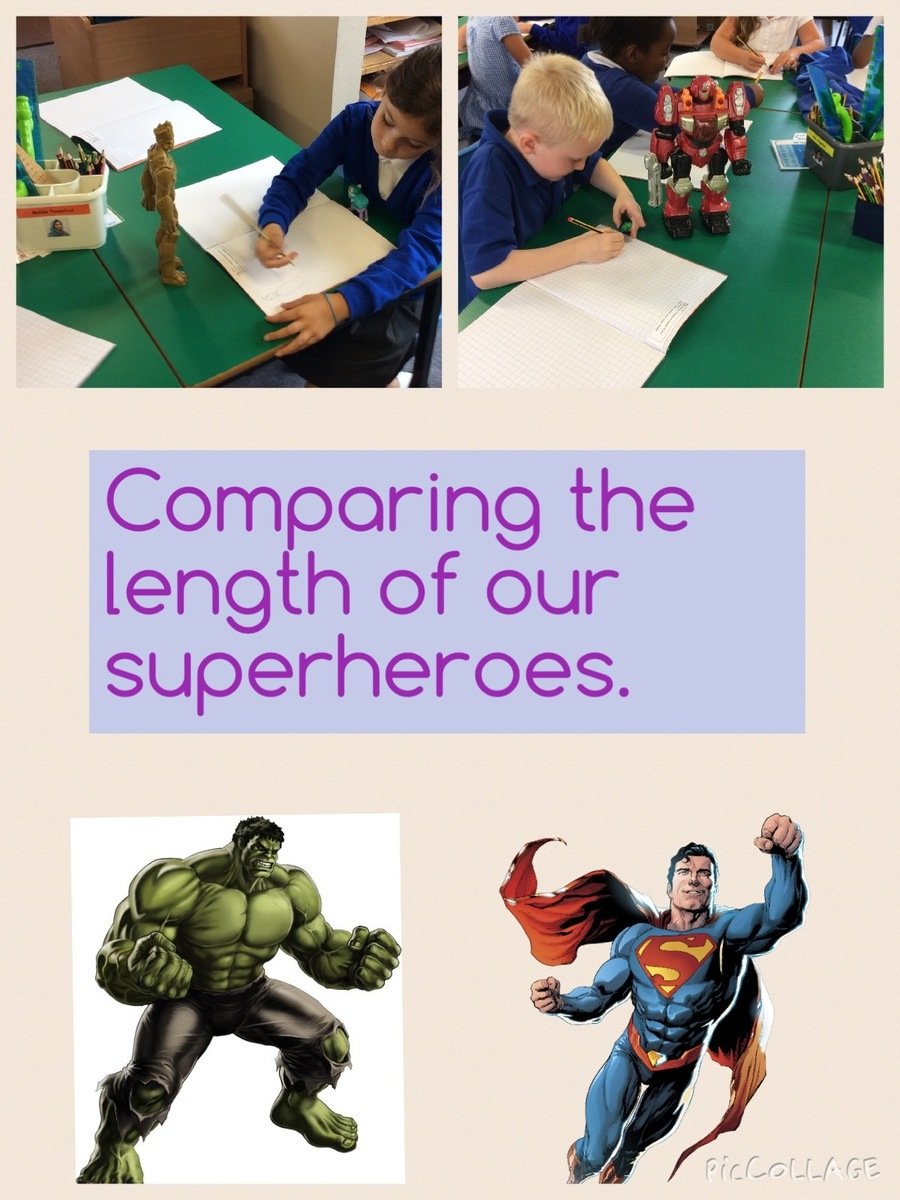 2017 - 2018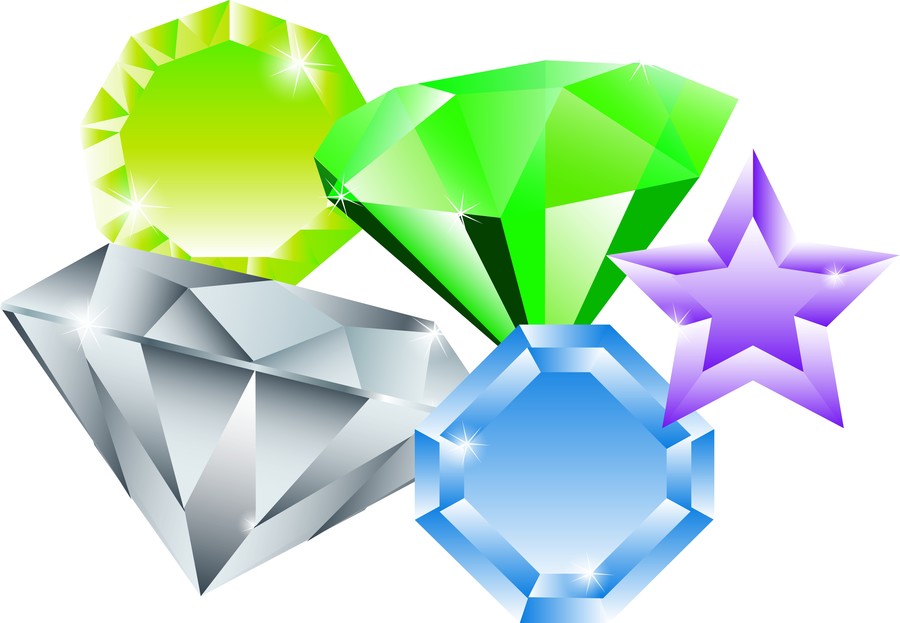 Welcome to the new school year. There have been some big changes in the Gemstones classroom. It has got bigger! We are looking forward to using all the space for our learning. The teachers in Gemstones are Miss Horrill and Mrs Felstead with Miss Toon and Mrs Hall as our classroom assistants. We have some exciting topics to cover this year. Please take a look out our topic planner below to see what we will be doing.
PE - Wednesday afternoons with Mr Mason. Please make sure your PE kits are in school with trainers or plimsolls.
Swimming - Every Tuesday when we leave at 8.55am. Please remember your kit (including hat) and £1.
Summer 2
We hope you had a good half term. This term is going to go by us so quickly with all the exciting things planned. We start off with our collaborative trip to Bradgate Park on the first day back. Our topic is ' Street Detective.' So we may be coming to your street for a visit!!
Active maths
We had to work in teams to go and find some calculations hidden around the school field. Then we worked together to work out the answers. The winning team got 3 dojo's!
Our local area
We have walked around the local area looking at the different types of houses, physical and human features.
Do you know what type of houses these are?
bungalow / flats/ Detached house / Terraced houses
#WHGemstonesrocks
Look out for these beautiful rocks around the streets of Agar Nook. We hid them when we went on our walk around the local area. If you find any please take a picture and tweet it then hide it again! We can't wait to see how many are found!!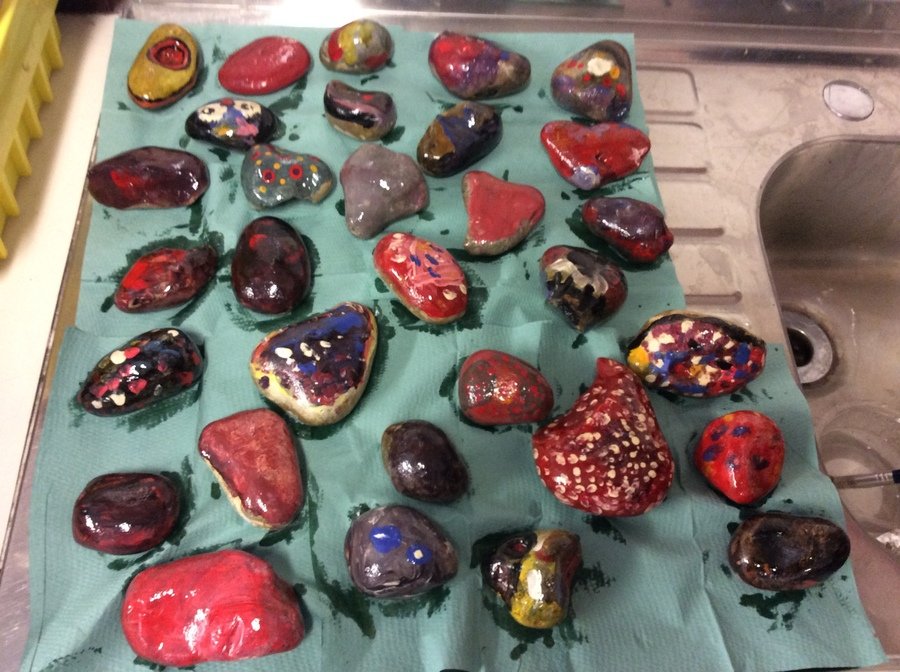 Bradgate Park Trip
We had a great trip to Bradgate Park on the first day back. We did lots of walking and activities. We even got to see a Slow Worm!! Our sketching skills were put to the test when we had a go at drawing the ruins of Bradgate House and we made some nature art.
History
Do you know who this is?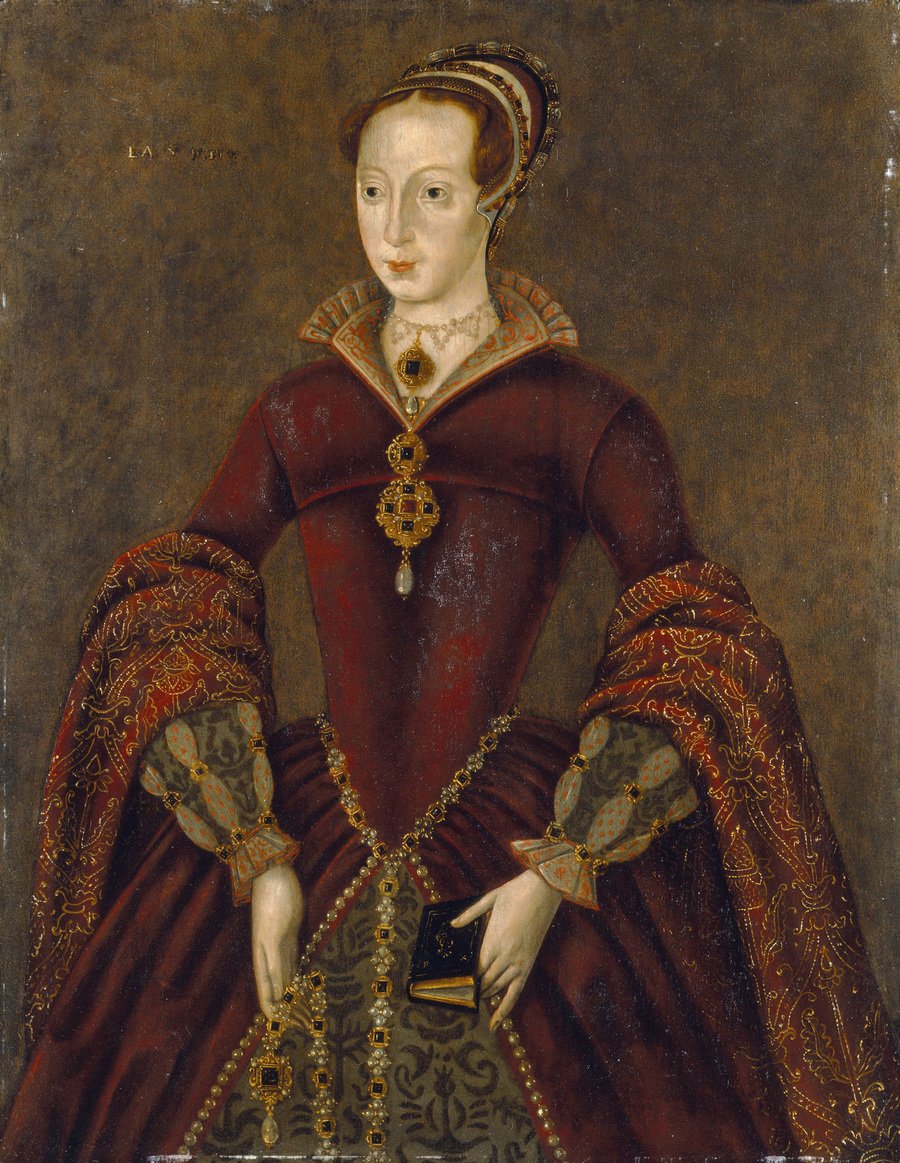 This is Lady Jane Grey who was Queen for only 9 days. We found out that she lived at Bradgate House for some time.
Science
Do you know the parts of a plant? In science we have been looking closely at plants and inside the flower head we could see the stigma and stamens.
Look at the plants we found around our school field. Can you see the stigma and stamens inside them?
Summer 1
We hope you all had a good Easter break and ready for the busy summer term. We have a trip to the farm planned the second week back (more details to follow). Our topic (which will start later in the second week) is 'How to train a dragon.' We have lots of exciting things planned to help inspire our writing for our SATs.
Maths
We have been looking at 'measuring' and reading scales. Measuring can be temperature, length, capacity or weight.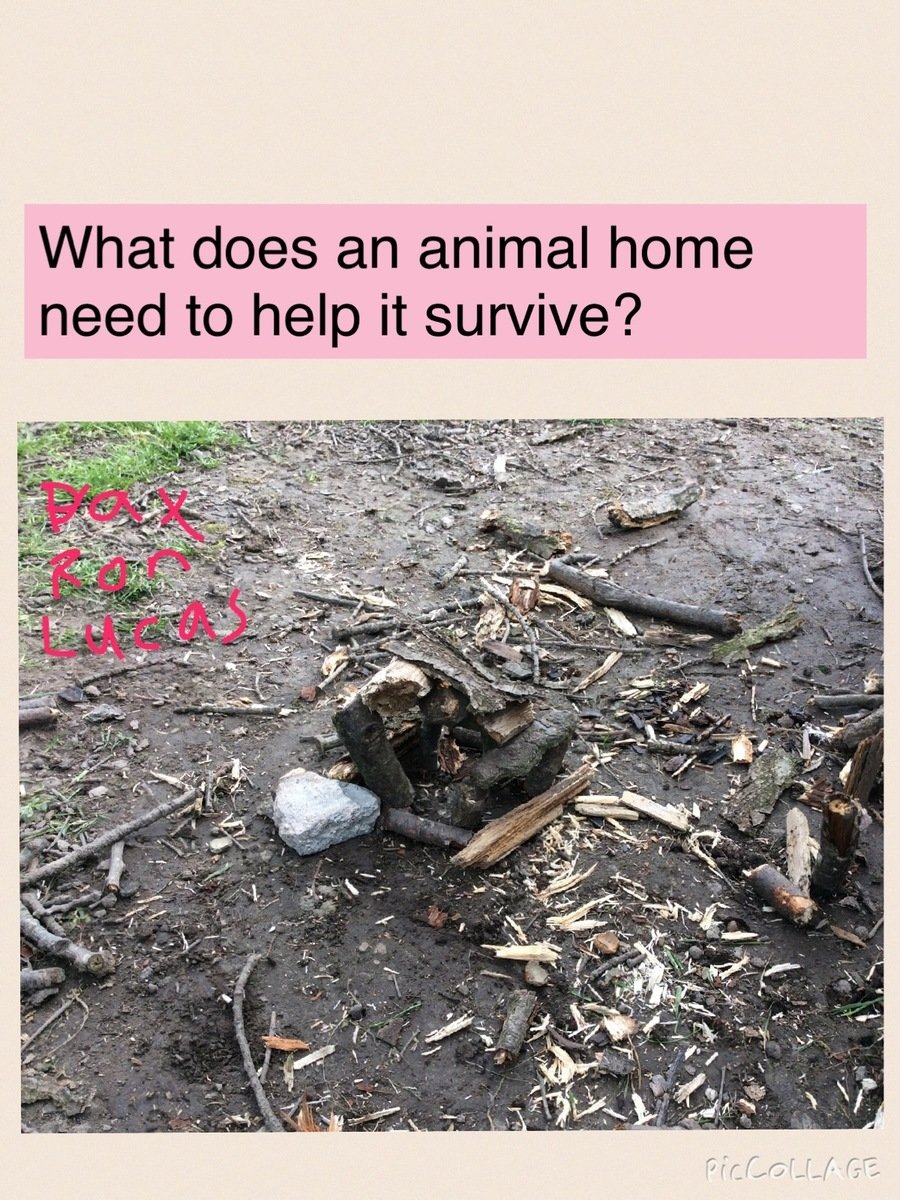 We built some animal shelters on our field. We had to think what animals would need in their shelter - food, water, somewhere to sleep.
What do animals eat?
We looked at food chains and had a go at making some.
ICT
We chose an animal and used the ipads to research it. We had to find out what type of animal it is, what it eats, where its habitat is and any interesting facts.
Art
We had to use our measuring skills in art to cut some lengths of wool to create our dragon pictures.
SPRING 2
We have a busy 5 weeks planned in the run up to Easter. We will be using Julia Donaldson as an inspiration to our authors topic this term. Hopefully we will all become budding authors in the making!
Please can you ensure your child has a full PE kit in school including trainers for indoor and outside work.
Sport Relief
The whole school went onto the playground to walk a mile for sports relief. Some of us walked more than a mile!
Easter hats
We invited our parents to come in and help us make and decorate hats for the school Easter hat parade. The classroom was full!
Science investigation
This weeks investigation was to find the material that was the best insulator. We used containers made from different materials and poured very hot water in. We had to take the temperature of the water every 3 minutes to see which container let the water cool quickest. We had to do some calculations at the end to find the results. We found out that polystyrene was the best insulator and glass was the worst.
Science investigation
This week we tested different materials to see which ones were waterproof.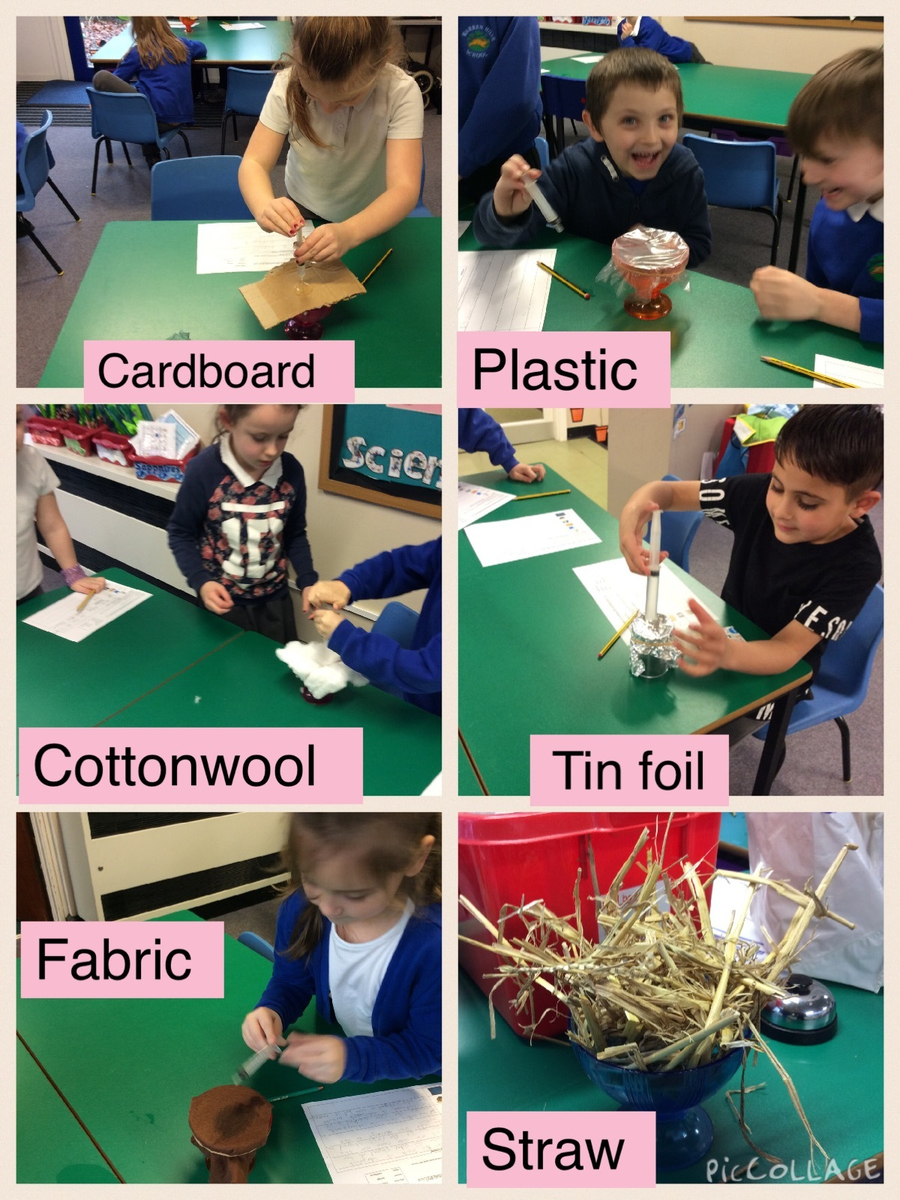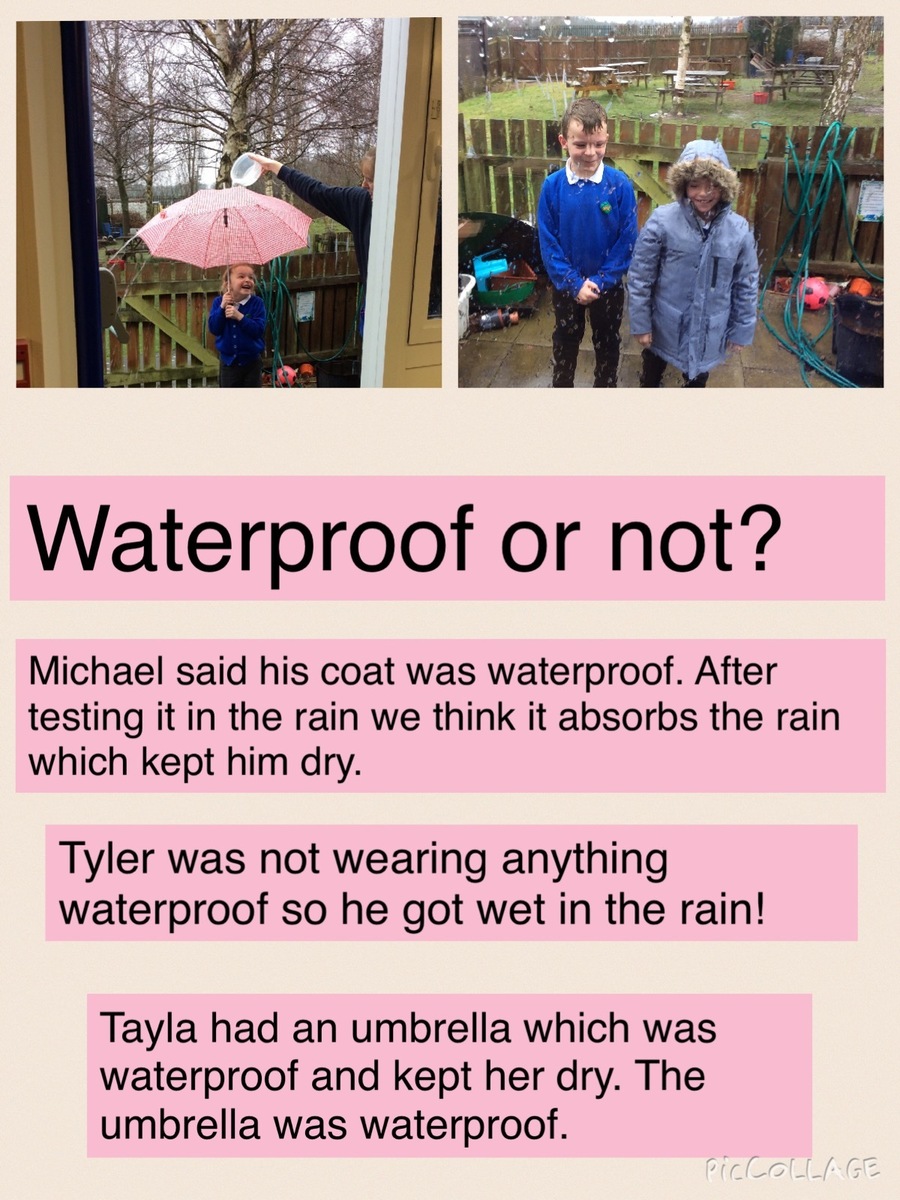 Trip to Coalville Library
As part of our 'bookworm' topic we went to visit the library.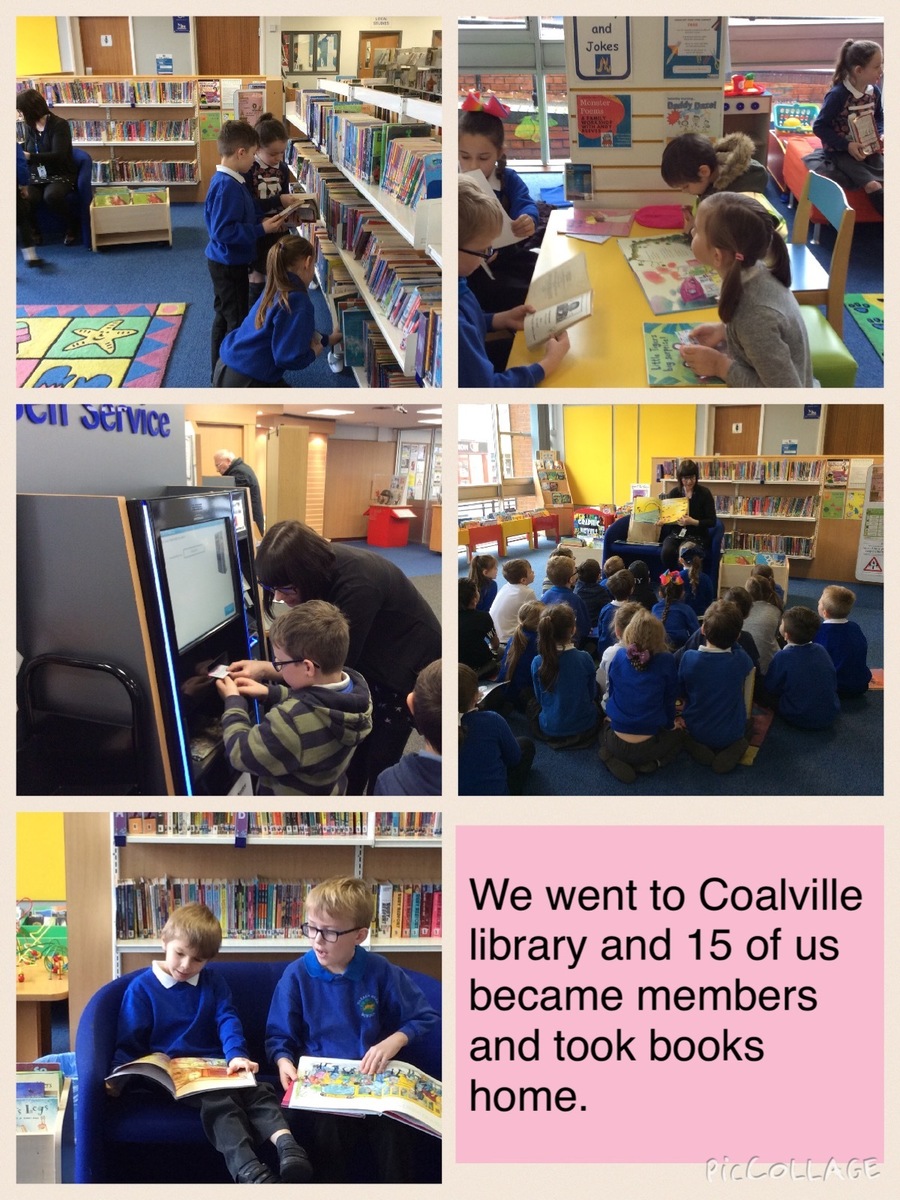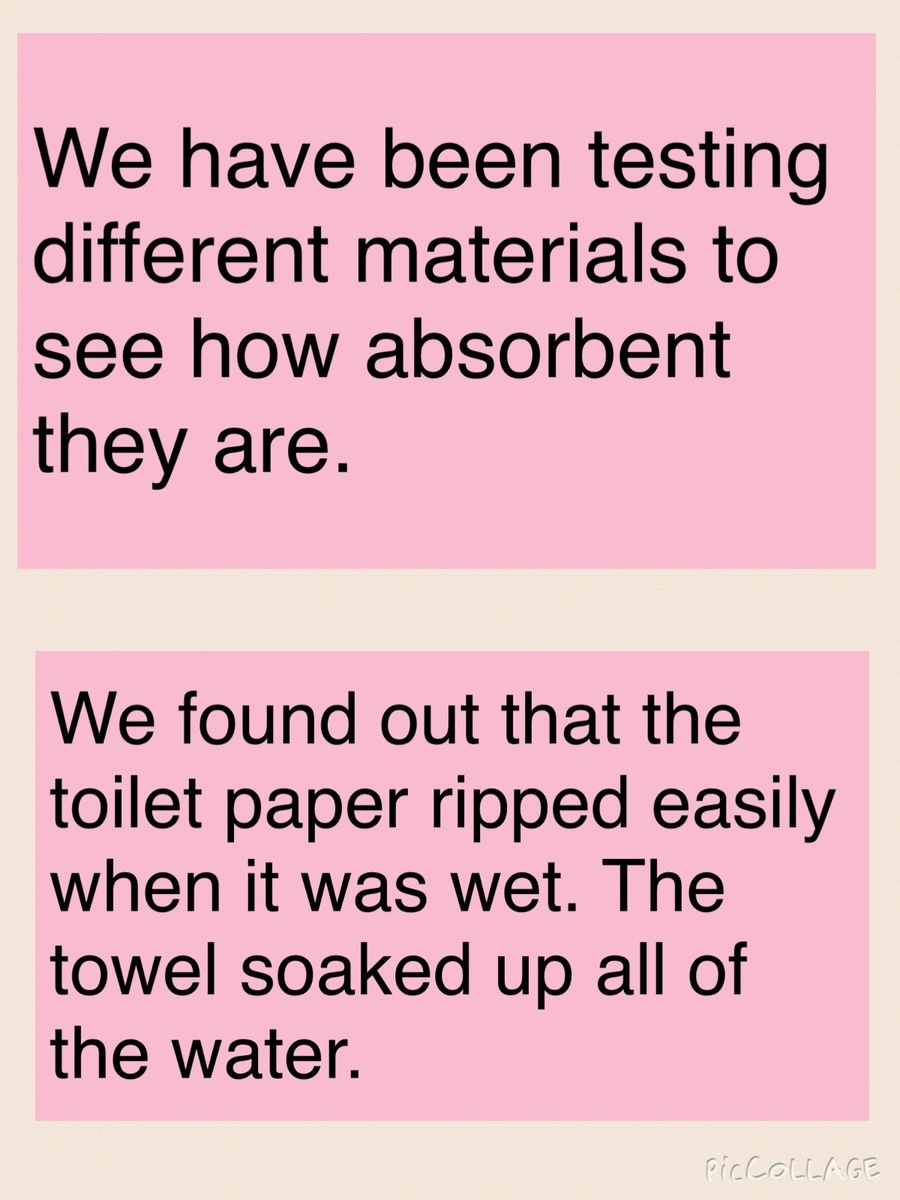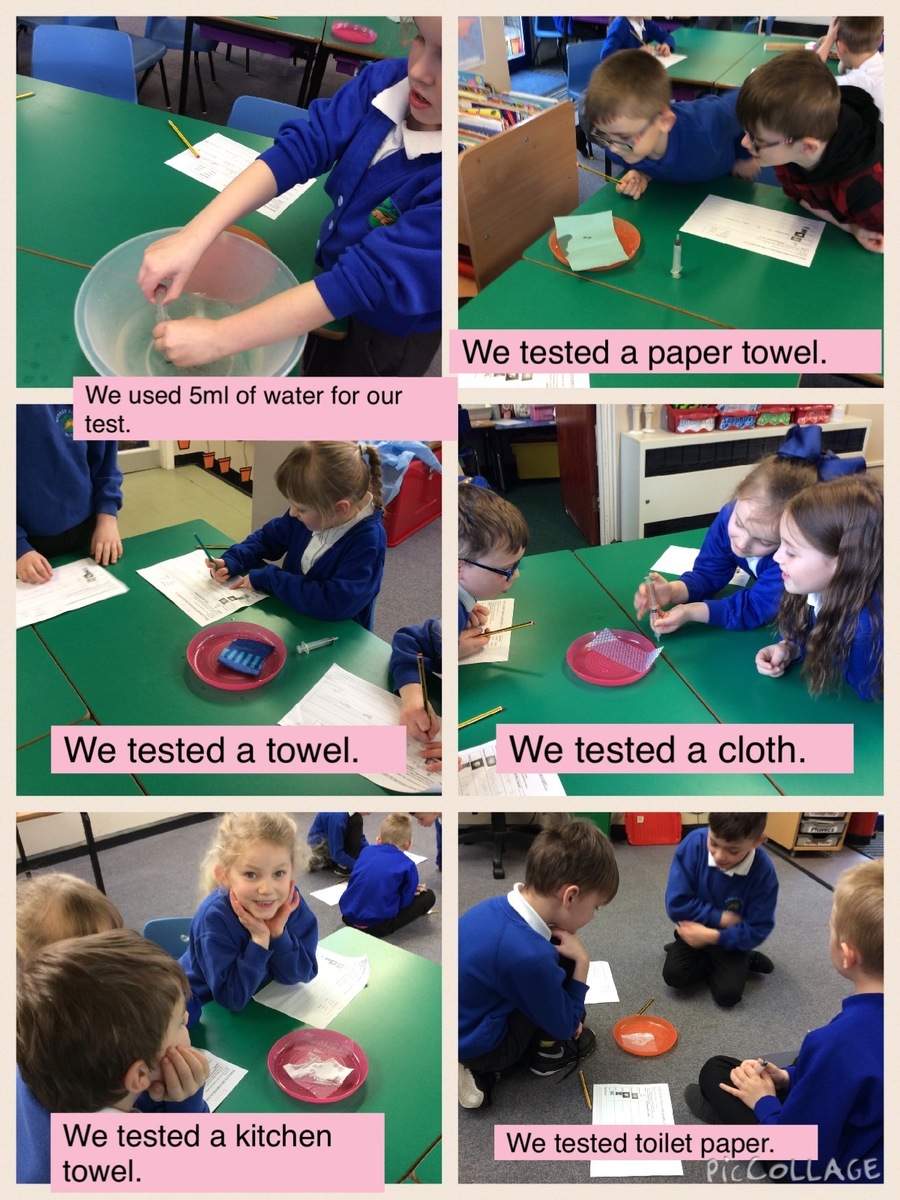 World Book Day
We invited parents in to help celebrate world book day by sharing stories with us. Some of our parents braved the snow and stayed to read with us.
Healthy fruit and vegetables
The Year 6 Transformer group worked with some of us to make fruit and vegetables out of clay.
Healthy Roadshow
The school sports partnership came in to do a healthy roadshow with us. We learnt that we need to do 60 minutes of exercise a day! We found about eating a balanced diet and we looked to see how much sugar is in some of our foods. We will try and choose a healthier snack from now on!!
Spring 1
We hope you had a great Christmas and ready for an action packed short term! Our topic this half term is 'People who help us'. We have arranged for the local fire service to come in with a fire engine and give us a talk and tour. The school nurse will be calling in to talk to us about her job and to give us some advice. We may have some other visitors dropping in to talk to us so watch this space!
A visit from the school nurse
The school nurse talked to us about looking after our teeth. She told us how to brush our teeth and the foods that we should be eating and the foods that are bad for our teeth!
A visit from our local police.
PC Mark and PC Tiff came to talk to us about their job. They told us what it would be like in jail!! We got to sit in the police car and try on some of their uniform.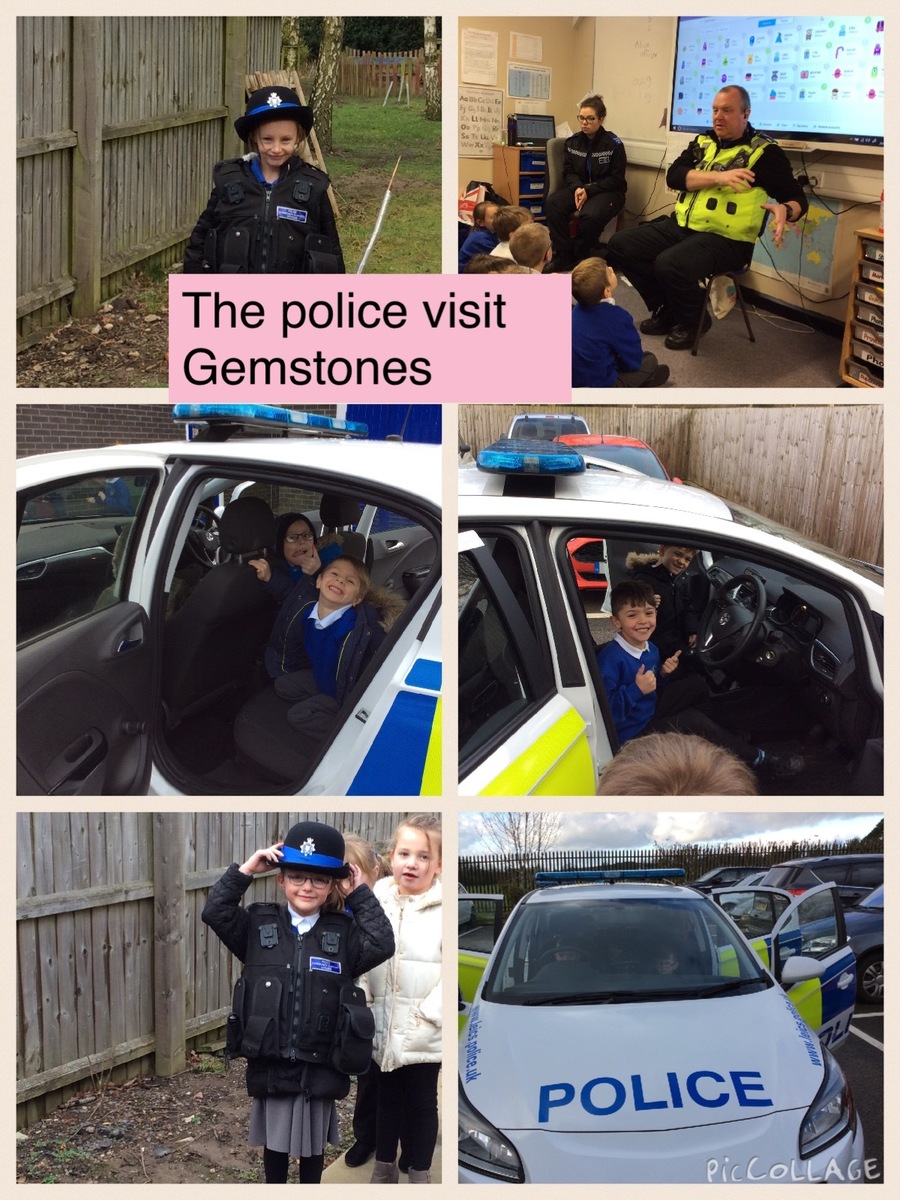 Fire! Fire!
We had a visit from the firefighters from Coalville Fire station. They came on their fire engine and let us sit inside, squirt the hose and try on their helmets! They showed us how they use some of the equipment they carry on the fire engine when they are rescuing people.
Looking after our teeth.
In science we have been talking about teeth and who helps us to look after them. We had a good look at our teeth and the different shapes they are. Do you know which teeth are for biting and which teeth are for chewing?
Sugar sugar everywhere!
In our science lessons we have been learning about the different food groups and how much we should have of them. We discovered that foods that have lots of sugar and fat we should only have occasionally. the sugar in food can be harmful to our teeth. Look how much sugar is in this bottle of coke and bar of chocolate!
It is recommended that Children aged 4-8 should have no more than 4 teaspoons of sugar a day.
1 teaspoon = 4 grams of granulated sugar.
The bottle of coke would be nearly 7 teaspoons of sugar!!!
We had a biscuit to see where the food and sugar gets stuck to our teeth.
After all that biscuit eating we learnt how to brush our teeth.
Do you know how long we should brush our teeth for?
How many times a day should we brush our teeth?
Autumn 2
We hope you all had a great half term and ready for the 9 week run up to Christmas! We have lots of exciting things planned for this term with our topic being 'On the move'. We have a trip planned to East Midlands Airport Aerozone and the class will be taking part in a multiskills sport event at the leisure centre. Letters have gone out about both trips.
It won't be long until we will be starting to practise songs for out Christmas play!!
Santa's little helpers!
We wrapped up some 3D shapes for people to feel our presents and guess which 3D shape we had wrapped up. We even played passed the parcel with our presents!
Shape work
We had a go at building some 3D shapes and drawing pictures with 2D shapes. Can you tell which 3D shape we have built? Which 2D shapes did Michael use in his picture?
Can you spot where the line of symmetry will go?
Come fly with us!
We had a great trip to East Midlands Airport. We had a tour around the departure and arrival areas. We got to see the checking in desks and where our suitcases would go. We visited East Midlands miniland which was a fantastic role play area with all different parts of the airport for us to play in. There was even some real airplane seats!!
Anti-bullying week
The theme for this years anti bullying week was - Its okay to be different, we are all still equal. We came to school wearing odd socks to support this theme. We used the story of Elmer to discuss what makes a good friend. We tried to give Elmer his colours by completing some addition and subtraction facts. We talked about what makes us unique and created a giant Elmer to display our uniqueness!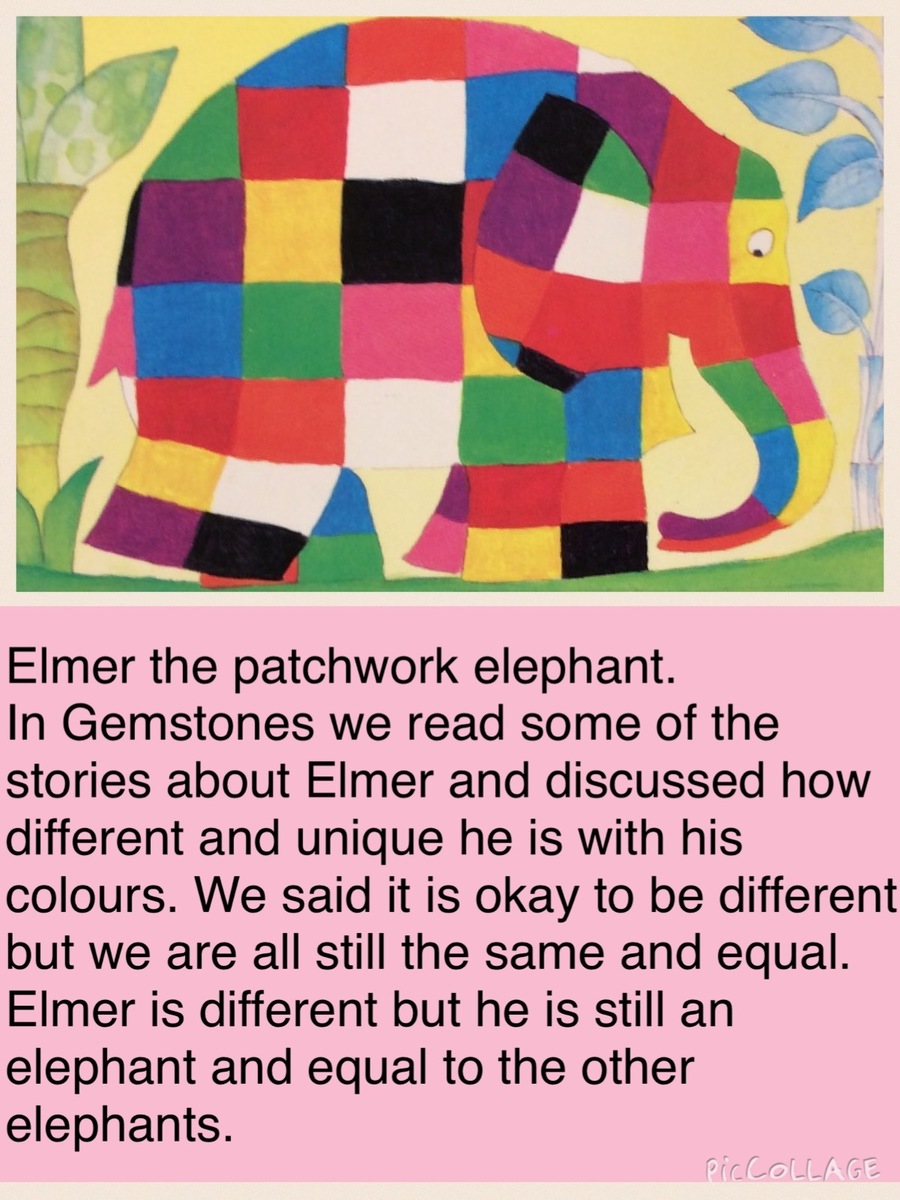 Hollie said " A good friend helps you if you fall over."
Tayla said " A good friend plays with you and says nice things."
Ronnie said " A good friend doesn't hurt anyone."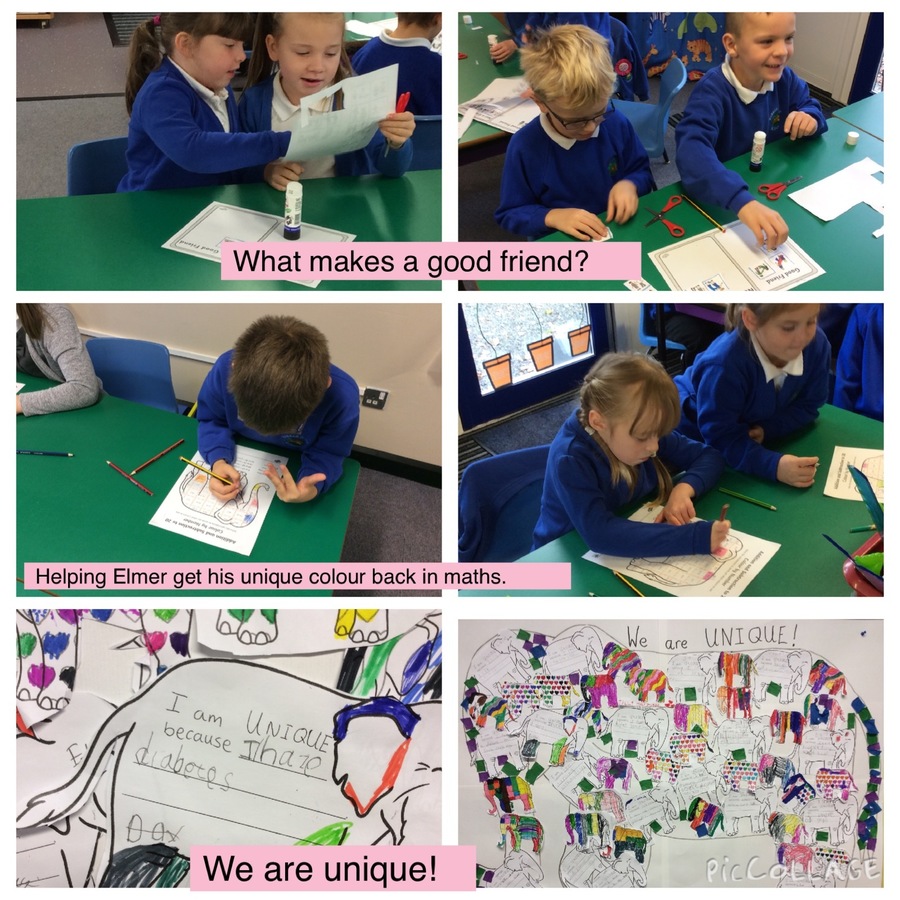 Sporting fun!
We had a great morning trying out our sporting skills alongside other children from local primary schools.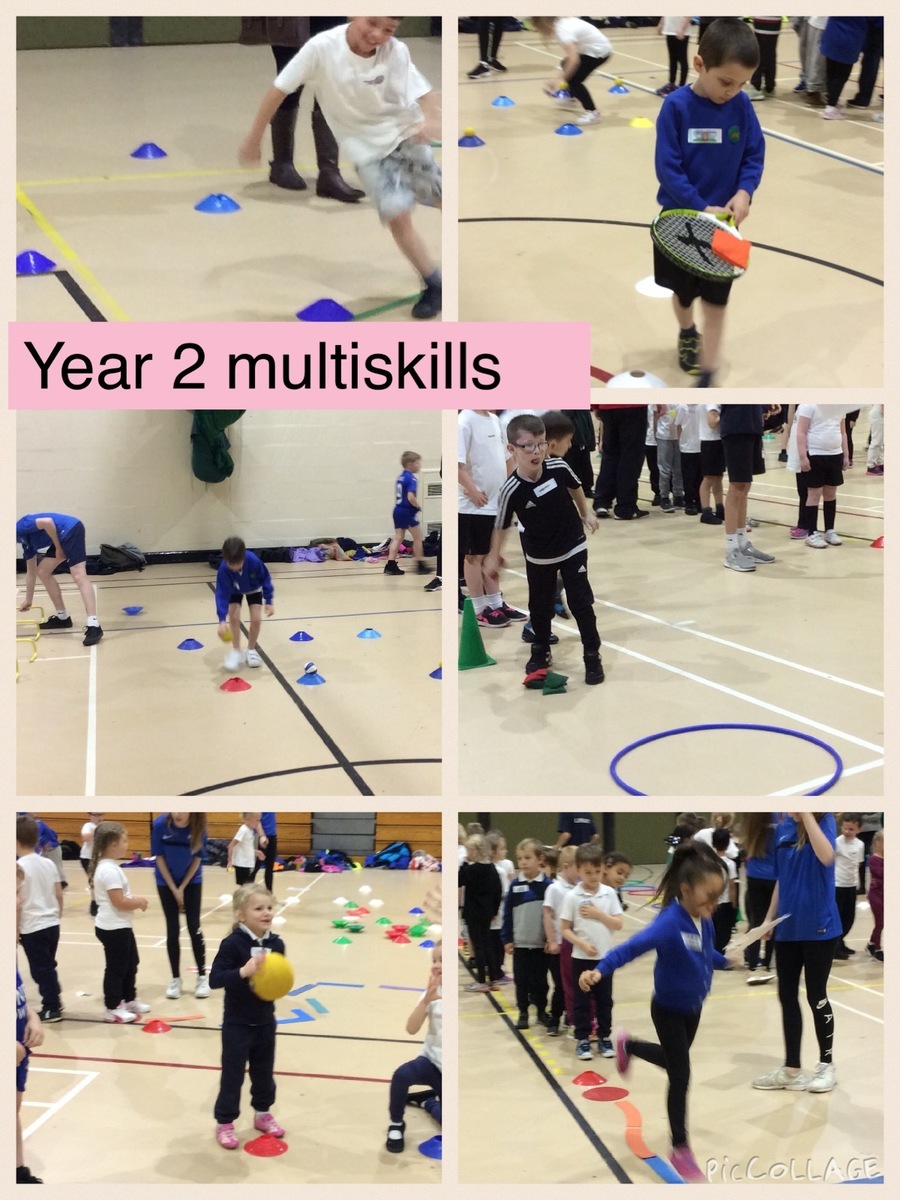 Questions questions?
In English we have been looking at how to ask questions using different starting words.
What am I?
"Where can I travel?"
"Can I travel on water?"
ICT
We have been using the new lap tops to learn how to type in sentences using different functions on the key board. We can also change the size, colour and text style of our work.
Science - Is it living or not living?
We have had some interesting discussions during our science walk around school. We had to find things that were living and not living. Are the apples on the tree living? What about if we pick the apples to eat?
What does it mean to be alive and living?
Ellie said, "If something is living it will breathe."
Olivia write down "Living things move."
Measuring superheroes
We were allowed to bring in superheroes from home. We were comparing the length of our superheroes to see who had the longest and shortest.
"Spider-Man is longer than the Hulk" Ellis noticed.
Bananaman!
In science we were using the force of squashing. We used things made out of different materials to see which was good for squashing things with.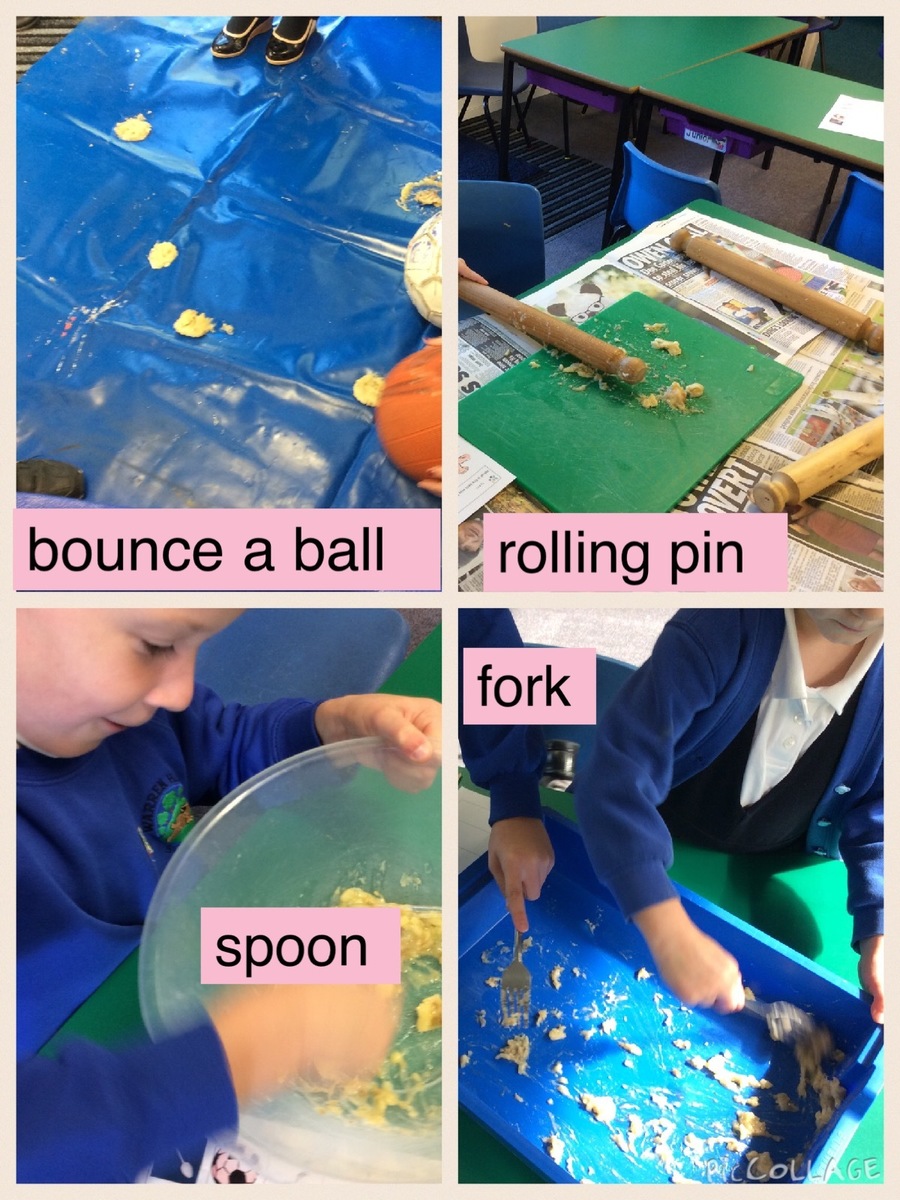 We found the plastic spoon was not very strong but the wooden rolling pin was great!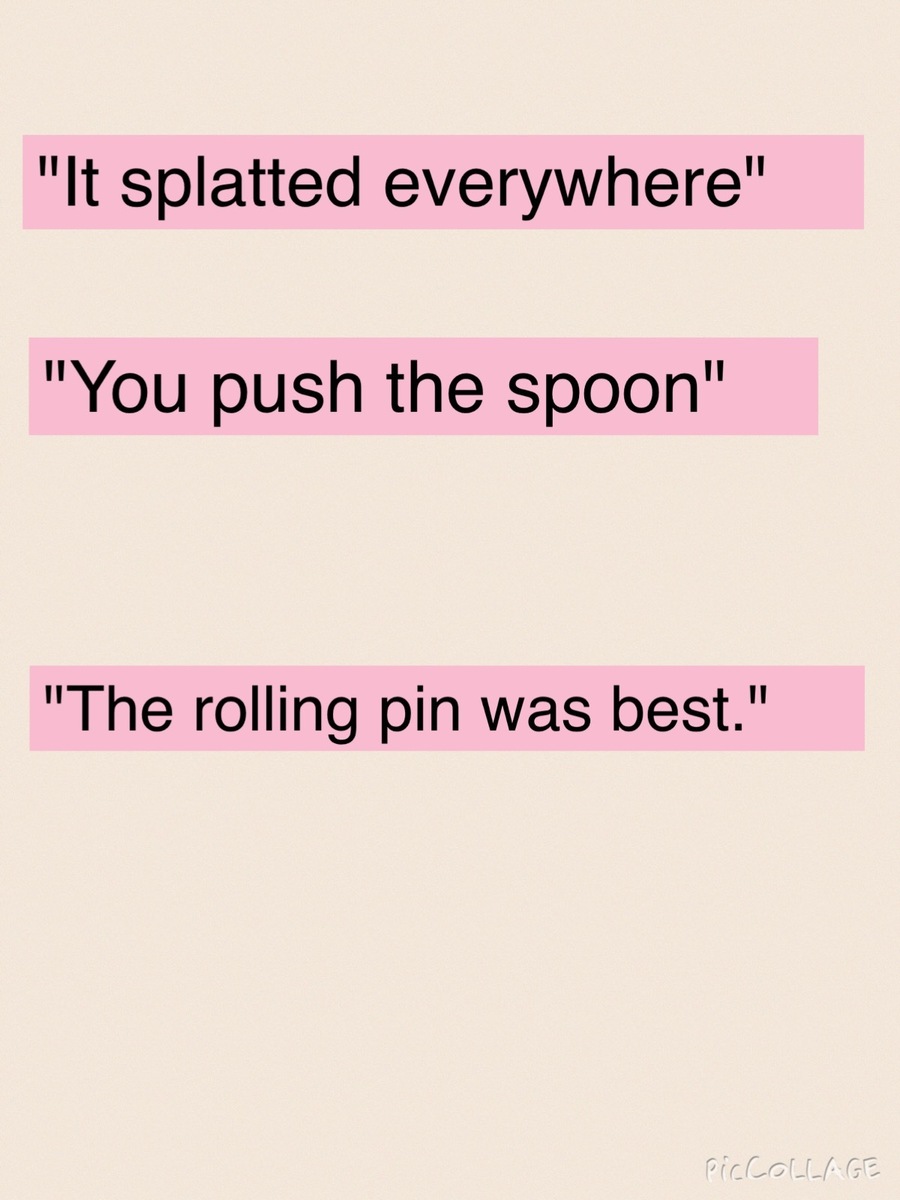 Squashy balloon heads!
We made superhero balloon heads. We chose from pasta twists, cotton wool, flour or rice for squashing inside the balloon. Most of us choose cotton wool or flour because it was soft.
Maths
We have been learning about 3D shapes. We had to work out how many faces, edges and vertices they have.
The Hulk!
After talking about the superhero The Hulk we wanted to test our strength! We carried out an investigation to see which materials we could bend.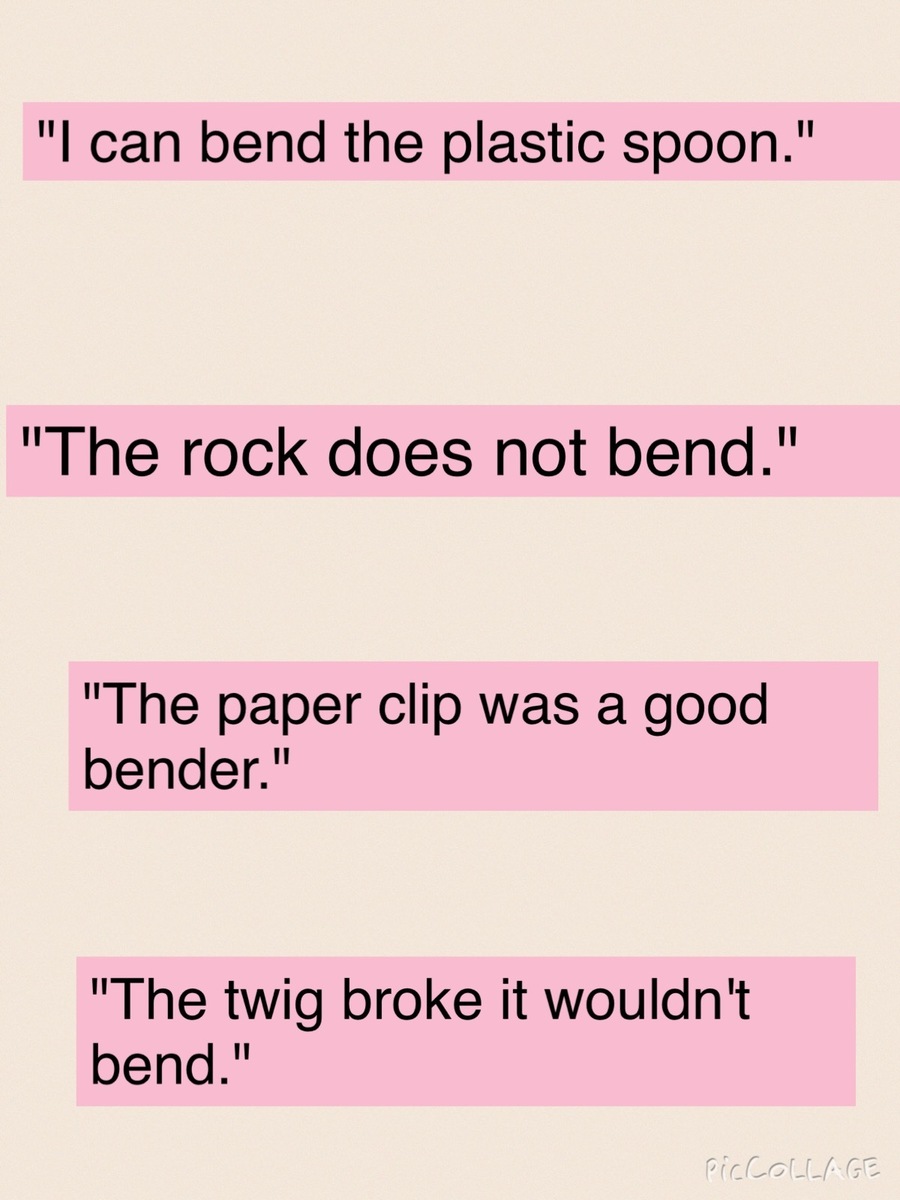 Spiderman
We like how Spider-Man can shoot webs that stretch to catch people. We wanted to help Spider-Man find a suitable material to make his webs that would stretch. We tried out different materials and put our measuring skills to good use by recording how many cm they would stretch.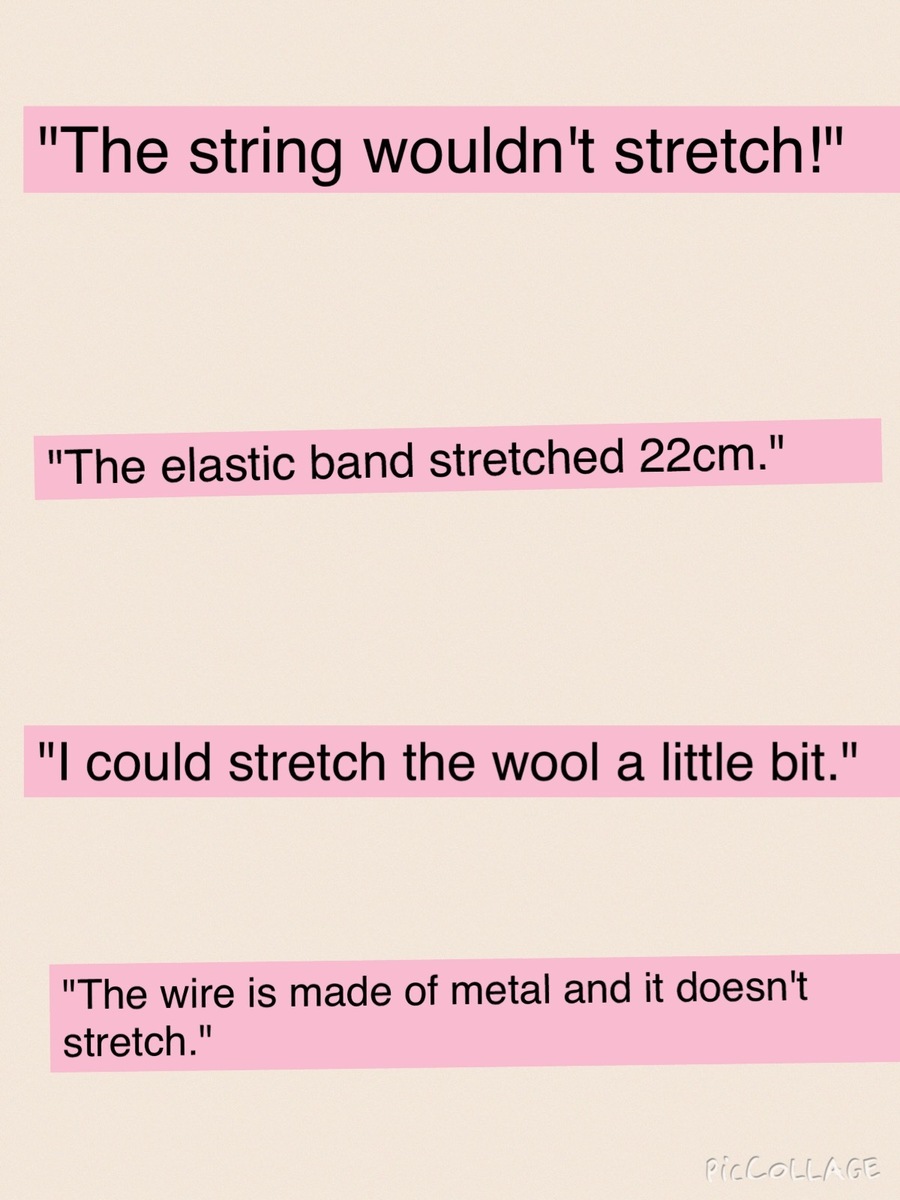 Superhero parents!
After our class assembly, where we performed our Super Daisy story, we invited out parents into class to help us with our work. We had 14 parents in class helping to create a new Superhero with special powers. Thank you everyone!
Science - changing the shape of everyday materials
We have learnt a lot about how we can change the shape of materials using the forces of squashing, twisting, bending and stretching. We spent the afternoon carrying out an investigation to see how we could change the shapes of different things and recording our observations.